Makeup How-To: The Glossy Lid
That's slick.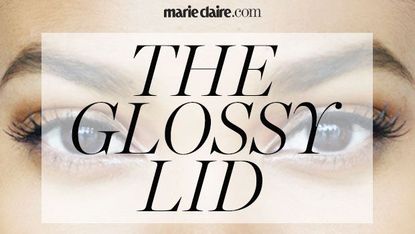 (Image credit: Kathryn Wirsing/Stephanie Stanley)
We drew inspiration from the William Rast Spring 2015 beauty and wanted to learn how to create a "wet" eyeshadow. It felt fresh, romantic, and edgy all at the same time. We enlisted the help of makeup artist extraordinaire Caitlin Wooters to show us the way.
Note: Begin this tutorial with your regular concealer and foundation application.
Step 1. First, apply a warm brown shadow in crease with small blending brush. (We suggest trying the Bobbi Brown Sand Eye Palette)
Step 2. Then, apply the same shadow underneath lashes with Sephora Pro Smoky Liner Brush #24.
Step 3. Next, apply a MAKE UP FOR EVER Concealer Pencil on just the inner rim.
Step 4. Finally, add Jao Brand Goe Oil on your lid and under lash line with finger.
More Makeup Tutorials:

How to Create a Perfect Black Winged Eye
Halloween Makeup How-To: Ice Queen Mask
Tutorial: Grey, Shimmery Steel Eye Makeup
Create a Nude Smoky Eye Perfect for Work
Fall Favorite: Deep Purple Eyeliner Tutorial
Photos by Kathryn Wirsing/Stephanie Stanley