The 15 Best Drugstore Eyeshadows of 2023
Gorgeous eye makeup that won't cost you more than $20.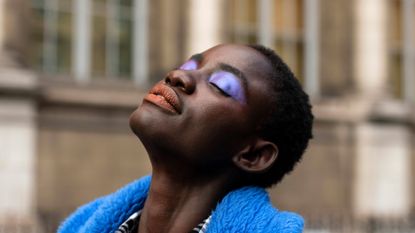 (Image credit: Kirstin Sinclair/Getty Images)
As a big fan of eyeshadow and someone who is constantly researching the latest and greatest beauty products, you can take it from me that there are a ton of options out there. My head actually starts to spin just thinking about the sheer number of eyeshadows you can buy. That being said, you may be tricked into thinking that the best eyeshadows come from higher-end (and typically, more expensive) brands. I'm here to tell you that that's simply not the case. While luxury names boast great eyeshadow palettes and powders, drugstore brands like NYX, e.l.f., and Maybelline offer options that work just as well.
If you don't believe me, take it from the pros. Pro makeup artist Disco tells Marie Claire that higher-end eyeshadows "absolutely" compare to drugstore versions. "I think the makeup industry is very similar to the fashion industry in that eventually, those high-end formulas will have a drugstore version," she explains. "The higher-end brands might have that new formula first, but if you can wait it out, a counterpart will make its way to the drugstore soon enough."
So there you have it—quality eyeshadow doesn't have to cost you an arm and a leg. As further proof, we've rounded up the only eyeshadows worth your attention at the drugstore. Whether you love glittery shadows, cling to neutral shades, or prefer your eyeshadows creamy, this list has an under-$20 option for everyone. We even threw in a few makeup artist favorites, too. The next time you pick up your prescriptions, you're going to want to swing by the makeup aisle for these pigmented, long-lasting eyeshadows.
What to Look For in Drugstore Eyeshadow
Like I mentioned before, there are about a million and one products out there when it comes to eyeshadows. To whittle down your options, you need to first decide on your personal needs as the drugstore makeup department has plenty of distractions, notes Disco. For example, you may only need one or two shades or maybe you're looking for an entire palette. Disco says, "This will cut down your options significantly and then you can hone in on texture and shade. Is it a cream or powder? Is it a neutral or a vibrant color?" Lucky for you, we have options for any preference ready to go, below.
Additionally, celebrity makeup artist Zara Kaplan advises that pigmentation is major when it comes to eyeshadow at the drugstore. "Pigment is one of the biggest things to look at when searching for an eyeshadow palette," she says. "If the colors look rich and punchy, that should be a good indication that the color payoff will be good!"
The Best Drugstore Eyeshadow Palettes and Pressed Powders
The Best Drugstore Cream and Liquid Eyeshadows