The 17 Best Glitter Eyeshadows for the Ultimate Sparkle
The perfect pick-me-up.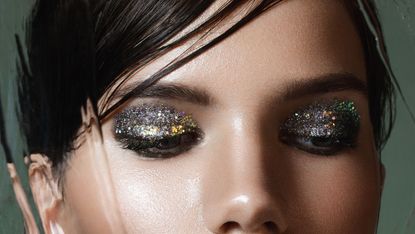 (Image credit: Getty Images ¦ Vasilina Popova)
Maybe it's because I'm hankering for the next season of Euphoria, or maybe it's because my eyes are always visible regardless of whether or not I'm masked up, but glitter and shimmer (opens in new tab) have been calling my name lately. Sure, matte, nude eyeshadows (opens in new tab) have their place—work meetings, visiting your significant other's parents, maybe even an elegant date night. But when I need a major, brightened up mood-booster in makeup form, throwing some glitz onto my eyelids never fails to make me feel alive.
If the word "glitter" instantly takes you back to being five years old and digging in your mom's makeup bag or being 13 and showing up to school in some less-than-refined looks you learned on YouTube, it's time to reevaluate your relationship with sparkles. It's not just for teens! Allow me to introduce you to the best adult (but just as fun) versions of 2022. Nowadays, glitter eyeshadows come in many forms—creams (opens in new tab), powders, liquids, subtle loose twinkles, or dramatic glam. (opens in new tab) Just want a little highlight in the corner? Absolutely fine. Need a dual-chrome, alien-inspired look? We have you covered. Want to turn your look all the way up? Buff the glitter out beyond your lids and onto your cheekbones. Below, we compiled the best of the best to take your Saturday night look up a chic notch. The one thing they all have in common? These eyeshadows bring the bling.
Tatjana Freund is a Beauty Commerce Writer, covering makeup, skincare, and haircare products and trends. She's a fan of vodka tonics and creepy Wikipedia pages.