The 12 Best Glitter Eyeshadows, According to Beauty Editors and Makeup Artists
Bring on the shimmer.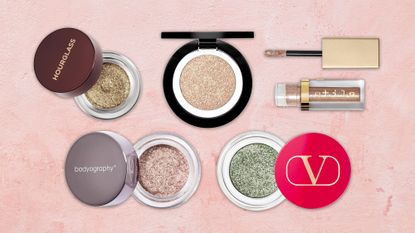 (Image credit: Future)
Marie Claire Newsletter
Celebrity news, beauty, fashion advice, and fascinating features, delivered straight to your inbox!
Thank you for signing up to Marie Claire. You will receive a verification email shortly.
There was a problem. Please refresh the page and try again.
For a good decade of my life, I've worn exclusively glitter pigments. I love sparkles—obviously. But my reasoning is a bit more nuanced. There is absolutely no eyeshadow easier and more foolproof to apply than one of the best glitter eyeshadows. No brushes necessary; it's just a little finger application and, so long as you pick the right product, there's no fallout in sight. As I've become more skilled in the makeup department, I've tried my hand at shimmery shadows with finer flecks and even experimented with liquid, sparkly formulas. One way or another, I have glitter on my lids every damn day.
So with my very vast knowledge of glitter application and an overflowing pile of shadows, I've decided to compile the crème de la crème of glitter eyeshadows for your shopping pleasure. From finger-friendly, densely packed cream eyeshadow pots that create a statement-making eye in an instant to sheerer liquids that allow you to swipe on a chunky, albeit translucent wash, here are the best glitter eyeshadows in the game.
Overview
What to Look For in a Glitter Eyeshadow
There's nothing wrong with a metallic shadow—they have their time and place. But let me make this abundantly clear: Metallics and glitters are simply not the same. "You want your product to be super pigmented and super chunky," says makeup artist Jonet Williamson. "You should be able to see individual specks." It's the differentiation between glitter flecks that allows the shadow to catch the light.
With powder, cream, and liquid glitter eyeshadow to choose from, the world is really your oyster. You can't go wrong with any texture, just know that the medium will alter the finish. "Liquid glitters space out a lot once you actually put it on your lid, so you have to do a lot of work to pack it on and actually get good coverage," says Williamson. "But I do really like liquids when you're using them as an eyeliner." Liquids are also the way to go if you just want a sparkly topper.
Powders and creams on the other hand are best suited for a solid wash of color. "You can pick them up with a brush or your finger and it gives full coverage right away," she adds.
When using glitter shadows, you're going to want something that gives you a little time to work. Fast-drying formulas aren't your friend. "I personally like something that has a little more give," says Williamson. "You don't want something that's going to lock in place. Then, the next thing you know, your eye makeup is messed up and you have to get micellar water."
How to Apply Glitter Eyeshadow
The key to fallout-free application is to start with a clean, no-fuss base. "Your lid naturally has a little bit of oil on it, so that's going to add to the grip of the glitter," explains Williamson. "If you put down a powder first, you might get some fallout because it's not really sticking to your eyelid. You would have to pick it up with a wet brush and just hope for the best."
Where you place your glitter eyeshadow, however, is totally your call. You can layer different shades for a full glitter eye, place a little in the center of your lid, or dab some at the inner corner. "If you're new to wearing glitter, I recommend picking it up on a really thin brush and apply it on top of your eyeliner," advises Williamson. "It's a fun way to add a little hint without being too intense."
The Best Glitter Eyeshadows
The Best Glitter Eyeshadow Overall
Bodyography Glitter Pigment
"First of all, there are so many colors to choose from—options galore," says Williamson. "They're very fine so you can really build them up or wear them lightly dusted across the lid. They're super easy to work with too because even though it's a loose pigment, you can pick it up nicely with your finger or a brush and won't experience a lot of fallout." This product also happens to be my personal favorite, particularly because the blendability is unmatched. I start with a thin layer that gets diffused to my brow bone and then pack on the intensity in the center of the lid. I'm partial to shades Off the Hook, Stellar, and Mood, but you really can't go wrong with any of 'em.
Pros: Makeup artist-approved; No fallout; No creasing; Large shade selection
Cons: None
Customer Review: "I have six glitter pigments and plan on getting more. They are so versatile—you can wear as a light shimmery layer, you can build it for a dense glitter moment, or use as a top layer to your usual eye makeup to elevate the look. I generally gravitate to neutrals but this is one instance where I do not shy away from color. They are long lasting, too. I HIGHLY recommend!" — Target
The Best Gilded Glitter Eyeshadow
Victoria Beckham Beauty Lid Lustre Crystal Infused Eyeshadow
Straddling the line between a shimmery cream and true glitter pigment, Victoria Beckham Beauty's pots are some of the most hydrating, pearlescent shades I've ever seen. Said finish is achieved by a very carefully curated formula. Real crystals and multi-dimensional pearls have been infused into each of the 10 shades, which gives it a gilded finish. There's also hydrating squalane and guava leaf extract in the mix, which makes this shadow perfect for dry, winter eyelids.
Pros: Great shade selection; Pearlescent finish
Cons: Lacks chunky glitter
Customer Review: "I own the shades Tea Rose and Honey, and they are truly some of my most reached-for shadows. On the days when I don't know what makeup to wear, these one-and-done shadows make it easy to feel put together and beautiful in one swipe. Not to mention, the packaging is absolutely beautiful on my vanity." — Customer Review
The Best Luxury Glitter Eyeshadow
YSL Sequin Crush Mono Eyeshadow
If a statement eye is what you want, a statement eye is what you'll get with this YSL pot. There are very few shadows, let alone glitter shadows, that pack as much pigment into a singular swipe. I'm partial to creating a monochromatic look with these babies, but they were designed to be layered on top of one another, so go forth and build dimension. You'll want the Confident Nude shade on standby—it's the ultimate highlighter.
Pros: Highly pigmented; Intense shimmer
Cons: Expensive
Customer Review: "I have created some beautiful eye looks recently, using this as the final step - on the lids or just a tiny bit in the corners. Such a beautiful color and shine. A little goes a long way." — Nordstrom
The Best Liquid Glitter Eyeshadow
Stila Glitter & Glow Liquid Eyeshadow
"I really like this OG formula," says Williamson. "It's not the best to get a full glitter lid, but if you want to start out applying glitter as a liner or do a little, sheer wash in the inner corner, it's a beautiful formula." The doe-foot applicator is relatively thin, and when used on its side, creates a really thin line. If you do decide to go for more of a high impact look, fear not. You can get fuller coverage, it might just take a few layers of product.
Pros: Makeup artist-approved; Great for liner and accents; Large color selection
Cons: Need a lot of product to build up to full coverage
Customer Review: "I'm in LOVE with this shadow!!! I do my Smokey eye and then add to lower lid above lashes...or as a liner. I get so many compliments! Really brings out hazel in eyes; I literally smile every time I start putting this on—it's the little things in life! The applicator tip is a great added bonus!" — Ulta
The Best Shimmer Glitter Eyeshadow
Hourglass Scattered Light Glitter Eyeshadow
This was the first glitter eyeshadow I ever got my hands on and it's left a lasting impression. It's beginner friendly (I'm the perfect case study) and has the ability to transform from a barely-there wash of color to a high impact shadow in about three layers. It plays middle ground all the while, looking like a glitter or a shimmer depending on the lighting. Burnish is one of the prettiest everyday colors out there and Vivid made me a green shadow convert.
Pros: Buildable; Great shade selection; Iridescent
Cons: Color fades throughout the day
Customer Review: I" LOVE the hourglass scattered light eyeshadows! When you apply it to your lid, they look so beautifully sparkly. I love the slightly more subtle glitter of this product - don't get me wrong, this stuff is DEFINITELY glittery, but I find that the glitter particles are super fine and cause the most gorgeous sparkly effect, in comparison to other glitter eyeshadows that seem slightly chunkier." — Ulta
The Best Cream Glitter Eyeshadow
Valentino Dream Dust Glitter Eyeshadow
If you're a swipe-and-go kind of girl that can't be bothered with brushes, a cream texture, like this Valentino formula, is the way to go. The flecks are going to stick right to your finger and one swipe will give you an intense color payoff—all without fallout. The densely packed particles also make this a great eyeliner option. Go bold with the green or blue shade, or keep things subtle with the gold and silver.
Pros: No fallout, Intense color payoff
Cons: Small shade selection
Customer Review: "This loose glitter is so beautiful. When using it with the primer you just have to work fast as it's movable to start but dries down quick. I didn't have any fallout it looked beautiful. The packaging is nice and you get a lot of product." — Sephora
The Best Glitter Eyeshadow for Liner
Half Magic Beauty Glitter Pill
Created by Donni Davy, the makeup artist behind the many memorable beauty moments on Euphoria, this little liquid is a must-have for any intricate or detail-oriented glitter masterpiece. It has one of the thinnest applicators in the game, which makes it ideal for graphic wing or to add some emphasis to your lower lash line. The shades are on the bolder side, so your look will be sure to attract attention.
Pros: Thin applicator; Great for wings
Cons: Only bold colors
Customer Review: "This makes applying glitter a breeze with its small precise applicator. It allows you to get really intricate with placement and shape. I also love how you can add a little for a touch of glitter or layer up for a more intense look." — Half Magic
The Best Long-Wearing Glitter Eyeshadow
Urban Decay 24/7 Moondust Eyeshadow
While most glitter shadows are inherently less prone to creasing because of their chunky composition, a few will require a midday pat down. This Urban Decay option however isn't going to budge one bit. It'll look just the same in the morning as it will at nine o'clock at night—it has a fierce grip. Another reason to love it? The finishes are plentiful. Brush application will give you a more diffused wash, a finger application provides more intense color payoff, and, if you add a little setting spray to the product beforehand, you'll be met with a foiled, metallic moment.
Pros: Multiple finishes; Lasting power
Cons: Color really needs to be built up
Customer Review: "This is my new go-to shadow for the summer. You can use it by itself for a light shimmer, layer it on itself for a more peachy/rose gold look, or pair with any other colors to add a touch of sparkle to your overall look. I like to use a very light amount on the inside corner of my eyes to brighten the look. The lighter the touch, the more silver sparkle you'll see. With a heavier application, more of the peachy/pink color will show." — Sephora
The Best Loose Glitter Eyeshadow
This glitter isn't for the faint of heart and it comes with its challenges. But if a chunky glitter finish is what you're going for, there's no better product for the job. Grab the brand's Duo Adhesive to create a sticky base and gently pat the flecks onto your lid. How much you use is up to you, but I recommend erring on the lighter side or using it as an accent on the outer corner of the eye. Because the glitter is pretty chunky, you don't want your lid to feel stiff.
Pros: Large glitter chunks; Tons of color options
Cons: Difficult to apply
Customer Review: "MAC by far makes the best glitter! This is worth the purchase. It's a great way to glam up any look." —MAC
The Best Dual-Ended Glitter Eyeshadow
Iconic London Glaze Dual Ended Eyeshadow Crayon
Multi-finish glitters are hard to come by, but this Iconic London product serves dimension up on a silver platter. The dual-ended stick, which is available in 10 shades, pairs a cream glitter crayon with the accompanying glitter liquid. You can switch between soft washes of color and wet-looking, shimmery finishes with just one product. Pop the liquid on the center of your lid, use it in your inner corner, or drag it along your lower lash line to create a pearlescent illusion.
Pros: Two-in-one; Large shade selection
Cons: Requires touch ups throughout the day
Customer Review: "This eyeshadow pencil is awesome. The crayon side is a little drying to apply, but it has great staying power and the glitter side adds a pop of fun and does not flake on my eyes. The shadow is versatile as it can be subtle enough for work, but also glam for a night out. I have Nectar, but all the shades are flattering. Pick one up if you have oily eyelids and you're sick of cream shadows creasing- this one is the real deal!" — Sephora
The Best Neutral Glitter Eyeshadow
Natasha Denona Chroma Crystal Top Coat
Natasha Denona's eyeshadow palettes are some of the best in existence, and her glitter pigment follows suit. Available in four neutral shades, Nude, Bronze, Grey-Brown, and Peach, these crystal and pearl pigments are perfect for amping up your everyday (or night) look. The shadow's pigment has a great grip, so you shouldn't experience fallout when applying it to a bare lid or over other shadow. If you do? Just tap off the excess with a piece of tape.
Pros: Lasts on top of powder shadow; Glitzy finish
Cons: Small shade selection
Customer Review: I bought the Metal Black and it is absolutely beautiful. It takes smokey eyes to a whole new level. I consider myself a bit inept at eyeshadow application, but one swipe of this over the eyelids, makes my make-up look Instagram amazing! I am so upset though, because the pot has dried up so quickly." — Cult Beauty
The Best Extra Chunky Glitter Eyeshadow
Danessa Myricks Beauty Infinite Chrome Flakes Multichrome Gel for Eyes & Face
Perfect for a concert, festival, themed party or any other fun event, these glitter eyeshadows have major impact. The pot is filled with super chunky glitter flecks that fall on the larger side. Fallout is minimal, so go ahead and apply with your fingers. That said, start off with minimal product—this look is very intense.
Pros: High impact; Very reflective
Cons: A little heavy on the eyelid
Customer Review: "I'll be honest, i partially bought this just for the shade name, but WOW this is one of the best glitter gels I have ever used. The color is striking and the shift is gorgeous, it feels lightweight and applies smoothly. i typically use a thin brush to apply it to my inner corners of my eyes." —Sephora
Meet the Expert
Jonet Williamson is a New York-based Pro Makeup Artist and Content Creator specializing in relatable beauty from a pro perspective. Her work has been featured in commercial campaigns for Dolce & Gabanna, Levis, L'Oreal, Shea Moisture, and more. If you follow her online you can expect to see lots of fresh skin, a vibrant use of color, striking graphic liner shapes, and soft glam looks fit for a red carpet.
Celebrity news, beauty, fashion advice, and fascinating features, delivered straight to your inbox!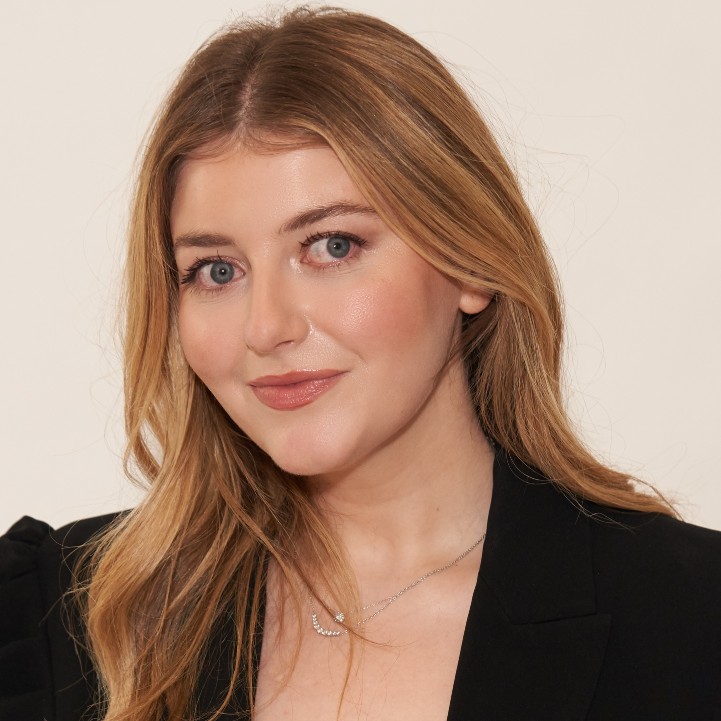 Samantha Holender is the Beauty Editor at Marie Claire, where she reports on the best new launches, dives into the science behind skincare, and keeps up with the latest trends in the beauty space. She has previously written for Us Weekly, Popsugar, Makeup.com, Skincare.com, and Philadelphia Wedding. Follow her on Instagram @samholender.