Editors handpick every product that we feature. We may earn commission from the links on this page.
The 13 Best Glitter Eyeshadows for Disco Eyes
The antidote to winter gloom.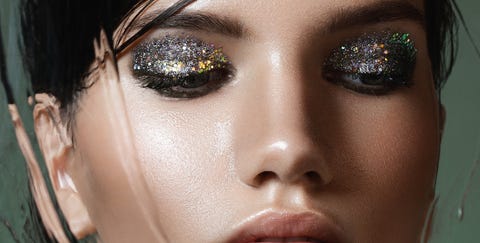 Vasilina Popova
Getty Images
Maybe it's because I'm hankering for the next season of Euphoria, or maybe it's because my eyes are always visible regardless of whether or not I'm masked up, but glitter has been calling my name these days. Sure, matte, nude eyeshadows have their place—think Zooms or visiting your significant other's parents, or maybe even an elegant date night. But when I need a major, brightened up mood-booster in makeup form, throwing some glitz onto my eyelids never fails to make me feel alive.
We understand you might be apprehensive, though. If the word 'glitter' instantly takes you back to being 5 years old and digging in your mom's makeup bag or being thirteen and showing up to school in some less-than-refined looks you learned on Youtube, it's time to reevaluate your relationship with sparkles. It's not just for teens! Allow me to introduce you to the best adult (but just as fun) versions of 2021. Nowadays, glittery eyeshadows come in many forms—creams, powders, liquids, subtle loose twinkles, or dramatic glam. Just want a little highlight in the corner? Absolutely fine. Need a dual-chrome, alien-inspired look? We have you covered. Want to turn your look all the way up? Buff the glitter out beyond your lids and onto your cheekbones. Below, we compiled the best of the best to take your Saturday night look up a chic notch. The one thing they all have in common? These eyeshadows bring the bling.
This content is created and maintained by a third party, and imported onto this page to help users provide their email addresses. You may be able to find more information about this and similar content at piano.io