Morning Maintenance: Carisa Janes, Founder of Hourglass Cosmetics
Steal this beauty CEO's strategy for looking polished 24-7.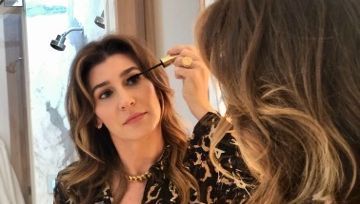 (Image credit: courtesy of subject)
Carisa Janes, the founder of Hourglass Cosmetics, seems to glide through life in a state of polished hyper-readiness—hair done, face perfected, eyes alert. "I feel mentally organized if I look put-together," she explains. "I wouldn't feel finished without makeup. I don't want to have to worry during the day, 'Is my hair done?'"

That's probably because she has more important things to focus on, like running a luxury cosmetics brand that was acquired by beauty behemoth Unilever in 2017. "I'm in meetings all day long, with anywhere from two to 15 people. And the decision making is constant."
To free up mental space for the day ahead, she has her morning routine and her look down to a science—and she's not afraid to rely on others for help. A trainer comes to her house a few times a week; she books at-home blowouts; and she doesn't leave the house without her face on."I always do foundation, some warmth on my eyes, something nude on my lips, polished brows, and mascara."
Carisa's Morning Makeup
This woman even has a strategy for nail maintenance! "Every two weeks, I book a manicurist to come to my house and give me a gel manicure," she says. "It's always the same—a neutral, creamy color. I think my hands are very thin and I feel like red polish on me is aging."

The precision and commitment to a uniform beauty look is inspiring—but, maybe, a little intimidating, too? When I mention this to Janes, she starts laughing. "You should see me at the end of the day! You want to know how I unwind? I don't—I fall apart," she says. "It's not graceful. I get home and it's immediately sweats and a bun and glasses. I just hit a wall." It's nice to know this beauty powerhouse is human, after all.
Carisa Janes's Morning Routine
6 a.m. Wake Up "I naturally wake up without an alarm. But I do have four dogs—and one husband—in the bed with me."
6:05 – 6:10 a.m. Coffee "First thing is coffee, black. I actually have a Miele Nespresso machine built into the wall in my room."
6:10 – 6:20 a.m. Phone Check "I have an iPhone 11. First it's texts, then WhatsApp. Our Unilever group is based in London, so they're already working, and we have a WhatsApp group. Then I usually look at the headlines on Apple News."
6:20 – 6:50 a.m. Dog Walk "One of us goes down with the dogs. We live in a three-story house in Venice, California, and all four dogs are getting old. Some need to be carried, so we sort of do different shifts to get them all out the door."
7 – 8 a.m. Workout "I work out at home with a trainer, either Lyndsey Makovsky or Steve Lutsk, who I do weights with. Sometimes, if I'm washing my hair that day, I'll put in a hair mask before the workout in my dry hair. And if my skin is dry, I put on Ren Overnight Balm. The warmth helps everything work."
8 – 8: 15 a.m. Shower "I like Ren body wash and Iles Shampoo Haute Performance—you don't need conditioner with that. I don't usually wash my face in the morning, but at night I use Cerave Foaming Facial Cleanser with a little yellow sponge."
8:15 – 9 a.m. Hair Styling & Makeup "I get my hair blown out three days a week, and finish it with the Iles Finishing Serum. If it's a morning the stylist isn't coming, I'll touch it up with Dry Bar Wand and a little dry shampoo, like Living Proof Full Dry Volume Blast. I do my makeup while my hair's getting styled. I'm always experimenting with our new products and lab samples. Right now I'm really into our new Vanish Concealer, and I use the Caution mascara."
9 – 9:20 a.m. Breakfast I have salad for breakfast—it's life-changing! You get all your greens in, you get a little bit of protein, and then you've got tons of energy until 1 p.m. Usually it's kale, broccoli, avocado, a hard-boiled egg and some olive oil and salt."
9:20 a.m. Out the Door "The Hourglass offices are behind our store on Abbot Kinney. It's literally a five-minute drive from my house. I spend most of my time at work focusing on future product innovation, design and marketing, and making sure that we do everything with integrity. I know my brand. I think that's where I'm very lucky. It's clear to me what is right and what isn't right—very clear."
Carisa's Hair & Skin Must-Haves
Jennifer Goldstein is the former beauty & health director of Marie Claire and co-host of the award-winning beauty podcast Fat Mascara. In her quest to uncover the world's beauty secrets, she's gotten tattooed in New Zealand, dug up turmeric in India, harvested shea nuts in Ghana, and squeezed enzyme-rich eggs from salmon in Norway. She can pluck eyebrows like a pro and has read the FDA monograph on sunscreen labeling and effectiveness—but she still can't get liquid eyeliner to look the same on both eyes.