24 Hours In Beauty With Leslie Blodgett
The bestselling author and beauty exec puts hand cream on her face she's not sorry.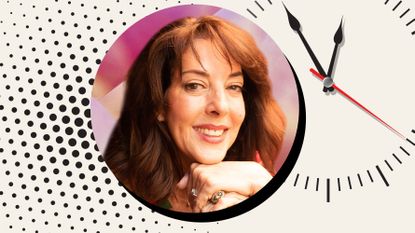 (Image credit: Hearst Owned)
Welcome to Beauty Around the Clock, Marie Claire's weekly peek into the daily lives of some of the most game-changing women in their industries. Ever wonder how they get it all done in a day? Here's your answer.

If you are considering starting a beauty business, or really, any business, do yourself a favor and read Leslie Blodgett's book Pretty Good Advice: For People Who Dream Big and Work Harder (opens in new tab). It is packed with her adventures as a badass CEO (at bareEscentuals, she pioneered QVC selling for luxury beauty brands—and would regularly run up more than $1 million in sales in her late-night time slots), no-B.S. advice, and motivational words of wisdom, a Blodgett specialty. A current angel investor and brand advisor, Blodgett is still brimming with witty insights and worthy beauty buys. Here, a day in her life.
Rise and Shine
6:30am. I plank for as long as I can hold it then have a single espresso.
Power Start
I intermittent fast. After the espresso, I eat after 11 a.m. I've been indulging in lock-down emotional eating extravaganzas: my special french toast, breakfast burrito, or eggs scrambled with veggies, or turkey bacon and a fresh peach. I don't cook so actually cooking breakfast is a big deal. I also take a quarter of a tablet of Herbalife Lift-off (opens in new tab) in a tall glass of water. It has some happy "drug" in it. One of those a day.
Morning Maintenance
I'm ready in six minutes. I put makeup on only if I am doing virtual events. Everyone else sees me in sunscreen only. I use High Beauty cleanser (opens in new tab) in the shower or no cleanser at all and a bamboo pad and warm water to clean the skin. Then, sometimes I go straight to sunscreen. Lately, since I'm hiking or just outside in the yard I use Blue Lizard sunscreen (opens in new tab) and load it up so not one sun ray is coming through. My other staples are Tracie Martyn Face Rescultping Cream (opens in new tab), Tatcha Ageless Revitalizing Neck Cream (opens in new tab), and Nest Wild Poppy Body Cream (opens in new tab). I haven't used eye cream in months which is so surprising because I was addicted to eye cream for decades. I've been fine without it.
Leslie Blodgett's Skin Staples
Hair Help
I brush my hair then it goes up in a clip. I try not to touch it too much so I can go six days without washing. I haven't had a haircut since December but I have colored it myself four times so I want to keep it as healthy as possible. And I always wear a hat outdoors.
Beauty Signature
This week I have been blending bareMinerals Complexion Rescue (opens in new tab) with bareMinerals BarePro (opens in new tab) for foundation. Nars soft matte concealer (opens in new tab). Marc Jacobs Body Bronzer in Tan-tastic (opens in new tab) on my face. bareMinerals beauty blush (opens in new tab). And oldie bareMinerals eyeshadow in Heart Cross Buns, Nars black eyeshadow (opens in new tab) for lining. bareMinerals Lashtopia mascara (opens in new tab), The Lip Slip by Sara Happ (opens in new tab) and Fenty Beauty lipgloss in Fussy (opens in new tab). And I have dozens of scents—all for mood setting and enhancement. I recently told Mandy Aftel (opens in new tab) that I miss the perfume she made for me 20 years and she whipped me up a new one! It is divine. I would love to launch it again. Also, I love Strange Invisible Libra and Aries (opens in new tab), Ellis Brooklyn Fawn (opens in new tab), and Pinrose Pillowtalk Poet (opens in new tab).
Leslie's Blodgett's Beauty Signatures
Zoom Beauty Hack
Natural light, but not head-on. Softly capturing the contours of the face gives face shape and life without the draining synthetics of the computer camera. I've learned that keeping lips balmed up, lined (lines smudged please!!) and peachy rose lipstick works best. And eyebrows: defined and filled in.
Best Advice Received...
Be very informed.
...And Given
Ingenuity matters.
Hidden Talent
Crochet. I made a 25-inch crocodile this week.
Backup Career
Pre-school entertainer.
Worth It
Tatcha Ageless Enriching Renewal Cream (opens in new tab).
Bedtime Beauty
Five minutes: Cleanse, serum, moisturizer. Done. I cleanse with Kinship (opens in new tab) or Thrive Causemetics Bright Balance 3-in-1 Cleanser (opens in new tab). And then use EVER Youthful face and eye serum (opens in new tab), High Beauty High Five Cannabis Facial Moisturizer (opens in new tab). I recently tried Tracie Martyn enzyme exfoliant (opens in new tab) and love it. Once a week I do something completely crazy. I put Swedish Dream Sea Salt hand crème (opens in new tab) on my face over my night cream. It's a thick shea butter balm and I like the shield of protection so the good skin ingredients from my serum and moisturizer can really get absorbed. And Kinship pimple potion (opens in new tab) is a retinal and salicylic acid acne treatment that I use at night as an all-over skin renewal treatment.
Evening Wind-Down
In bed, I read a passage from one of the 20 books on my nightstand. This week, The Fire Next Time by James Baldwin and Beloved by Toni Morrison. Then I watch a few episodes of Drunk History on Comedy Central.
Lights Out
9:45 p.m., asleep by 10:30 p.m.
For more stories like this, including celebrity news, beauty and fashion advice, savvy political commentary, and fascinating features, sign up for the Marie Claire newsletter.
subscribe here (opens in new tab)