How to Channel Your Inner Bad Girl
So long, prim and pretty. One woman summons her wickedly cool alter ego — and finds the dramatic makeup to match.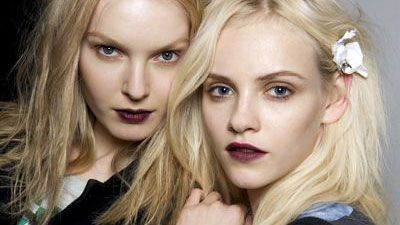 (Image credit: Greg Kessler)
When I was 13 and my mother forbade me from wearing makeup to school because "it makes you look like a tramp," I learned the dangerous art of applying makeup at high speeds without blinding myself or others. I was a princess when I climbed aboard that school bus, nothing on my face but the smell of Ivory soap and a kiss from my mother. However, when I disembarked, resplendent in black mascara and kohl liner, my cheeks in full blush, I was a queen. And as that badass teen queen Cleopatra once proclaimed, shaking her fist, "I will not be triumphed over!"
But forget ruling an empire. I couldn't even get my sister to do my chores, and I certainly wasn't like the tough chicks smoking in the bathroom. I wasn't really a bad girl. Girl Scout's honor. Sure, I wore makeup when I wasn't allowed to, and sure, my hemline rose two inches the minute I left the house. And yes, OK, I was indeed booted from the Girl Scouts for setting a fire. And, OK, fine, I have stolen a boyfriend or two for a joyride and, in a rage, thrown drinks, books, glasses, hairbrushes, and other household objects at people. I once threw two shoes at a man in a French restaurant, but I ended up marrying him — does that make it better? Perhaps the immortal Mae West (without whom modern-day bad girls like Madonna and Lady Gaga wouldn't exist) was right when she said, "There are no good girls gone wrong — just bad girls found out."
I defy you to show me a woman who hasn't — on occasion — yearned to be the femme fatale with the whiplash smile and suggestively arched brow. The wickedly clever, charismatic, completely seductive vixen who will stand at nothing to get what she wants. Even Polly Purebread can't resist pumping her fist when Joan Jett, the quintessential rock-and-roll bad girl, snarls, "Cause I was born to be bad/I'm not sad/But I'm glad I did it/Born to be bad/I'm not sad/Why don't you all get with it." I bet even Polly has dreamed of copying Jett's look — heavily lined dark eyes that amp up her glower power and raw sexuality. Why not?
And now the rebel geniuses at MAC have created Venomous Villains, a collection inspired by Disney's evil ladies: the painfully chic she-devil in furs, Cruella De Vil; her second in command, Snow White's insane-with-jealousy Evil Queen; Sleeping Beauty's shape-shifting sorceress Maleficent; as well as one dastardly dude, voodoo sorcerer Dr. Facilier from The Princess and the Frog, Disney's first fairy tale with an African-American star — a delicious twist, and perfectly fitting given MAC's original spokesmodel was RuPaul, a nearly 7-foot-tall black drag queen.
While the muses might be cartoons, the palettes are anything but sweet. Like the look itself, pulling off bad-girl makeup is all about control, a steady trigger finger, intention, and attitude — something I've never been able to accomplish in less than an hour. But with advice from MAC's Gregory Arlt, makeup artist to iconic bad girls like Cher and Dita Von Teese (what a godsend he is — see his tips in the Cheat Sheet, below), and the Venomous Villains weaponry in hand, I make myself over.
The effect is, well, arresting. The cat eye is divine, ditto my red Cruella lipstick. Filling in my very thin '20s-style eyebrows (a casualty of a Myrna Loy phase) gives me a wider, bolder range of expression. It's like suddenly having a new language at my disposal. I can now communicate my disapproval in a more theatrical fashion. It's almost a shame to waste it on my morning foray to the bagel place down the street.
As I lock my front door, a man passing by gives me a sidelong glance as though he thinks I might just be getting home from a long night — or am I sneaking out? At the shop, a man holds the door for me, another concedes his place in line. Are they frightened of me? Regardless, it suits me. At the counter, the gentleman who has waited on me a hundred times appears not to recognize me. He's hypnotized by my mouth. By the time he reaches my eyes, he's registered it's me, and he shakes his head a little as though to clear it. Then, seemingly helpless against my charms, he blurts out, "You look pretty." The bad girl inside me sneers, I know. I'm not stupid, though — a bad girl's power is in her ability to keep you on your toes. "Thank you," I say.
THE BAD GIRL CHEAT SHEET
Elissa Schappell is a contributing editor at Vanity Fair and author of the forthcoming book of fiction Blueprints for Building Better Girls (Simon & Schuster).
Celebrity news, beauty, fashion advice, and fascinating features, delivered straight to your inbox!