Mineral Powder Foundation Rules for Winter
Try it if your skin is a total flake fest.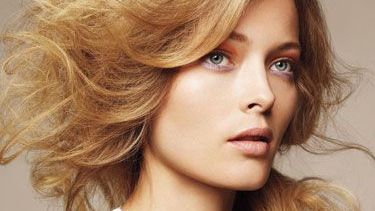 (Image credit: Tesh)
Okay, it seems like the opposite should be true, but if your skin is flaky, mineral powder foundation pretty much rules. Standard logic would lead you to think that liquid foundation would be more moisturizing, and therefore better for dry skin, but if you're prone to flakes, liquid foundation tends to cling to them. Then you get this patchy, uneven texture thing going on, which is so the opposite of dewy milkmaid. (I just assume everyone wants to look like a Vermeer painting, right?) Mineral foundations skim right over flakes and blend them in with the rest of your skin, kind of like an airbrushed effect.
The reason I personally prefer mineral foundations over non-mineral powder foundations is because they have a bonus of adding extra SPF, and every little bit helps. Don't worry about the powder forms sucking the hydration from your skin — as long as you use a great moisturizer underneath, you should be good to go.
My personal favorite mineral product is Being True Protective Mineral Foundation SPF 17 because it gives my skin a nice sheen — not too shimmery nor too matte. Just like a (you guessed it!) dewy milkmaid.
Celebrity news, beauty, fashion advice, and fascinating features, delivered straight to your inbox!