Meet the Next Makeup Moguls
The new crop of beauty entrepreneurs makes the difficult task of running a business look pretty good.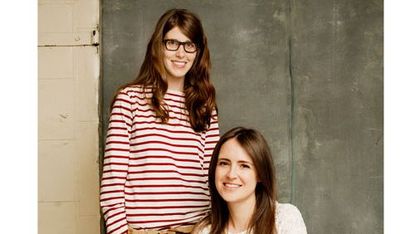 (Image credit: Ashley Macknica)
NAILED IT
There are no clunky dryers at NYC nail spa TenOverTen. "Waiting for your nails to dry is boring, and those machines remind us of production lines," says co-owner Adair Ilyinsky. Her business partner, Nadine Ferber, chips in: "We were friends — crazy busy with work, and looked forward to the one hour we'd carve out for a mani/pedi all week long. We felt it should be a moment of luxury, not hectic and gross." While they worked day jobs — Ilyinsky in finance for Coach and Ferber as owner of West Village boutique Mick Margo — the duo developed a business plan, leased a Tribeca space, and created an uptown-type sanctuary with a downtown price list (manis start at $15). The result? A chic-ed up version of the quintessential NYC nail salon: iPads at each station, pristine pedicure bowls, and smart innovations (customers can pay with a credit card on file, eliminating smudge risk). Today, fashion insiders flock to the salon, and yes, expansion plans — think new locations and an eponymous nail polish line — are in the works.
WHY IT WORKS: No factory lines here. Instead, manicurists warmly greet you in the hangin'-with-your-girlfriends atmosphere.
FAVORITE BEAUTY TOOLS: Qtica Half Time Polish Drying Accelerator, $22, dries nails in three minutes. Nars Nail Polish in Dovima, $16. "The perfect red!" says Ilyinsky.
SCHOOL TIES
When Katia Beauchamp and Hayley Barna were at Harvard Business School, an unseen beauty muse inspired them. "Katia is a beauty junkie. She would ask, 'Where'd you get that nail polish?'" explains Barna. "And Hayley would say, 'Mollie gave it to me,'" Beauchamp says, finishing Barna's sentence. (Stay with us here: Barna's friend in New York, Mollie Chen, happened to be a beauty editor at a travel magazine.) The students soon hatched a plan for gift-with-purchase 2.0, where subscribers pay a fee to receive well-edited, deluxe-size beauty samples monthly, then buy or earn points toward the full-size versions of their favorites. The idea won them second place in the university's prestigious Business Plan Contest. (They lost to a natural-gas compressor.) The duo — Beauchamp handles business development by negotiating with coveted beauty brands like Benefit; Barna's on operations, tech, and marketing — launched birchbox.com last year (Chen joined as content director shortly after), and the site now has 40,000 subscribers and growing. We haven't heard much about that gas compressor, though — have you?
WHY IT WORKS: Anyone who's ever been monstered by a department store spritzer appreciates taking control over the old "try before you buy" policy.
FAVORITE BEAUTY TOOL: Jouer Luminizing Moisture Tint, $38. "This was our gateway drug to this brand. Now we're completely obsessed," says Chen.
ALL NATURAL
"Seven years ago, my stepfather was being treated for cancer at the Mayo Clinic, and they had him bring in every grooming product he used for evaluation," says the well-coiffed Tata Harper, who also happens to be a farmer. According to the doctors there, years of exposure to chemicals add up, and patients are strongly encouraged to stop using synthetics of any kind. Happily, Harper's stepfather recovered, but she realized she no longer felt safe using typical beauty products. She and her husband had purchased a 1,200-acre farm in Vermont's stunning Champlain Valley, and in search of all-natural products that boasted clinical-trial-endorsed results, she hatched a plan to produce her own by growing the ingredients on their land. After years of research and development, her skincare line launched in 2010 and quickly gained fans like Gwyneth Paltrow, who recently extolled the virtues of the recycled packaging and clinical-grade essential oils. Harper insists ingredients like wrinkle-fighting date-palm extract in her serum work even better than the chemical stuff. "When I stopped using toxins, it took about three months, but then my complexion just blossomed," says the fresh-faced mother of two. "The fine lines and discoloration completely disappeared." How's that for a sales pitch?
WHY IT WORKS: Never underestimate word-of-mouth. "Talk about your line endlessly," advises Harper.
FAVORITE BEAUTY TOOLS: Tata Harper Refreshing Cleanser, $50. "It has pomegranate, a powerful antioxidant." Burt's Bees Milk & Shea Butter Body Wash, $8. "I love their body washes and toothpaste."
THE SCENTMAKERS
When David Seth Moltz (aka D.S.) was 6, he won a bottle of Pierre Cardin in a raffle, marking the beginning of a lifelong love affair with perfume. He grew up to be a musician, married architect Kavi Ahuja, then got hit hard by the recession. "But I realized I could parlay my love of music into fragrance, and write 'songs' through scents," he explains of the couple's decision to dive into the fragrance industry and create D.S. & Durga. (Durga is Moltz's nickname for his wife.) Ahuja's design background informed the coolly minimal yet vaguely antique packaging, and Moltz "nerdily got down to the nitty-gritty" of mixology. Their scents are conceptually straightforward, like Coriander, a fresh green mix, and Cowgirl Grass, a Wild West — influenced blend of sage and thyme. Despite the poor economic climate, "I think we took off because perfume is an everyday luxury, like good tea — something that doesn't break the bank but elevates you nonetheless," says Moltz.
WHY IT WORKS: The beautifully packaged, small-batch brewed "olfactory tonics" appeal to customers of hip retailers like Steven Alan and Anthropologie.
FAVORITE BEAUTY TOOLS: D.S. & Durga Siberian Snow Eau de Parfum, $85. "A delicate amber jasmine," says Ahuja. Rodin Olio Lusso Face Oil, $140. Moltz claims, "You can tell it's a blend of really choice ingredients."
MADE IN THE SHADE
Fittingly, it was a sunny day at the beach that prompted business partners and close friends Anne Botica and Monique Moore to conceive their fashion/beauty hybrid company, Mott 50. "We were with old friends whom we'd had tanning contests with in the past," says Moore. "But all of us former sun worshippers were covered up, talking about sunscreen, and we realized this was a new age." With that in mind, over a few glasses of wine and a whiteboard filled with ideas, the duo decided to create a line of fashion-forward sportswear separates made with 50 UPF, or Ultraviolet Protection Factor, fabrics. (To put that figure in perspective, the average white T-shirt has a UPF of 5.) They wanted to work in a philanthropic capacity as well, so a portion of their proceeds are donated to The Skin Cancer Foundation for research. Of the line's comfortable yet totally adorable separates, shifts, and hats, Moore says, "We really wanted to create functional pieces that people could throw on — and the fact that they're cute is a bonus."
WHY IT WORKS: They've managed to create a stylish beauty and health niche — sunscreen for your clothes.
FAVORITE BEAUTY TOOLS: La Roche-Posay Anthelios 60 Sunscreen, $36. Carmex SPF 15, $2. "SPF on your lips is really important," says Moore.
Celebrity news, beauty, fashion advice, and fascinating features, delivered straight to your inbox!
Erin Flaherty is a beauty journalist and consultant who has contributed to numerous publications including the Wall Street Journal and Domino, among many others. She is a board member of the Women's Global Empowerment Fund and especially passionate about worldwide beauty anthropology and women's issues. She lives in Woodstock, NY with her husband and dog.