Sharapova's
The globe-trotting tennis ace serves up the skinny on her favorite carry-on.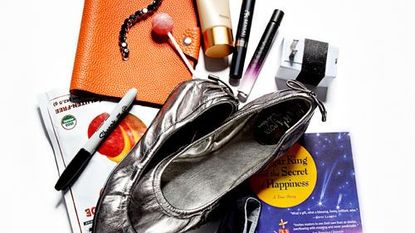 (Image credit: Jeffrey Westbrook/Studio D)
Tennis ace Maria Sharapova jets from Wimbledon to the U.S. Open this summer. Here, the globe-trotting champ serves up the skinny on her carry-on
Tennis bracelet: "I always bring the black-diamond tennis bracelet that my fiancé, Sasha Vujacic, got me to remember our first vacation, in Positano, Italy."
Hermès notebook: "I love jotting down ideas for my blog, so I doodle or take notes on all kinds of stuff that inspires me: the people I meet, boutiques I visit, a florist that just gave me a great idea for an interior-design project, things like that."
Sharpie: "I always have a Sharpie, because usually when someone asks me for an autograph, they don't have a pen. I carry one in my purse, as well as in my tennis bag."
Mango: "I have a pack of dried organic mango with me all the time. It's my favorite healthy snack."
Fresh lip balm: "A total must-have if you're traveling. I never know what climate I'm going to be in."
Strawberry Chupa Chups lollipops: "These are popular in Europe, and I have a very big sweet tooth."
Cole Haan Air Bacara ballet flats: "The flats I helped design work with everything I wear, and feature hidden Nike Air technology."
Kanebo Sensai sunscreen SPF 30+: "Since I'm constantly in the sun, I use sunscreen daily. This comes in this great travel-size tube, is water-resistant, and doesn't get in your eyes. I have to stock up because I go through it so fast."
Kanebo Sensai mascara: "I don't play in mascara, so this is just for my everyday off-court use. It doesn't smudge, and it goes on really lightly — I like that I don't feel as if I'm wearing a ton of makeup."
Travel adapter: "Better than always having to ask the hotel to get one for you."
Stella McCartney perfume: "This is the rollerball pen, so you don't have to lug around a big bottle. It's perfect if I need to freshen up — I just roll it on my wrist or on my neck. It's a fresh scent, and it's been my go-to fragrance for five years now."
Nike visor: "I pack my visor for practice."
The Beggar King and the Secret of Happiness by Joel ben Izzy: "It's my favorite book, and based on a true story. It's that spiritual, feel-good kind of read that gives you a great perspective on many things. I think with such a crazy lifestyle like mine, where I'm on a plane seven times a month, it's always good to get back to the basics."
The bag: Cole Haan Alexis frame bag. "This is the perfect-size travel bag. I'm excited about it because I collaborated with Cole Haan on the design. It's soft and light for traveling."
Celebrity news, beauty, fashion advice, and fascinating features, delivered straight to your inbox!