6 Earth-Friendly Beauty Brands to Get Behind
From sustainably farmed body butters to sulfate-free shampoos, this fresh crop of brands won't leave you hanging in the results department.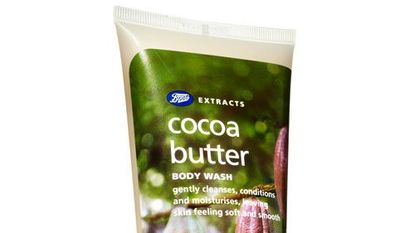 (Image credit: Jeffrey Westbrook/Studio D)
BOOTS
The Buys: With the new Extracts Bath and Body Care collection (hitting Target shelves this month), Brit pharmacy brand Boots goes green without getting full-on granola. Think sophisticated, yummy-smelling cleansers, scrubs, and creams (above) made with sustainable raw materials like organic cocoa and shea butters, and spiked with fragrant bergamot and rose hip essential oils. We're obsessed with the wonderfully foamy Cocoa Butter Body Wash ($7) — it leaves the driest limbs smooth.
The Source: Conacado cooperative, the Dominican Republic — based purveyor of cocoa to major chocolatiers like Nestlé and Green & Black's, has recently signed on to supply community-traded beans to Boots for cocoa butter.
Feel-Good Factor: Earth-friendly manufacturing practices — like rain-watering methods, solar crop drying, and the use of fuel derived from dried coconut shells — make the Conacado co-op sustainably sound. The company also guarantees its farmers a fair market price and safe working conditions while funding a microloan program for local entrepreneurs and building community learning centers for children.
L'OCCITANE
The Buys: L'Occitane's Immortelle Precious Night Cream ($68) and Eye Balm ($38) boast a powerful antiaging cocktail of organic immortelle cell extracts and circulation-boosting vitamin E.
The Source: A fully sustainable organic farm on the island of Corsica grows immortelle, a robust wildflower that never wilts.
Feel-Good Factor: As a brand known for its old-school, nature-based Mediterranean beauty secrets, L'Occitane forgoes chemical treatments and fertilizers. The hardy immortelle relies solely on rain showers (not wasteful irrigation systems), and is distilled organically on-site within hours of being hand-harvested.
THE BODY SHOP
The Buys: The Body Shop's Shower Gels for Earth Lovers ($12) doesn't skimp on performance for sustainability — an infusion of aloe and watermelon extract douses skin with moisture and an uplifting (not sickly sweet) scent.
The Source: Organic fair-trade aloe vera is hand-harvested by local farmers in El Progreso, Guatemala, then processed within 12 hours to preserve its freshness and efficacy.
Feel-Good Factor: This first-ever 100 percent biodegradable shower gel (free of parabens, colorants, and sulfates) is housed in recycled plastic, nixing the carbon footprint created in manufacturing the packaging from scratch.
SIBU BEAUTY
The Buys: Antioxidant- and essential-fatty-acid-rich sea buckthorn berry oil makes the Hydrating Serum ($40) and Cleanse and Detox Facial Soap ($6) heavy hitters against wrinkles and sun damage.
The Source: Organic sea buckthorn berries (believed by Buddhist monks to have sacred healing powers ) indigenous to the Himalayan Mountains are handpicked and sorted by native farmers.
Feel-Good Factor: The Dalai Lama has given his blessing to the fair-trade pact between Sibu Beauty and the sea buckthorn farmers in Tibet — mostly women who earn enough in one season to support their families for a year.
FREE YOUR MANE
The Buys: Free Your Mane's Restorative Hair Oil ($25) tames frizz with a base of baobab and sweet almond oils; a blend of aloe, sunflower-seed extract, and avocado in the Sulfate-Free Hydrating Shampoo ($16) leaves tresses silky smooth.
The Source: Grown wild in the dry regions of Tambacounda, Senegal, certified organic baobab fruit (a white pulpy crop with a hard shell, high in vitamin C and omega-6) is collected by local farm cooperatives.
Feel-Good Factor: On top of paying the Senegalese farmers a fair-trade price, Free Your Mane donates 7 percent of all profits to fund numerous children's charities in the U.S.
JURLIQUE
The Buys: Jurlique's Purely White Skin Brightening line, which includes a Day Cream ($45) and a Night Treatment ($48), zaps spots and pigmentation with Kakadu plum extract and citrus unshiu peel extract.
The Source: The company's 153-acre certified biodynamic farm in South Australia's Adelaide Hills grows organic rose, chamomile, and lavender, which are blended into a base for all the brand's products. Marquee ingredients not grown on-site — like Kakadu plum — come from nearby growers, purchased at a fair market price.
Feel-Good Factor: Composting and a revegetation project make the Jurlique farm an eco all-star. We also love how organic garlic planted between rose bushes fends off pests.
Celebrity news, beauty, fashion advice, and fascinating features, delivered straight to your inbox!