Botox Makes You Look Older? One doctor swears it does.
Wrinkle-reducing wonder drug or freaky facial poison? Two top derms debate the phenomenally popular Botox.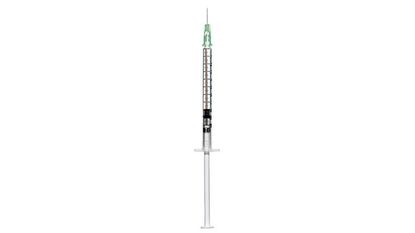 (Image credit: Todd Huffman)
It's hard to believe that in the five years since Botox was first FDA-approved for cosmetic use, we've grown indifferent to the expressionless A-listers and me-but-better moms we see every day. A cultural force, Botox has forever changed the way we age.
Still, the debate over its safety and effectiveness continues. On one side, Dr. Fredric Brandt, a New York- and Miami-based dermatologist (dubbed the "Baron of Botox"), reportedly administers more Botox than any doctor in the world — and doesn't skimp on himself, either. On the other, best-selling author and research derm Dr. Nicholas V. Perricone takes a staunchly anti-Botox stance. He argues that an anti-inflammatory diet plus nutritional supplements can better fight the aging process.
On the next page, a look at how their points of view stack up.
Some Botox facts

More than 3.1 million Botox injections were administered just last year.
About 1 million people in the U.S. habitually use Botox Doctors provide more Botox to women ages 22 to 40 than to women over 60. Botox use jumped 4783 percent from 1997 to 2006 as the injection went from specialized ophthalmic tool to cosmetic phenomenon.
THE MANIFESTO
DR. FREDRIC BRANDT
"Botox isn't just about eliminating lines, but rebalancing the face by lifting certain areas nonsurgically. It offers really dramatic results with almost no downtime. It's not poison, it's medicine."
DR. NICHOLAS V. PERRICONE
"Botox is a neurotoxin that paralyzes the muscle. After people use it, they start losing volume in their face, and that accelerates the appearance of aging."
"WHAT WORKS FOR ME"
DR. FREDRIC BRANDT
"I do Botox on myself, of course, every three-and-a-half to four months, and I use my skincare products every day. I've done laser treatments and very light chemical peels, and I also use [the injectable filler] Restylane because, as you reach a certain age" — he's 58 — you need to add volume to your face."
DR. NICHOLAS V. PERRICONE
"I've never administered or used Botox. I [believe in edible and topical] antioxidants and anti-inflammatories for the skin," like omega-3 fatty acids, found in salmon and nuts. Perricone, 59, credits his youthful glow to using his products and eating salmon up to six times a week — no face-lift required.
BEST CANDIDATE
DR. FREDRIC BRANDT
"Somebody can be 25 and have a lot of wrinkles from the sun, or be 40 with none — what matters is if there are lines. Botox is best for horizontal forehead lines, frown lines, crow's-feet, and the neck."
DR. NICHOLAS V. PERRICONE
"I always try to talk patients out of Botox. It's just my belief that the best thing for them is to go the natural route to try and get their facial contours back: good diet, nutritional supplements, good topicals — all those strategies work."
BOTOX GONE BAD
DR. FREDRIC BRANDT
"It matters how and where, precisely, you inject it." Depending on the administering doctor's skill, you'll see the occasional "Dr. Spock" eyebrows — and in the worst cases, crooked mouths or droopy brows with heavy eyelids.
DR. NICHOLAS V. PERRICONE
"Someone who's been on Botox for a while is going to look like a wrinkle-free older person" — i.e., they're expressionless, and their facial features are flattened.

ADDICTION POTENTIAL?
DR. FREDRIC BRANDT
"We do have to tell a few people to come in less frequently because they don't really need it, and if they do it too often, they could become resistant. But with the new lower-protein formulations, resistance is rare — I've seen maybe four cases of it in my whole career."
DR. NICHOLAS V. PERRICONE
"I was just talking with a woman who lives on Botox and looks older than her years by a decade. I said, 'Why don't you go off this stuff' and she said, 'If I do, it's all gonna drop.' I said, 'Let it drop, start using topical antioxidants, and do some electrical stimulation to firm up those facial muscles.' She's considering it. I have about a 50 percent success rate talking people out of Botox."
THE COST
DR. FREDRIC BRANDT
BOTOX: national average is $435 per procedure about every four to six months.
DR. NICHOLAS V. PERRICONE
NO TOX: about $200 per month for his program of diet, supplements, and topicals.
PREVENTION FIRST
DR. FREDRIC BRANDT
Lindsay, 25, doctoral student, has Botox injections every four to five months in her forehead, between her eyebrows, and next to her eyes: "A lot of women wait until they are really in bad shape, and that's kind of like saying, 'I'm going to wait until I have a heart attack to go to the cardiologist.' Botox is just like putting on sunscreen for me."
DR. NICHOLAS V. PERRICONE
Elizabeth, 54, photographer, follows Perricone's program and has never tried Botox: "I'm a year older than my sister, and she loves Botox, but are faces are comparable. She looks great, but her skin texture isn't as supple. Yes, it's expensive to eat organic and use good products, but when you can [fight aging] a natural way, why would you do Botox?"
Celebrity news, beauty, fashion advice, and fascinating features, delivered straight to your inbox!