Vintage & Modern Beauty
Vintage Modern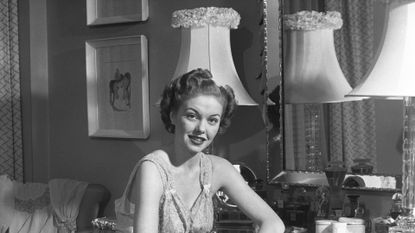 (Image credit: marie claire )
As a bridesmaid in a friend's wedding, I recently rocked a Hair Donut. It's a foam circle covered in netting that you wrap your strands around, giving the illusion you have piles and piles of hair sculpted into a huge, perfect circle. When I debuted it, I was convinced I was totally now, considering all the buns that cropped up on spring runways at The Row, Donna Karan, and Dennis Basso. But my mom set me straight: "Oh, a sock bun. I wore those all the time in the '60s." That's when it clicked — my hair was identical to Betty Draper's massive updo in the Mad Men season three episode when she goes to Rome. Retro yet completely modern. Hoping that everything old would be new again, I grilled my mom on other back-in-the-day beauty obsessions for further inspiration. What I learned is that some ideas from the past are best left there, like the Joan Crawford School of Tanning: Mix eight parts baby oil with one part iodine, apply liberally, and sit out at the shore holding an aluminum trifold reflector. Others seem just plain wacky — Audrey Hepburn was rumored to have separated each eyelash with a pin after applying mascara. Yet looking at photographs of screen sirens from the '20s through the '60s — Crawford, Rita Hayworth, Brigitte Bardot — I was struck by how beautiful they were without the help of Botox, Brazilian keratin blowouts, silicone, or Photoshop. They must have been onto something. I decided to put vintage hair and skin treatments to the test to see what holds up and what should stay in black-and-white movies.
My mom's other main hair secret was to use beer instead of conditioner. The theory is that the proteins in it impart gloss and volume, which doesn't seem that far-fetched, as Lush and Redken both make beer-based shampoos. Though my instincts told me to use the suds as a rinse, my mom swore she let her hair dry coated in beer, then wrapped her ponytail around the can-cum-roller to curl it. She also suggested bringing the beer to room temperature, mostly so it's not freezing as it gushes over your head and down your back. (I waited only five minutes, and I may have also indulged in a few sips.) But as my hair dried, it took on a parched, wheat-like texture and finished almost crunchy. Worst of all, when I went to the gym and started sweating, the slight Eau de Hops wafting from my head turned into a full-on "Who's the girl with the hangover?" stench.
I scoured the Web and consulted The Westmore Beauty Book, a 1956 guide written by the Westmore brothers, kings of hair and makeup for the Old Hollywood studio system. One thing that stuck out was that an awful lot of treatments involved raiding the pantry. Perhaps the sexiest woman of all time, Sophia Loren, once relied on two spoonfuls of olive oil in the bath for soft skin. When I tried it, I felt less pampered and more poached, like a nice piece of salmon. I couldn't get past the food associations, and because the oil collects in blobs on the water's surface, patches of my skin were extremely greasy and others dry enough to flake. When I got out of the tub, I just rubbed the oil around (no lotion required!); the next day, even my knees remained silky. Loren's tip has potential, but next time I'd try it with apricot kernel oil or something with a sensory experience that's more spa than sous vide. I also learned the hard way that you should scrub the tub meticulously, or that tiny bit of residual oil turns it into a way less fun version of a Slip 'n Slide.
The next pantry beauty technique came from Katharine Hepburn, who was said to make her own exfoliant with a few drops of water, some lemon juice, and granulated sugar. Without the exact recipe, I doctored my own formula and gently massaged it into wet skin on my face and neck. The mixture is magic. My skin felt so smooth that I started making "I'm ready for my close-up" jokes — a lens wouldn't need Vaseline coating to make my skin look flawless.
Speaking of Vaseline, screen stars were obsessed with the stuff. Greta Garbo put petroleum jelly under her eyeshadow, and Bette Davis used a layer of it under cucumber slices to de-puff her eyes. I tried both and can endorse only the cucumbers (especially chilled), an oldie but a goodie for calming inflammation. I understand that Garbo was after a wet look, but these days we have cream shadows that do the trick and dry to a creaseless finish. The tackiness of wearing Vaseline around my eyes lent that unpleasant sensation of sunscreen about to run into them. And as the day went on, it started melting with my body heat.
Luckily, makeup has come a long way. I know because I tried several more tips from The Westmore Beauty Book, attempting to pencil in more dramatic eyebrows (thin, into a pointy arch) and lips (drawn fuller, especially on top) and spackling on heavy foundation to create the perfect "canvas" on my face. In short, I resembled a slightly angry drag queen. But I braved the look for drinks with a friend, who told me that from across the bar, I looked like Bettie Page ... and up close, I looked like a person hiding under an inch of paint. I left early, self-conscious and feeling like my face was suffocating under the layers of opacity.
The screen sirens of yesteryear had some great ideas about grooming — spend the time to take care of yourself, DIY treatments can be great, don't use wire hangers, and always leave the house feeling pretty. As for the rest, I'll stick with my modern conveniences — but I'm keeping the sock bun.