Eco-Friendly Beauty Products
Cara Birnbaum finds it's easy going green — up to a point.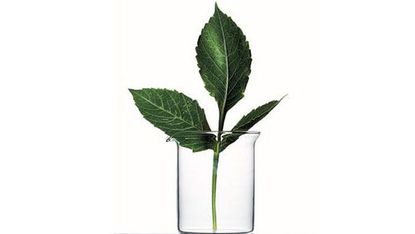 (Image credit: Svend Lindbaek)
The toothpaste billed itself as "vanilla mint," but the stuff tasted more like chalk and made me pine for the crisp, medicine-y Colgate Total I'd been using forever. Truth is, cleansers, sunscreens, and makeup labeled "Pure, Natural, and Organic" have been associated with the back aisles of crunchy health-food stores for so long, I was prepared for a concoction that tasted, smelled, and, worse, felt funky. I confess that while I've never been wild about eating synthetic (I'm skeeved out by Splenda and Velveeta), I've always liked my beauty stash lab-made — give me test-tube acne treatments over an Amazon-tree-sap formula any day.
So when Marie Claire asked me to swap my trusty potions for an all-green regimen for two weeks, I balked, but boy did I learn a few things. First, a whopping 2,000 new personal-care products with a "natural" or "organic" label hit stores in 2006 — up from about 800 launched in 2005, according to the Natural Marketing Institute. Second, thanks no doubt to celebrity tree huggers like Leonardo DiCaprio, Laurie David, and Al Gore, high-end botanical brews are proving serious competition for their commercial counterparts. Nude, an upscale skin line from the U.K., even wraps its products in biodegradable starch that can be composted. Then, I discovered I was pregnant — so relinquishing scientifically engineered face wash for a fortnight would be nothing compared with sacrificing sushi, mojitos, and blue cheese for nine months.
Two days later, after the mag sent me my trial bag of green goodies — a formaldehyde-free nail polish here and a lavender-spiked antibacterial room spritzer there — I discovered a few potential "natural" disasters. Tea-tree-oil deodorant doesn't perform as well as my Secret antiperspirant, for instance, and on my pale face, mineral-based sunscreens can resemble Kabuki makeup. And, yes, back-to-the-garden toothpastes pretty much come in that one flavor: chalk.
I soldiered on, aiming first to cut from my daily regimen parabens, that controversial class of preservatives that seems to act as an endocrine disrupter. Though the USDA is still analyzing the data, Urvashi Rangan, Ph.D., an environmental-health scientist with the firm that publishes Consumer Reports, cautions: "Parabens basically trip up the hormonal system, and as a lot of cancers ultimately come from hormonal systems run amok, there's certainly reason for concern." The next morning, I started with paraben-free Jason Ester-C Gentle Facial Wash (not tested on animals, naturally), whose orange-oil-infused lather smelled good enough to eat, and Burt's Bees Very Volumizing Pomegranate & Soy shampoo and conditioner, which left my hair feeling thick and bouncy — despite containing zero sodium lauryl sulfate or phthalates. While some maintain the former is a harmless detergent, others, like Samuel Epstein, M.D., professor emeritus of environmental and occupational medicine at the University of Illinois School of Public Health, think otherwise: "Sodium lauryl sulfate is a harsh irritant that can facilitate other toxic ingredients' entry into the skin," he says. Meanwhile, phthalates, a class of chemicals added to plastics and many cosmetics, have taken heat lately for the potential hazards to kidneys, lungs, and reproductive organs — especially those of baby boys born to women exposed to everyday levels of the substances. The European Union banned their use in kids' toys two years ago, while our own Environmental Protection Agency continues to conduct studies.
As a pregnant woman, do I really need to be as obsessive about the lotions I put on my face as I am about the food that goes into my stomach? "We all do," says Stella McCartney, whose Care line complements her groundbreaking organic fabrics and fur-free fashion collections. "Beauty products derived from organic botanicals contain more essential nutrients than conventional ones. Ultimately, your skin sees more benefits." What's more, Epstein adds ominously, "When you apply chemicals to the skin and they penetrate the bloodstream, they can produce effects almost anywhere in the body. At least when you take them by mouth, they pass through the liver, where they're detoxified to varying degrees by enzymes." All of which was enough to make me toss my prescription antibiotic acne gel (a Google search found it does indeed cross the placenta) for Luzern Laboratories Serum Control Absolut, a preservative-free blend of breakout prevention. The stuff pretty much worked — until a cluster of volcanic zits erupted on my chin during my 12th week of pregnancy. Out came my Clearasil — so shoot me.
While I also faithfully slathered Alba Botanica Sun Mineral Sunscreen all over my body, I just couldn't deal with the dead-whitening effect on my face. I dotted on an invisible avobenzone formula, trying my best to ignore the likes of Epstein, who claims that chemical sunscreen ingredients, like homosalate, benzophenone, and the popular avobenzone, alter the balance of the body's hormones — and even migrate into breast milk. Sounding like the voice of moderation, Jeffrey Dover, associate clinical professor of dermatology at Yale University School of Medicine, suggests "minimizing the use of chemical skin products during pregnancy, although the ingredients are perfectly safe."
Well, you could argue that the "use sparingly during pregnancy" dictum says something about the safety of the substance in general. Still, I figured I was erring on the side of caution. I discovered Tom's of Maine lemongrass deodorant, which really works despite being free of aluminum — which has been linked to both breast cancer and Alzheimer's — and I began painting my eyes with Aveda Petal Essence Eye Definer, whose waxes are derived from organic jasmine petals and geranium leaves. And while I was reveling in the fact that my unruly waves could actually be tamed by Aveda Be Curly Curl Enhancer's organic peppermint, rosemary, lavender, and ylang-ylang, I couldn't help but notice its share of unpronounceable ingredients. Does phenyl trimethicone grow on trees? Indeed, all a product needs to call itself natural is a few flower extracts.
"If you want something that's truly chemical-free, look for the USDA seal on the label," says Joseph Smillie, whose private agency, Quality Assurance International, certifies organic products for the U.S. Department of Agriculture. The USDA started recognizing certification for personal-care products in August 2005, so only a few, like Origins Organics, have earned the seal so far. McCartney's Care is certified by Ecocert, an international organization recognized by the FDA, and that's good enough for me. If I can cut even a few potentially sketchy chemicals out of my routine — and not sacrifice the beauty part — I'm happy. At the end of my two-week trial, my hair is actually shinier, my lips poutier, and my skin clearer than it's been in quite a while — even without Clearasil boosters. And I'm ready to work nearly all of the eco-friendly potions into my permanent rotation and keep them there after I've given birth. Well, all except the toothpaste.
THE GREENER GOODS:

A fresh crop of natural beauty buys (from top shelf, left)
1. Stella McCartney Care 5 Benefits Moisturising Fluid, Nourishing Elixir, and Purifying Foaming Face Cleanser
2. 365 Organic Cotton Balls
3. Aveda Be Curly Curl Control
4. The Healing Garden Organics Wild Honey Body Wash
5. Tom's of Maine Natural Long-Lasting Deodorant Stick in Lemongrass
6. Luzern Laboratories Serum Control Absolut
7. Aveda Lip Shine in Night Iris
8. Josie Maran Plumping Glosses in Brilliance and Strength, Black Mascara, and Eyeshadow in Valentine
9. Origins Nourishing Face Lotion and Conditioning Hair Oil
10. Burt's Bees Very Volumizing Shampoo and Conditioner with Pomegranate & Soy
11. Jurlique Replenishing Foaming Cleanser
12. Nude Facial Scrub, Cleansing Milk, Age Defence Intense Moisture, and Lip Balm
13. Jason Super-C Cleanser
Correction:(from October 2007 Issue)

The Stella McCartney CARE product line is only available at Barneys New York in New York and Los Angeles and Sephora stores nationwide.
Celebrity news, beauty, fashion advice, and fascinating features, delivered straight to your inbox!