Lazy Girl vs. The Makeup Counter
Read up on these quick tricks to get the most out of your next beauty counter experience.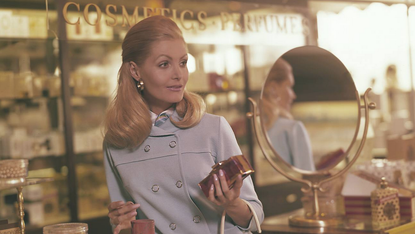 (Image credit: Archives)
Marie Claire newsletter
Celebrity news, beauty, fashion advice, and fascinating features, delivered straight to your inbox!
Thank you for signing up to . You will receive a verification email shortly.
There was a problem. Please refresh the page and try again.
We've all been there. Between the endless aisles of glassy displays and intoxicating wafts of perfume, trying to navigate department store beauty sections can seem more like an Odyssean adventure than a pit-stop on a Saturday afternoon. So, we spoke to Tawni Hart, Nordstrom's East Coast Beauty and Fragrance Director, to give us the scoop on what to do (and not to do) when trying to score a fast face fix-up on the cheap.
1. Do your homework.
"Just like going to the doctor, visiting a makeup counter is only as worthwhile as you make it out to be," explains Hart. "If you want to try out a specific look, bring pictures. If you love an old product but can't find it anywhere, bring the jar so an esthetician can read the ingredients. And, most of all, if you have any questions, write them down! Polished beauty pros can seem intimidating, but even they had to learn the tricks of the trade somewhere."
2. Have cash ready.
"As much as you might want to score a free makeover, there are some things that are not complimentary for sanitary purposes, like false lashes," adds Hart. "But more than anything, we'll often see women, who are not planning to purchase anything, buy lip gloss or powder on a whim to be able to touch-up their makeover for the rest of the day."
3. Sample the goods!
They're there for a reason, after all. "It's not greedy to stock up on samples," explains Hart. "This is the best way to try out products over a longer period of time. Just remember that your esthetician will only want to give you demos of products that will work for you and your skin type."
4. Speak up.
"If you don't like an eye shadow shade or lipstick color, tell us so we can fix it!" exclaims Hart. "You would say something if you got an under-cooked dish in a restaurant, and the same applies to makeup. Also, feel free to chirp in with questions about application, like how to transition a look from day to evening."
5. Don't be boring.
"The biggest mistake people can make at the makeup counter is to not be willing to try something new," Hart warns. "Makeup counter artists are the true experts on how to translate trends into everyday, wearable looks because they deal exclusively with real women. So, even if you don't want to try the cool, new orange lipstick shade of the season, the right esthetician can point you in the direction of a copper or apricot lip gloss that better suits your personal style."
6. Don't feel guilty.
"And, most of all, don't feel guilty about not buying anything," Hart notes. "We want people to go out and see how certain shades look in the daylight. Nordstrom even has a program called, Personal Book, where we keep track of all the sample shades and products clients try. This is a great reference in case you lose your face chart or want to check on the availability of a replacement product."