36 Beauty Gifts for Every Kind of Friend You Have
Warning: You'll want to keep most of these for yourself.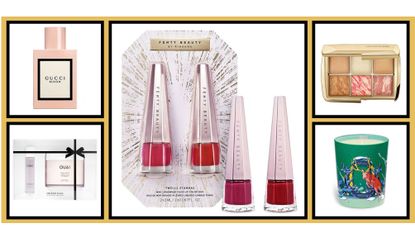 (Image credit: Courtesy)
We do a whole lot for our friends: literally bend over backwards to catch their best angles, stay on the phone forever for girl talk, embarrass ourselves playing wing woman, the list goes on. Every holiday season, we're also tasked with gifting our friends thoughtful things, which can be really hard, especially if they're obsessed with makeup, skincare, and all things beauty, and you want to get them something they'll actually use. Look no further, though, because I've rounded up the best new beauty gifts for every type of friend in your life. Literally *every type*: That extra friend, that frugal friend, those makeup-loving, or fragrance-obsessed friends—they're all covered. Ahead are gifts you'll probably want to keep for yourself, but should definitely treat your girls to.
1/36
Fresh Sugar Lip Moisturizing Trio
The Most Useful
The winter months bring cold weather, harsh winds, and inevitably chapped lips. This trip of Fresh's cult lip balms means you never have to make the agonizing choice of which one to buy. Kissable lips are a swipe away!
2/36
OUAI The Body Reset
For anyone who needs a full spa day, this kit is that experience in a convenient package. With both a delicious-smelling body cream and a fragrance, you'll be smelling sweet from head to toe.
3/36
Tatcha Dewy Skin Duo
The Cult Favorite
Give any beauty lover some coveted Tatcha goodies and they'll love you for life. This gift set contains three of the brand's most-loved products to get her through the season with perfect skin.
4/36
FENTY BEAUTY by Rihanna Two Lil Stunnas Mini Longwear Fluid Lip Color Duo
For The Fenty Fans
When it comes to picking your favorite Fenty product, it's just impossible to choose. That's why this set, which features two of her iconic lipsticks, is the perfect gift for all the Fenty fans out there.
5/36
Slip Silk Pillowcase
For Beauty Sleep
A silk pillowcase is the Holy Grail of the beauty community. They lessen the chance of breaking out, they're super luxurious, and they make bedhead a thing of the past. Any beauty lover would love to be gifted one of these.
6/36
Rare Beauty by Selena Gomez Mini Lip Souffle Matte Cream Lipstick Duo
The Selena Gomez Stan
Everyone has been raving about Selena Gomez's beauty launch. For anyone who's been biding their time before trying it, this gift allows you to try two of her famous lip soufflés for a significantly lower price.
7/36
DIPTYQUE Sapin de Nuit Candle
The Ultimate Holiday Candle
Everyone loves receiving a lovely scented candle during the holidays, but this one is the only one you ever need to buy. diptyque's holiday collection is revered by all beauty lovers, and everyone you know would love to receive this as a gift.
8/36
Grande Cosmetics Lash Fix-It Kit
The Grande Upgrade
The holiday season is the time for personal growth. But why not expand that to physical growth as well? These products help lashes and brows reach their full potential, with lengthening and thickening ingredients. New year, new brows.
9/36
Guerlain Abeille Royale Cleansing Oil
The Everyday Cleanser
If cleansing is a chore for anyone in your life, introduce them to Guerlain's Cleansing Oil. This product not only removes makeup and pollution, but's also infused with ethically-harvested honey.
10/36
Cirque Colors Shimmer Duo Succulent Garden & Velvetine Nail Polish
The Mani Duo
A nice manicure really sets the mood for the holidays. Why not gift someone in your life this holographic, glittery polish duo? After all, can you ever really have too many nail polishes?
11/36
Dyson Dyson Supersonic™ Hair Dryer Copper Gift Edition
The Golden Dryer
Anyone obsessed with haircare has had their eye on the Dyson blowdryer, but why not make this gift extra special with this limited edition gold version? The same amazing results, with a pretty holiday makeover.
12/36
Glamsquad Bon Voyage Travel Kit
For On the Go
Unless your friend is Kim Kardashian, a stylist isn't always at her service. It's why she needs this convenient set of on-the-go stylers to keep her hair on-point at all times. She'll thank you later.
13/36
Fancii The Mila
Best Mirror
Fact: a good friend knows how crucial good lighting is. This compact, LED-lit, magnified glass mirror will win you Friend of the Year. To top it off, the lighting adjusts from dim to bright.
14/36
STILA Kitten Bliss Eye & Lip Set
Best for Anyone
There's a reason why the shade "Kitten" in Stila's range is so iconic. It looks good on everyone, on the lips, eyes, and face. This trio of products is Kitten-esque in the best possible way.
15/36
Hourglass Ambient™ Lighting Face Palette
Best Compact
For the makeup lover who can't choose which Hourglass product she loves best—now she doesn't have to choose. This stunning gold compact contains the brand's most-loved products, with blushes, a bronzer, and face powders for every finish.
16/36
Olive & June The Studio Box
Best Manicure Kit
Save your girl a trip to the salon and encourage her to indulge in some self-care with this ultimate DIY manicure kit that'll make her feel so profesh in the comfort of her own home. My favorite part: The brilliantly crafted box that allows you to use your phone as a prop for whatever your heart desires.
17/36
calm Dosist Dose Dial
For Stress Relief
In a perfect world, we'd be able to call our friends and vent at any given time. The way life is set up, sometimes you just need something right away to calm the jitters. This dose-controlled cannabis dissolves and instantly zens you out.
18/36
ORIBE Dry Styling Set
Best Dry Hairstyling Set
Everyone appreciates a helping hand during bad hair days. The hype around Oribe's dry shampoo is real, so you should spread the love to your friend with this dry styling set that'll come through when she really needs it.
19/36
ILIA Beauty The Holiday Set
For Clean Makeup Fans
For the clean-makeup lover in your life, get her this bag of goodies from ILIA. Every item in this kit is a winner, from their mascara, to their lip products. Looking gorgeous doesn't have to hurt the environment!
20/36
Briogeo Besties Clean Hair Discovery Kit
For New Year, New Hair
Go in for a hair mask, a shampoo, or a conditioner? Why choose! With this kit from Briogeo, all your hair wishes can come true, with a selection of the brand's five bestselling products.
21/36
Gucci Bloom Set
The Luxury Gift
The scent junkie in your life would love to receive this fragrance, in the iconic Gucci gift box. With one full-size perfume to put on your vanity, and a mini to throw in your purse, you'll smell delicious wherever you go.
22/36
NARS Velvet Matte Lipstick Pencil Duo
Best Lipstick Duo
NARS' Matte Lipstick Pencils have secured a cult status for a reason. The two shades in this set will give you the perfect rosy lip.
23/36
Olaplex Holiday Hair Fix Kit
For Damaged Hair
Olaplex has a cult following for a good reason. Been dying to try out their product? This kit has all the fan favorites for a reduced price. Split ends are out for the Holiday season.
24/36
Sol de Janeiro GlowMotions Glow Oils
Best Glow
Is your friend missing her yearly tropical vacation? That doesn't mean she can't still get a glow. This oil gives the body a glistening sheen that will make you look like you just landed from Aruba, minus the sun damage.
25/36
Arches & Halos Arches & Halos Jetsetter Brow Kit
Best Brow Set
The gift of good brows is always a good idea. This brow starter kit is equipped with everything your brows could ever need to live their best lives.
26/36
PARFUMS DE MARLY Kalan Eau de Parfum
Most Alluring Scent
This is a fragrance fit for your badass friend who likes to own the room. The blend of black pepper, spices, blood orange, lavender, demands attention. So, you should gift it to your single friend who's on a mission to meet a man.
27/36
Pat McGrath Divine Rose II Collection
Best Luxury Eyeshadows
Pat McGrath eyeshadow palettes perfectly encapsulate the gift-giving conundrum: They're luxe enough to make anyone happy, but you actually really want one for yourself. Not only are the shades in this palette absolutely stunning, but they're insanely effective, too.
28/36
Tom Ford F*king Fabulous Eau de Parfum & Lip Color Set
Best Lip and Perfume Set
Does gifting your girlfriend Tom Ford need any explanation at all? It's Tom Ford. It's f***ing fabulous. Period.
29/36
The Hair Saver
If you have a curly-haired friend, she'll thank you later for this edge slayer. Using soft boar bristles, this styler will lay and smooth down frizzy edges. They're lifesavers and you'll probably be tempted to keep it for yourself.
30/36
Aquis Lisse Luxe Hair Turban
The Frizz-Control Towel
For anyone who battles frizz on a daily basis, this hair towel is your cure. It's softer than regular towels so hair breakage is minimal. Plus, it soaks up water post-shower so hair dries faster and more beautifully.
31/36
CLINIQUE 3-Step Introductory Kit For Oilier Skins
For the Skincare Beginner
This trio from Clinique is going to be perfect for anyone who is just starting out on their skincare journey. Start with their bestselling cleanser, keep skin looking fresh with a clarifying toner, and finish off with a light hydrating cream.
32/36
Maison Margiela 'REPLICA' Deluxe Mini Coffret Set
For the Person With No Signature Scent
They say finding your perfect perfume is a journey. Help them on their way with this set of five fresh scents inspired by places and memories of the past.
33/36
NuFACE Fix Kit
The Luxe Beauty Tool
If someone on your list has been wanting to try out the NuFACE but doesn't want to take a leap, buy them this version. It comes with the popular gel and a smaller size of the classic tool.
34/36
Susanne Kaufmann Nourishing Herbal Whey Bath
For the Bath Taker
There is nothing quite as nice as a piping hot bath after a long day. All they need is Susanne Kaufmann's best-selling bath soak to elevate the experience. They'll never a quick shower again.
35/36
Beauty Bakerie Milk & Honey Highlighting Palette
For the Glowing Girl
Got someone on your list who would literally die without highlighter? They're going to love this palette of four shades from Beauty Bakerie. The shades are super creamy and smooth for a traffic-stopping glow.
36/36
Mented Everyday Eye Shadow Palette
Best Nudes Palette
This palette from Mented is perfect for anyone who is obsessed with 90s-inspired makeup these days. The mix of warm browns will give them a supermodel smokey eye look in minutes. Plus, the formula is vegan, cruelty-free, and paraben-free, so they can feel good while they do it.
Tatjana Freund is a Beauty Commerce Writer, covering makeup, skincare, and haircare products and trends. She's a fan of vodka tonics and creepy Wikipedia pages.