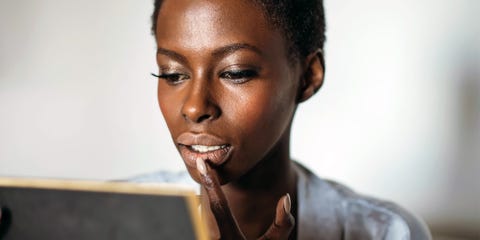 A short list of things you should do for your friends: 1. Like all of their Instagram photos, 2. Tell them how much you love them, and 3. Not give them another gift card this holiday (or birthday, or any day ever again).
I mean, sure, you could get them a tiny piece of plastic that proffers as much sentiment as a gust of air, or you can pick out one of these divine skin, hair, and makeup gifts, below, that they'll be thrilled to receive. May I suggest the latter option?
1
For The Red Lip Lover In Your Life
MAC Red Lip Kit, $42.50
Sometimes a red lip can complete an entire look—and your friend who always has a Marilyn Monroe–inspired pout knows that. This Nordstrom exclusive kit includes a lipstick in M·A·C Red (a vivid bright bluish-red with a satin finish), a retro matte liquid lipcolor in Feels So Grand, and a lip pencil in cult favorite color Ruby Woo. All the shades go perfectly together and separately.
2
For Your Super Clean Friend
Weezie Makeup Towels, $40 (pair)
The most frustrating thing about washing your face is getting a perfectly clean towel smudged with the mascara still under your eyes or your long-lasting lipstick. (Okay, washing your face is the most frustrating thing about washing your face, but you know what I mean.) Luckily Weezie has solved this problem with their super cute and incredibly soft makeup towels. Perfect for cleaning up after a long night or a quick gym sesh. And they come in a pair so she's not constantly doing laundry.
3
For Your Mask-Obsessed Friend
DR. JART+ Mask Heroes Face Savers, $39
This set is called mask heroes for a reason. When your skin starts to freak out reach for the most appropriate mask from this bunch and relax while your skin heals. The set features six masks including the Hydration Lover Rubber Mask, Firm Lover Rubber Mask, Dermask Micro Jet Clearing Solution™, Dermask Micro Jet Brightening Solution™, Prescriptment Water Replenishment Cotton Sheet Mask, and Pore Minimalist Black Charcoal Sheet Mask. Almost like a trip to the spa...just in the comfort of jammies on the couch.
Kat Von D Beauty Best of Nudes Mini Studded Kiss Crème Lipstick Set, $22
Not only are the pigments in this set of six mini luscious lipsticks amazing and long-lasting, they're also vegan and cruelty free making them perfect for your friend who loves animals (or is on the eco-friendly train). The limited-edition kit will take care of all her nude, blush, and brown lip needs.
5
For The Man In Your Life
Jack Black The King Set, $49
So this may seem like a lot of money to spend on skin care for anyone but yourself, but if the men in your life smell and look good aren't you winning? This limited-edition Jack Black kit features a body lotion, facial cleanser, charcoal body bar, beard lube conditioning shave, and a facial moisturizer. That's one well-groomed man right there.
6
For That Friend Who Always Has Their Hair Done
Sephora Favorite Summer Hair Saviors, $38
SHOP IT

Uh, the picture alone should be enough to sway you, but in case it doesn't, know that this crazy-packed kit contains all of Sephora's best-selling hair products with goodies for every type and texture. I'm talking Marajo's Cleansing Creme + Deep Treatment Butter, Ouai's Wave Spray, Living Proof's No Frizz Humidity Shield, and Drybar's Prime and Prep Detangler. Yes, this is a dream kit.

7
For Your Friend Who Likes Perfume
Calvin Klein Women, $84

Don't be put off by the name—this woody floral scent can (and should) by misted on all humans of any gender. The fragrance is so crisp and light, thanks to its notes of orange and eucalyptus, that even perfume haters will find themselves wearing it daily. And I know this, because I'm currently wearing it right now.
8
For the Friend Who Needs Some Light in Their Life
Hourglass Ambient Lighting Edit Unlocked Palette, $80
SHOP IT

Yeah, this palette is a bit pricey, but anyone who has spent the year trying to survive 2018 with their sanity intact (especially if that someone is a makeup lover) deserves the gift of an other-worldly, lit-from-within glow that makes them think of happier days. The six iridescent shades can be used to contour, highlight, and brighten skin, without looking clown-like or heavy, which makes one less ting to worry about.
9
For That Friend Who's Obsessed With Skincare
Estée Lauder Protect + for Health, Youthful-Looking Skin, $65
Each of these ridiculously effective (and gorgeous) products will turn your face—or, cough, your friend's face—into silky, dewy, hydrated gold. Just wash your skin with the gentle foam cleanser, dab on the soothing gel eye cream, layer on the lightweight moisturizer, and, at night, add in the anti-aging serum for a total at-home spa experience.
10
For Your Trend-Loving Friend
Lipstick Queen Best Sellers Trio, $48

Don't be freaked by these crazy-seeming hues—each of the bright shades immediately changes color as soon as you swipe it on, thanks to special heat-reactive pigments in the formula. So that navy blue will actually turn violet on your lips, while the red develops into raspberry, and the green fades to a coral pink.
11
For Your Friend Who's Really, Really Into Nails
Tweexy The Wearable Nail Polish Holder, $8

Yes, it looks silly, but trust me—this wearable nail-polish holder is going to revolutionize the life of any DIY-mani enthusiast. It slips between your fingers like a ring and holds every size nail polish, so you can paint your nails anywhere, without fear of spilling on your couch or carpet. Again.
12
For Your Friend Who Actually Does Their Makeup Every Morning
BareMinerals Take Me With You, $39

This trio is pretty much the Holy Grail of skin-based makeup kits. It's filled with BareMinerals' cult-favorite ultra-hydrating and fuller-coverage tinted moisturizer, powdered mineral blush, and an ultra-soft blending brush, so you your friend can get their face covered (literally) without spending a fortune.