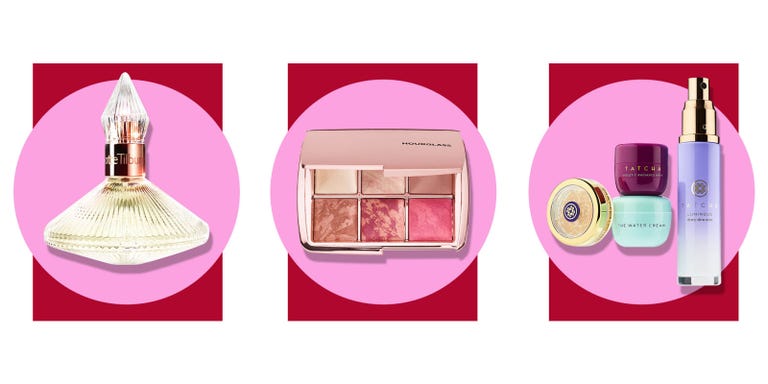 Things you should do for your friends: Like all of their Instagram photos, tell them how much you love them, and not give them another freaking gift card for their birthday.
Because sure, you can get them a tiny piece of plastic that has as much sentiment and thought as a gust of air, or you can pick out one of these bomb-ass skin and makeup gifts, below, that they'll actually get excited to open up. May we suggest the latter option?
1
For the Person Whose Bag is Stuffed with Lip Products...
Uh, the picture alone should be enough to sway you, but in case it doesn't, know that this lip kit contains all of Sephora's best-selling lip products in nude hues, including Kat Von D's Everlasting Liquid Lipstick, Buxom's Full-On Lip Cream, and Make Up For Ever's Artist Rouge.
Sephora Favorites Give Me Some Nude Lip, $28
2
For Your Friend Who Wants a Perfect-Looking Complexion...
Yeah, this one seems a bit pricey, but trust us—anyone who has spent trying to survive 2017 with their sanity intact will appreciate the gift of a soft, lit-from-within glow, especially when it comes from Hourglass's best-selling bronzers and blushes.
Hourglass Ambient Lighting Edit Volume Three, $80
3
For Your Skin-Obsessed Friend...
Each of these ridiculously effective (and gorgeous) products will turn your face—or, cough, your friend's face—into silky, dewy gold. Just slap on the skin-brightening vitamin C mask, follow it up with a spritz of the skin mist and a layer of line-plumping face cream, then dab on the lip balm before bed. It's basically an at-home spa experience.
Tatcha Skincare for Makeup Lovers Bento Box, $59
4
For That Fragrance Lover...
File this floral chypre fragrance (infused with natural pheromones) under Most Likely to Make a Human Fall in Love. Also, the bottle is the stuff of vanity dreams.
Charlotte Tilbury Scent of a Dream Fragrance, $75
5
For Your Trend-Loving Friend...
Don't be freaked by these crazy-seeming balms—each of the bright shades immediately change color as soon as you swipe them on, thanks to special heat-reactive pigments, so that navy blue turns violet, the red develops into raspberry, and the green fades to a coral pink. And the best part?
Lipstick Queen Best Sellers Trio, $48
6
For Your Friend Who's Extra...
You're going to change a DIY mani enthusiast's life with this wearable nail polish holder for touch-ups anywhere. And we mean even in the back-of-a-cab-anywhere, because why *wouldn't* you need that?
Tweexy The Wearable Nail Polish Holder, $8.99
7
For That Person Who Actually Does Their Makeup Every Morning...
Filled with BareMinerals' cult-favorite ultra-hydrating and fuller-coverage tinted moisturizer, powdered blush, and fluffy blending brush, this trio is pretty much the Holy Grail of skin kits.
BareMinerals Take Me With You, $39