13 Eyebrow Brushes for Your Best Brows Ever
Whether you're going for a full-on feathered look or something more au naturel.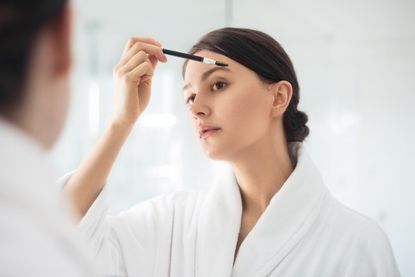 (Image credit: Getty)
Through the ever-changing beauty trends, we've seen a lot of brow looks, from the pencil-thin brows of the '90s to the fluffy laminated brow of the present day. The best part about these small patches of expressive pals is that they grow back, and different shapes can be easily achieved. Maybe you decided to bleach your brows or shave them off, or maybe you just need help with a few sparse spots—whatever brow look you're after, there are a plethora of great eyebrow brushes to finish the look.
Designated brushes for brows are the perfect way to fill in brows in large or specified areas. The traditional spoolie brush is a favorite for combing gels and pomade through brows, tinting brows as it goes, while precision brushes are ideal for individual hairlines. Another upside to having brow tools handy: Any eyeshadow and gel can turn into a brow product if done properly. Just keep in mind that you don't want to get too close to your eyes with any product that's not made for that area.
Save yourself some time and pick the right tool for your hair's thickness, style, and product type to get the best brow results. Whether you're using the soap brow method to achieve a slicked-up, feathered brow or just applying some gel, our picks of the best eyebrow brushes for every look.
1/17
Brushes for Full Brows
Makeup artist Fiona Stiles is the pro behind Lily Collins' perfectly shaped brows, no doubt using Lancôme. Let's be real, Lily could pull off any brow look, but her signature bold arch is always a good shape for full brows. A double-sided spoolie brush with a slanted square brush is ideal for fluffy brows that need a little filling with pomade to recreate that brow-raising look.
2/17
Anastasia Beverly Hills Brush #12
This eyebrow brush is considered the best overall tool to create nearly any look. While the spoolie end combs and grooms your brows, the flat brush outlines and defines for a sharp, clean shape.
3/17
e.l.f. Cosmetics Eyebrow Duo Brush
Known for its smooth, straight lines, e.l.f.'s dual-ended brush is perfect for all of us maxinistas out there who want to look beautiful on a budget. Use this brush with powders, gels, pomades, and creams.
4/17
NYX Professional Makeup Pro Dual Brow Brush
Another dual-ended brush! Best in both the affordability and precision departments, this streamlined NYX brush is versatile enough to maneuver both powders and gels for any look.
5/17
Benefit Cosmetics Angled Eyebrow Brush & Spoolie
This beloved eyebrow brush does it all—and pairs well with powders and gels, or even waxes and creams. The spoolie's fibers are custom-blended to comb and blend colors, while the angled brush is firm and precise.
6/17
Brushes for Thin Eyebrows
The pencil-thin brows that once donned the faces of a '90s-era Gwen Stefani and Drew Barrymore is making a comeback—with a Gen Z twist. While this grunge, "cool-girl" brow can be easily created with a brow pencil, a single thin brush can help with shaky hands and line control. Also, it feels fun to paint on brows like the artist you are.
7/17
Anastasia Beverly Hills Brush 3 Tapered Liner Brush
Anastasia's brushes are so good, I simply had to add a second. If you're looking for a specialized brush to outline those brows, this one is your girl. Did I mention it's also extremely precise?
8/17
MAKE UP FOR EVER 250 Extra Fine Eyeliner Brush
Even if your brows aren't thin, a tiny precision brush that is traditionally used for eyeliner is a great way to ensure added hair strokes look natural and blend into the brow. No matter how small the space.
9/17
Tom Ford #16 Angled Brow Brush
Tom Ford's high-quality, angled brow brush is designed to create natural and hair-like strokes for those of you creating the illusion of bushy brows or just filling in some spots. With synthetic fibers, this brush doesn't absorb any product, promising a clean, precise look. It's a splurge, but you deserve it!
10/17
Brushes for Bleach Brows
The bleached brows look is not new—in fact, a Marie Claire editor even tested out faux bleached brows to see what the hype was about. While not as permanent, using makeup to fake a bleach brow can be achieved with the right spoolie brush and light concealer. The best part, the technique also works with other pigmented shadows and creams, so rainbow brows are possible. Check out these spoolie brushes for the right start for a colorful, or bleached, brow look.
11/17
Sigma Beauty E80 Brow and Lash Brush
Going natural, but need to comb and separate those hairs that are just going all over the place? This firm and full spoolie is the brush for you.
12/17
Colourpop Feather Effect Brow Brush
The slanted neck of this brush offers comfort when brushing brows or careful inspections to make sure any bald spots are covered.
13/17
Blink Brow Bar London Brow Tamer Eyebrow Brush
Most Portable
The portable BBB London brush is best paired with powders to create a full, bushy look. This short tool provides greater control when applying product, so you'll have less "oops" moments. Don't forget to blend the powder with a sponge first, or else you might end up with a less-than-natural result.
14/17
Brushes for Thick Brows
When talking about thick brows, we have to talk about the expressive hold that Cara Delevingne's eyebrows have on us. Coarse hairs usually grow in sporadically—and, yes, the occasional unibrow can occur—which makes the use of a spoolie brush so important. More than that, the double-ended magic that has both a brush and comb, because sometimes your brow hairs could use the maintenance. Whether you're combing to keep hairs in shape, or embracing a monobrow, hairs can be easily manipulated with one of these durable brushes.
15/17
JAPONESQUE Brow & Lash Shaper
The Japonesque brush trio is amazing for almost anything—the comb separates, the spoolie tames your brows, and the tight-bristled brush grooms them into place.
16/17
Luxie Eyebrow Brush Set
If you can't decide on an eyebrow brush, this inexpensive eyebrow brush set will give you everything you need no matter the look. Highlights include the double-ended spoolie brush for hard-to-get hairs and a much-needed comb to help with a laminated lift.
17/17
Xx Revolution Xxpert Brushes 'The Xxpert' Brow Spoolie + Comb
Easily comb through brows, even if covered in gel or wax, to refresh brows throughout the day. For extra hold, lightly wet the spoolie side and comb through the Lottie London Mega Brow Brow Shaping Wax before running the wand through your hairs.
Celebrity news, beauty, fashion advice, and fascinating features, delivered straight to your inbox!
Zoe Guy is the digital fellow at Marie Claire, where she covers pop culture, hot celebrity gossip, movies and TV. She's obsessed with Martin Scorsese's adaptation of The Age of Innocence, anything written by Jesmyn Ward and stan Twitter.