Editors handpick every product that we feature. We may earn commission from the links on this page.
The 10 Best Eyebrow Brushes Money Can Buy
Whether you're going for a full-on feathered look or something more au naturel.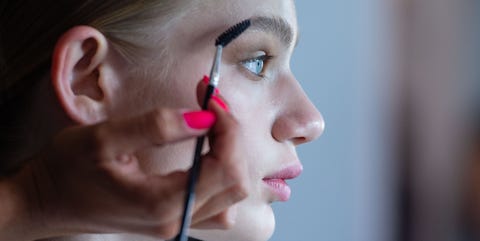 Picture Alliance
Getty Images
Spring is here, so it's time to emerge from your year-long, pandemic-induced hibernation and finally give those poor, neglected eyebrows a little TLC. (You have just enough time to whip those arches into shape before the vaccine gives us a little taste of summer freedom.) While years past have given us clear-cut brow trends, 2021 has been a bit more free-flowing, with some rocking dramatic Instagram brows, while others are simply combing and separating in the A.M. Whether you're using the soap method to achieve a slicked-up, feathered brow or just applying some gel, here are our picks of the best eyebrow brushes for every look.
Best for Powders and Gels
Brush #12
Anastasia Beverly Hills
$18.00
This eyebrow brush has consistently been ranked as the best overall tool to create nearly any look. While the spoolie end combs and grooms your brows, the flat brush outlines and defines for a sharp, clean shape.
Most Affordable
Eyebrow Duo Brush
Known for its smooth, straight lines, E.l.f.'s dual-ended brush is perfect for all of us maxinistas out there who want to look beautiful on a budget. Use this brush with powders, gels, pomades, and creams.
Most Portable
Brow Tamer Eyebrow Brush
Blink Brow Bar London
$20.00
The portable BBB London brush is best paired with powders to create a full, bushy look. This short tool provides greater control when applying product, so you'll have less "oops" moments. Don't forget to blend the powder with a sponge first, or else you might end up with a less-than-natural result.
Best for Fullness
Sourcils Gel Eye Brow Reshaper Brush
This Lancôme brush is dual-ended, giving you all you need to blend, comb, and fill in your brows. First, use the flat, plumed end to outline the eyebrow and fill in any gaps with the pointed tip. Then, use the spoolie to blend and comb. This tool is known for its precision, so no need to worry about thick, uneven lines.
Most Versatile
Angled Eyebrow Brush & Spoolie
This consistently well-reviewed eyebrow brush does it all—and pairs well with powders and gels, or even waxes and creams. The spoolie's fibers are custom-blended to comb and blend colors, while the angled brush is firm and precise.
Best for Multitasking
Brow & Lash Shaper
The Japonesque brush trio is amazing for almost anything—the comb separates, the spoolie tames your brows, and the tight-bristled brush grooms them into place.
Best for Combing and Separating
E80 Brow and Lash Brush
Going natural, but you need to comb and separate those hairs that are just going all over the place? This firm and full spoolie is the brush for you.
Best for Precision Detailing
Brush 3 Tapered Liner Brush
Anastasia Beverly Hills
$18.00
Anastasia's brushes are so good, I simply had to add a second one. So, if you're looking for a specialized brush to outline those brows, this one is your girl. Did I mention it's also extremely precise?
Best for Fine Brows
Pro Dual Brow Brush
NYX Professional Makeup
$10.00
Another dual-ended brush! Best in both the affordability and precision departments, this streamlined NYX brush is versatile enough to maneuver both powders and gels for any look.
Best Splurge
#16 Angled Brow Brush
Tom Ford's high-quality, angled brow brush is designed to create natural and hair-like strokes for those of you creating the illusion of bushy brows or just filling in some spots. With synthetic fibers, this brush doesn't absorb any product, promising a clean, precise look. It's a splurge, but you deserve it!
This content is created and maintained by a third party, and imported onto this page to help users provide their email addresses. You may be able to find more information about this and similar content at piano.io