18 Waterproof Eyeliners That Stand Up to Anything
Sweat-proof, smudge-proof, life-proof.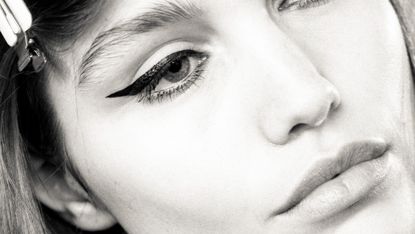 (Image credit: Getty)
Before you yell at me for working out with makeup on, I know, I know, I shouldn't do it. But I'm busy, okay, and usually am running—damn near breathless—to my evening sessions with seconds to spare before the doors close on me, because I'm a working woman. And my work, blessedly, is all about beauty. My desk might as well be a mini beauty closet. It's overflowing with beauty products I've filed under "need to try ASAP" and "need you next to me at all times"—and the latter category always includes a trusty waterproof eyeliner.
There's always something going on with our eyes, and if you're prone to watery eyes, have hooded lids, or touch your face too much (stop that), then a waterproof eyeliner is key for a long-lasting wing. Felt tip markers and paintbrush liners are usually a go-to for a sharp cat eye, but the liquid formula can bleed if the right one isn't used. And don't even get us started on the disaster that is using a kohl pencil on the waterline, only to end up with accidental raccoon eyes.
Your collection is probably collecting, but you can never have too many always-there, never-smear eyeliners. So I've included a list of beauty editor-approved waterproof eyeliners at various textures and price points that will outlast anything. And no, not the waterproof formulas that suck the moisture from your lids and then require a sander to buff off, but silky, easy-to-wear formulas that feel like normal eyeliner, except, well, better.
Taylore Glynn is the Beauty and Health Editor at Marie Claire, covering skincare, makeup, fragrance, wellness, and more. If you need her, she's probably roasting a chicken, flying solo at the movies, or drinking a bad Negroni at JFK.