The 12 Best Waterproof Eyeliners, According to Editors and Makeup Pros
Smudge-proof and life-proof—sweat, humidity, and tears don't stand a chance.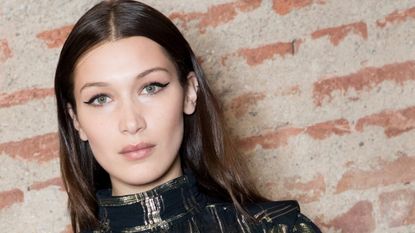 (Image credit: Rosdiana Ciaravolo/Getty Images)
Between meetings, errands, play dates, happy hours, and sweat sessions at the gym, life can get pretty hectic. You need a great eyeliner that works just as hard as you do and can stand up against all of life's chaos. Enter: the best waterproof eyeliners.
If you're prone to watery eyes, have hooded lids, or touch your face too much (stop that), waterproof formulas are going to be your best bet. Felt tip markers and paintbrush liners are typically a go-to for sharp eyeliner looks, but liquid eyeliners can bleed if the right one isn't used. And don't even get us started on the disaster that is using an eyeliner pencil on the waterline, only to end up with accidental raccoon eyes.
To avoid these beauty disasters, you need an always-there, never-smear eyeliner, a.k.a. the picks on this list. The below list of editor- and makeup artist-approved waterproof liners, which boast various textures and price points, promise to outlast sweat, tears, oil, and humidity. And just to confirm: As with waterproof mascaras, we're not talking about the waterproof formulas that suck the moisture from your lids and then require a sander to buff off. The picks on this list boast silky, easy-to-wear formulas and feel like normal eyeliner, except, well, better.
What to Look For in Waterproof Eyeliner
While it may seem obvious, the first thing you will want to look for when shopping for a waterproof eyeliner is the keyword "waterproof" on the product's packaging. Some products may claim they are "water-resistant," but "waterproof" means that liner really isn't going anywhere. "Long-wearing" or "long-lasting" are other keywords you should look out for.
Waterproof liners come in every formula, from pencil and gel to liquid, so you'll have to choose the right formula for you. Really, it all boils down to preference and skill level. Pencil liners tend to be more user-friendly since they're easier to hold, while liquid liners require a steady hand to get sharp, precise lines. But for pro makeup artist Dani Parkes, gel formulas are the way to go. "When I purchase waterproof liners, I look to buy gel pot eyeliners as I find those to be the easiest to apply," she says. "The formula of the gel is also best for creating and smudging the wing so it goes into the direction you want it to go in."
You may also want to consider how a liner dries down or its "finish," as this can have an effect on the desired outcome of your liner look. For example, pro makeup artist Isabel Rosado says, "Personally, I love a satin or matte texture finish in a liner. I am not a big fan of shiny or 'patent leather' finish."
Best Waterproof Eyeliners
Best Black Waterproof Eyeliner
(opens in new tab)
Stila Stay All Day Waterproof Liquid Eye Liner
This one is an editor favorite for good reason. Its inky onyx pops on every skin tone, and it stays put forever. And when I say "forever," I really mean forever. When I first tried this product out, I swatched it on my hand and it impressively held up (without fading, mind you!) through the next day, even after washing my hands and showering. Trust me when I say this liner will not fade, smudge, or come off until you actually go to remove it.
Pros: Editor-approved; Long-wearing; Smudge-proof; Ultra-precise felt-tip brush; Glides on smoothly.
Cons: Not very pigmented; May be difficult to remove.
Best Overall Waterproof Eyeliner
(opens in new tab)
KVD Beauty Tattoo Waterproof Liquid Eyeliner
Offered in black and brown, this liner gives "tattoo" an (almost) literal meaning. This waterproof liquid pen will not budge under any circumstances, so go ahead and put on your favorite sad movie and let the waterworks flow. One woman even wrote in a now-viral review after being involved in a car accident: "My mascara was running down my face from crying and all other products had been wiped off in the transfer to the hospital. But not my tattoo eyeliner."
Pros: Long-wearing; Highly pigmented; Vegan formula; Easy to apply.
Cons: Tip dries out over time; Over $20.
Best Colored Waterproof Eyeliner
(opens in new tab)
Urban Decay 24/7 Glide-On Eye Pencil
If you're a fan of makeup, there's a good chance you've heard about the magic that is Urban Decay's 24/7 Glide-On Eye Pencil. Offered in just about every color you can imagine, this pencil is the perfect addition to your night-out beauty look. Some shimmery eyeshadows can cause fallout after a couple hours, but this unbudging option makes a bold, sparkly shade stay put all day and night. Take comfort in knowing that once this liner sets, you're good to go for hours on end.
Pros: Glides on smoothly; Smudge-proof; Comes in 33 colors in a variety of finishes; Long-wearing.
Cons: Difficult to sharpen; May transfer to undereyes.
Best Pro-Approved Waterproof Eyeliner
(opens in new tab)
Makeup by Mario Master Pigment Pro Eyeliner Pencil in Perfect Brown
If you're a fan of Kim Kardashian's beauty looks, then you need to check out Makeup by Mario from Mario Dedivanovic, aka Kim's makeup artist. This pick is an ultra-creamy pencil that delivers high-impact, blendable color. Pro makeup artist Isabel Y Rosado counts herself a fan of this pencil and says, "It glides on perfectly and sets silky for a waterproof liner." She adds, "I love it for tightlining, winged liner, smokey smudge lines for a doe eye look or detail work."
Pros: Pro-approved; Long-wearing; Highly pigmented; Comes with smudge brush; Comes with sharpener; Easy to blend.
Cons: Over $20; Difficult to sharpen.
Best Pencil Waterproof Eyeliner
(opens in new tab)
Caliray Surfproof Easy Glider Eye Definer Waterproof Eyeliner Pencil
The waterproof makeup game is better than ever, and Caliray is proof of that. Their gel formula offers smooth application while the rounded top allows for easy design control. Its waterproof abilities are in the name—we dare you to go surfing with this liner on, and we bet it stays intact. As a reminder, keep the cap on after use to avoid any drying. Caliray also has an equally amazing waterproof mascara for full lashes to pair with their waterproof eyeliners, so go ahead, cry it out.
Pros: Glides on smoothly; Long-wearing; Highly pigmented.
Cons: Difficult to remove.
Best Splurgeworthy Waterproof Eyeliner
(opens in new tab)
Bobbi Brown Long-Wear Gel Eyeliner
Don't let this pot-and-brush formula intimidate you—I promise a brush is surprisingly easy to control. This pick in particular comes pro-approved. "Bobbi Brown gel pot liner was the first ever pot liner I bought for myself when learning how to do my eyeliner," says Dani Parkes. "I haven't turned back since, it is still an all-time fave. I use this product with a miniature paintbrush to create a wing on myself as well as my clients. It is long-lasting and has the perfect amount of black pigment."
Pros: Pro-approved; Highly pigmentation; Long-wearing; Easy to apply.
Cons: May dry out after a while; Over $25; Requires a brush to apply.
Best Liquid Waterproof Eyeliner
(opens in new tab)
ONE/SIZE by Patrick Starrr Point Made Waterproof Liquid Eyeliner Pen
"Recently, I was looking for an eyeliner to bring on a trip abroad, as I'd forgotten my usual option at home and had found myself at the airport in need of an inexpensive replacement. I settled on this one, and it immediately exceeded my expectations. Its ultra-thin felt tip makes for easy application and precision, and it dries quickly with a matte finish. Plus, it's more eye-safe than many of its competitors, boasting a formula that's free of parabens, gluten, formaldehydes, and synthetic fragrance." — Gabrielle Ulubay, E-Commerce Writer
Pros: Editor-approved; Precise felt tip; Highly pigmented; Long-lasting; Smudge-proof; Waterproof; Vegan; Features a comfort grip.
Cons: Takes longer to dry.
Best User-Friendly Waterproof Eyeliner
(opens in new tab)
MAC Color Excess Gel Liner
"I wouldn't consider myself a eyeliner pro. Winged eyeliners are hard for me to master because I have slightly hooded eyes. This MAC eyeliner is so easy to use because it glides-on and doesn't tug on the skin around my eye area. The result is a clean line every time. I use it for winged eyeliner looks or just across my lash-line or in the waterline. No matter where I put it, it doesn't budge for hours. 24 hours on the lid and 12 on the waterline to be exact! I use the shade Skip the Waitlist if I want a shimmery brown look or the shade Sick Tat Bro for a matte look. — Julia Marzovilla, E-Commerce Editor
Pros: Long-lasting; Editor-approved; Doesn't tug on the eyelid.
Cons: You can only blend for a few minutes before it sets; Costs over $20.
Best Budget Waterproof Eyeliner
(opens in new tab)
Covergirl Exhibitionist 24-Hour Kohl Eyeliner
In case you need reminding, there are plenty of drugstore eyeliners that work just as well (if not better!) than higher-end formulas. With Covergirl's Kohl Eyeliner pencil, I was pleasantly surprised at the results. You know when it's really cold outside and your eyes start to water in the wind? Well, this liner held up even during those tears. The brown shade is especially pigmented and the ultra-smooth formula can draw sharp lines or be blended out as you desire. It's truly not a bad option at $11.
Pros: Editor-approved; Glides on smoothly; Highly-pigmented; Long-wearing; Blendable.
Cons: Difficult to sharpen.
Best Waterproof Eyeliner for Waterline
(opens in new tab)
Make Up For Ever Aqua Resist Color Pencil Eyeliner
You can get a lot done in 24 hours—all while wearing this bad boy, because that's how long this formula lasts. Available in 10 pretty shades in two different finishes, the shade Sand is especially great to use in the waterline and inner corners to make your eyes pop from a mile away. But if colorful shades aren't your thing, there's black, brown, and navy, too. Plus, its built-in sharpener makes it easy to bring on the go.
Pros: Longwearing; Ophthalmologist-tested; Offered in 10 shades; Comes with built-in sharpener.
Cons: Over $20.
Best Gel Waterproof Eyeliner
(opens in new tab)
Hourglass Voyeur Waterproof Gel Eyeliner in Cave
"If you want an eyeliner with a creamy formula that lasts all day but is still blendable, check this one from out from Hourglass. The tip stays pointed for a while as you use it, making it great for winged eyeliner looks. The vegan, cruelty-free, and paraben-free formula is so easy to use but it lasts all day—even when you use it in the waterline. This is one of the eyeliners I turn to when I go out at night because it's an all-purpose winner. The shade Cave is great if you want a true brown that doesn't look black. Plus, it's easy to remove despite the fact that it's waterproof" — Julia Marzovilla, E-Commerce Editor
Pros: Waterproof; Editor-approved; Long-lasting; Formula is vegan; Formula is cruelty-free; Formula is paraben-free.
Cons: Costs over $20.
Best 2-in-1 Waterproof Eyeliner
(opens in new tab)
Tarte Tarteist Double Take Eyeliner
Meet the best of both worlds: This dual-ended eyeliner has a clay-based pencil tip on one end for a smudgy, softer look, and a satin-finish felt tip on the other end for a cleaner, more precise finish. We especially love how both sides are doctor-tested and vegan. Regardless of the side you choose, you'll get budge-proof lines for 12 hours straight. For even extra staying power, layer the liquid over the gel for a look that won't budge or bleed.
Pros: Comes with two formulas; Good value; Highly pigmented; Vegan formulas; Ophthalmologist and dermatologist tested.
Cons: Only available in two shades; May be difficult to remove.
Meet the Experts
Self-taught makeup artist Dani Parkes, also known as Faces by Danii, started doing makeup at the age of 8. At 18 years old she moved to New York knowing no one and started to build her network. Dani is passionate about all things makeup. Her goal is to highlight and extenuate the natural features on one's face, rather than completely changing the way they look. She creates new ideas and draws inspiration from a lot of artists based in the UK and Europe. Their effortless glam and technique is what has shaped Dani's makeup style. She continues to grow as an artist and hopes to continue to build her network of clients. Dani has glammed up some of your favorite influencers and celebrities including Natalie Noel, Lea Michelle, Emily Lind, and Lauren Wolfe.
Isabel is a pro makeup artist born and based in New York City. She's worked with brands and publications such as Yves Saint Laurent, Hill House, Moda Operandi, Teen Vogue, Elle Mexico, Glossier, Levi's, Office Magazine, and more. Her work has graced the red carpet with the likes of Sarah Hoover, Michelle Hellman, and Mollie Acquavella. Isabel is also a member of the Latinx Creatives Collective.
Brooke Knappenberger is the Editorial Fellow at Marie Claire, where she writes across the board from fashion and beauty to books and celebrities. As a pop culture junkie, Brooke obsessively consumes and writes about the latest movie releases, streaming TV shows, and celebrity scandals. She has over three years of experience writing on fashion, beauty, and entertainment and her work has appeared on Looper, NickiSwift, The Sun US, and Vox Magazine of Columbia, Missouri. Brooke obtained her Bachelor's Degree in Journalism from the University of Missouri's School of Journalism with an emphasis on Magazine Editing and has a minor in Textile and Apparel Management.