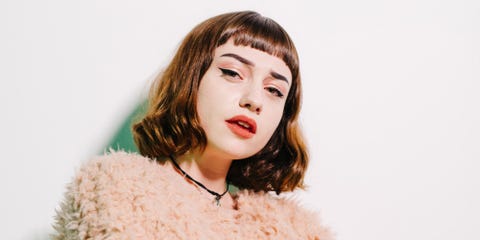 Hi, my name's Chloe, and I'm the most watery-eyed human in the world (this is how I introduce myself on first dates, by the way). I have dry eyes, an allergy to the entire world, contact lenses that somehow always hurt, and an affinity for crying over anything remotely emotional. That scene when Rudy finally gets accepted to Notre Dame? Dead. The hauntingly beautiful Extra gum commercial? Deader. Any baby animal literally just being a baby animal? Buried.
Though my constant wet-eyed life is a curse, it's also blessed me with a special knowledge of the very best, lasts-all-day eyeliners that are truly waterproof. No, not the waterproof formulas that suck the moisture from your lids and then require a sander to buff off, but silky, easy-to-wear formulas that feel like normal eyeliner, except, well, better. Behold, the top waterproof eyeliners this sappy girl swears by.
CoverGirl Liquiline Blast Eyeliner, $6
This drugstore favorite has been a staple of mine since college, thanks to its hella-cheap price, and its ability to draw rich, smooth strokes with even the most unskilled of hands. Use the smudger on the other end to lightly smoke out your lines for a soft, hazy finish.
2
This Magical Felt-Tip Liner
Stila All Day Waterproof Liquid Liner, $19
There's a reason this liner has 4,500 five-star reviews on Amazon (and in my heart): It's a goddamn work of eyeliner art. The felt tip is long and skinny, so you can easily fill in the gaps between your eyelashes, and the ultra-opaque formula never bleeds, smudges, or flakes.
3
This Pigmented Gel Liner
Bobbi Brown Long Wear Gel Eyeliner, $27
Yes, the whole pot-and-brush combo can feel like a feat reserved only for makeup artists and the Kardashian clan. But trust me when I say a brush is surprisingly easier to control than a stiff pencil tip if a minimal look is what you're going for. Plus, this formula is incredibly pigmented, meaning even the thinnest of lines will read like a statement.
4
This Super-Smooth Liquid Liner
Sephora Collection Long-Lasting 12 HR Wear Eye Liner, $12
Most liquid-pot eyeliners are either too runny or too inconsistent, leading to weirdly uneven cat eyes that flake by noon. But this cult-favorite formula (which also comes in electric blue and purple) creates a perfectly smooth, semi-matte line that lasts—no touch-ups necessary.

Tarte Tarteist Double Take Eyeliner, $24
Meet the best of both worlds: This dual-ended eyeliner has a clay-based pencil tip on one end for a smudgy, softer look, and a satin-finish felt tip on the other end for a cleaner, more precise finish. Regardless of the side you choose, you'll get budge-proof lines for 12 hours straight.