The 14 Best Waterproof Eyeliners, Tested by Editors and Makeup Pros
Smudge-proof and life-proof—sweat, humidity, and tears don't stand a chance.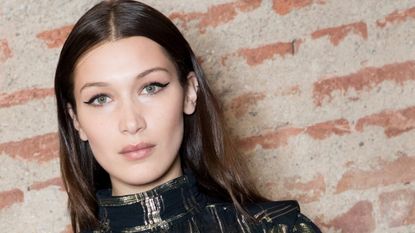 (Image credit: Rosdiana Ciaravolo/Getty Images)
Between meetings, errands, play dates, happy hours, and sweat sessions at the gym, life can get pretty hectic. You need a great eyeliner that works just as hard as you do and can stand up against all of life's chaos. Enter: the best waterproof eyeliners.
If you're prone to watery eyes, have hooded lids, or touch your face too much (stop that), waterproof formulas are going to be your best bet. Felt tip markers and paintbrush liners are typically a go-to for sharp eyeliner looks, but liquid eyeliners can bleed if the right one isn't used. And don't even get us started on the disaster that is using an eyeliner pencil on the waterline, only to end up with accidental raccoon eyes.
To avoid these beauty disasters, you need an always-there, never-smear eyeliner, a.k.a. the picks on this list. The below list of editor- and makeup artist-approved waterproof liners, which boast various textures and price points, promise to outlast sweat, tears, oil, and humidity. And just to confirm: As with waterproof mascaras, we're not talking about the waterproof formulas that suck the moisture from your lids and then require a sander to buff off. The picks on this list boast silky, easy-to-wear formulas and feel like normal eyeliner, except, well, better.
What to Look For in Waterproof Eyeliner
While it may seem obvious, the first thing you will want to look for when shopping for a waterproof eyeliner is the keyword "waterproof" on the product's packaging. Some products may claim they are "water-resistant," but "waterproof" means that liner really isn't going anywhere. "Long-wearing" or "long-lasting" are other keywords you should look out for.
Waterproof liners come in every formula, from pencil and gel to liquid, so you'll have to choose the right formula for you. Really, it all boils down to preference and skill level.
Pencil liners tend to be more user-friendly, since they're easier to hold.
Liquid liners require a steady hand to get sharp, precise lines.
For pro makeup artist Dani Parkes, gel eyeliners are the way to go. "When I purchase waterproof liners, I look to buy gel pot eyeliners as I find those to be the easiest to apply," she says. "The formula of the gel is also best for creating and smudging the wing so it goes into the direction you want it to go in."
You may also want to consider how a liner dries down or its "finish," as this can have an effect on the desired outcome of your liner look. For example, pro makeup artist Isabel Rosado says, "Personally, I love a satin or matte texture finish in a liner. I am not a big fan of shiny or 'patent leather' finish."
Best Waterproof Eyeliners