The Nail Trends of Spring 2021 Are All About Optimism
After a year of bare nails, it's time to turn up your tips.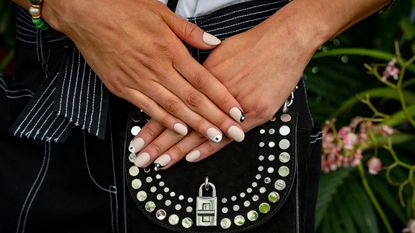 (Image credit: KISS Nails)
After forgoing in-salon manicure and pedicure appointments for a year, it's fair to say that as far as spring 2021 is concerned, nail art, nail color, and nail living is back in full force. During the past year, some of us have embraced and mastered the art of the full-blown at-home manicure, whether it's with good old fashioned lacquer, or slightly more intricate gel nail kits. Others among us have ventured back into the salon—with our vaccination records proudly in our back pocket—ready to see what our favorite nail artists cooked up during quarantine. Spoiler alert: The designs we're seeing are optimistic, impressive, and not overly complex.
Below are 12 inspired designs from some of the best manicurists in the country, and most take no more than a bottle of nail polish and a little patience. Whether you want to try a full set of opaque cream coats in varying tones, or you're ready to get ambitious with stained glass patterns, tortoiseshell finishes, or even tie-dye wonders (!), there's plenty of inspiration for every level of commitment. Ahead, the 12 best spring 2021 nail designs you should definitely try now.
Springy Pastel Nails
Manicurist Ashley Lane has an easy tip for these slightly sheer pastel-toned tips. Simply mix a little top coat into your favorite cream base for a more transparent, watery effect.
Simple Striped Manicure
"I can't do nail art" says every in-salon devotee, ever. But you can, and you will—especially if you invest in a striper brush, which is less than $5. Start with a clear base coat, then layer over thick wefts of coordinating hues.
Jelly Nails
Jelly nails is a fancy way of saying invest in some translucent, pre-glued press-ons like these from Pattie Yankee, then paint them with your favorite sheer lacquer. Looks fancy, isn't hard, tyvm.
Verdant Green Nails
This is a fun, free-form idea for the nail art trepidatious. Gather up a few tonal colors—pinks and reds work work. blues could be nice, or an array of nudes. Start with a light-toned base coat, then paint on swirls and daubs as you see fit, allowing each shade to dry before adding another.
Fruity Tips
I personally could not paint itty bitty kiwis, strawberries and cucumbers on my nails. BUT! My very talented nail artist could, and once I get my second shot, I'm bringing this inspo image to her ASAP.
Abstract Flower Mani
If you haven't tried press-on gel nails from Mani Me, now's the time, and this sketchy botanical design by New York City artist Ami Vega is a great place to start this season.
Speckled Nails
If these earthy, moody two-toned speckled nails got you in your feelings—but also like, a little worried that you couldn't pull of anything that spectacular, this tutorial could help.
Gold-Rimmed Mani
Random swoops, streaks and dabs of color look purposeful and very Miami cool when outlined in a thin ribbon of gold sparkle.
Tricolor Tips
Girls with long acrylics, we see you, and so do these tri-striped nails with a creamy nude base.
Tie-Dye Nails
Tie-dye: Not just for sweatpants, anymore. Dabs of acrylic powder made these swirly wonders possible.
Color, Blocked
If intricate and detail-oriented tasks calm your existential ennui, these are the nails for you. Swipe, dry, and relax.
Tortoiseshell Nails
Itty bitty iridescent flakes from Magpie Beauty gave these swirly tortoiseshell nails their dimensional finish.
Celebrity news, beauty, fashion advice, and fascinating features, delivered straight to your inbox!
Hannah Morrill is a writer and editor based in Portland, Maine. She's an avid reader, an indifferent face-washer and a sunscreen/retinol evangelist.