How to Create the New Teased-Lash Trend Everybody's Trying
This look gets better every time you touch it up.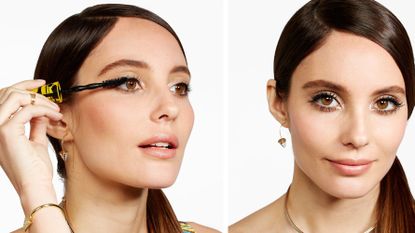 (Image credit: Philip Friedman)
Good news for those who suffer from Smudged Eye Makeup Syndrome: The latest trend is all about imperfection. On the Fall 2015 runway, makeup artists purposely made eyes messy by letting excess mascara smudge onto the eyelids and "teasing" product into the base of the lashes so they clumped and appeared fuller.
While the application is counterintuitive, the effect is decidedly cool—and ideal for hot summer days when your mascara just won't stay put. Here, we break down the look.
2. Move the mascara wand gently back and forth to create a thick color base right at the lash line. Remember to get a little mascara on your top lid while you're at it—a bit of messiness is what makes this look so chic. Repeat on your bottom lashes.
3. Add another coat of mascara, this time turning the wand vertically before moving it side to side.
4. Repeat on the bottom lashes. For an even bolder look, repeat steps 1 through 5.