The Foundation Mistake Almost All Women Make
Three steps to flawless.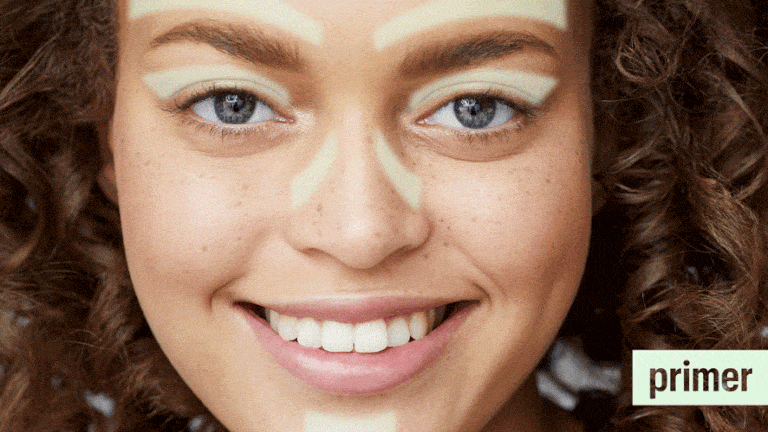 (Image credit: Photo: Jeff Allen; Design: Amy Armani)
To say that foundation and the routine surrounding it has evolved might be the understatement of the year. Between contouring (the Internet-obsession which has quite literally become an art form), color-correcting, baking, draping, and strobing (the latest way to look *lit* involves neon pigments), it can feel like you need GPS just to put your makeup on in the morning. It doesn't help matters that the Internet announces a new must-try formula or tech-y tool—ranging from silicone sponges that look like bra inserts to oscillating brushes that blend your base at super sonic speeds—every five seconds. While we're undoubtedly suckers for innovation (who can resist an adorable foam finger?!), we asked pro makeup artist Rommy Najor and dermatologist Anthony Rossi, M.D., to cut through the clutter and give it to us straight. No fads, no gimmicks—just flawless skin in three steps without fail.
You don't necessarily need a primer, says Najor, but think of this product like insurance for your foundation: It prolongs the wear and prevents your base from ghosting on you by lunch. Depending on the formula you choose, primer can also boost the benefits of your foundation by helping you control oil or adding a hint of radiance.
Areas That Need Attention: Skip slathering your entire face (unless your skin is especially oily), and target your T-zone—being sure to hit the lower half of your forehead, the sides of your nose, chin, and eyelids if your shadow tends to crease. "We do have sebaceous glands located throughout the face, but they occur in a higher density on the nose and central forehead," explains Dr. Rossi.
Must-Have Tools: Fingertips are a primer's best friends. Body heat helps melt the formula, making it even easier to spread a thin, even layer across skin, says Najor. If you want even more control, reach for a flat, synthetic brush (as natural bristles can absorb and waste product). To stop oil slicks, try Rimmel London Stay Matte Primer, which minimizes appearance of pores and weightlessly controls shine for up to eight hours. Najor says you can even apply it after foundation and touch up any shiny spots on the go. Use a sponge (he likes Make Up For Ever's Ellipse Blender Sponge because the angled shape helps hug the sides of the nose) to avoid disrupting your base and creating streaks.
Pro Tip: To ensure a smooth finish, Najor suggests pairing products designed to work in tandem. For example, if you're using a silicone-based primer (like Rimmel London Stay Matte Primer), apply it in conjunction with a silicone-based foundation (such as Rimmel London Stay Matte Liquid Mousse Foundation). The same can be said for water-based primers and foundations.
Step 2: Base Hit
"Foundation shouldn't be worn like a mask," emphasizes Najor. "You want your skin to look like skin." The tool you use to apply will determine the finish you get, but the pros say you should always start with your fingertips to get a sense of a foundation's texture and coverage level. If you're on the oilier side of the spectrum, try a "whipped" base that keeps skin matte via ingredients like dimethicone and silicone, says Dr. Rossi. Try Rimmel London Stay Matte Liquid Mousse Foundation, an airy, easy-to-blend formula that basically Instagram-filters your pores IRL.
Areas That Need Attention: "Most people's concerns tend to draw towards the center: under the eyes, between the brows, around the mouth, and down the bridge of the nose," says Najor. "It's where we're most porous and prone to broken capillaries and breakouts." Concentrate the majority of your foundation in these hot spots, then fan the product out towards the perimeter of your face with a clean, fluffy brush.
Must-Have Tools: For larger areas, Najor likes MAC 187 Duo Fibre Face Brush, as the ultra-soft combo of synthetic and natural bristles make for a seamless finish. Tush's No. 8 Large Blender Brush is best for detail work—like the crevices around your nose or the contours under eyes.
Pro Tip: To quickly cover dark circles, stipple (a.k.a. tap) foundation under eyes with a damp sponge (like the Make Up For Ever sponge mentioned above—just be sure to designate a separate sponge for primer and foundation). "It will help you achieve the max amount of coverage because you can really bounce the product in place without showing any texture from a brush or fingertips," says Najor.
Step 3: Photo Finish
Powder often gets bad rap (many women claim it makes skin look cake-y or dry), but for pros it's an absolute essential. The end result is all about your approach, says Najor. "You don't want to be heavy handed," he warns. "Less is more."
Areas That Need Attention: "You don't need to do your whole face," says Najor of his shine-erasing strategy. "I only apply powder in the center of the forehead, the sides of the nose, and lightly across the chin." Hit the hot spots susceptible to oil and let your natural glow shine through everywhere else.
Must-Have Tools: In lieu of a standard powder brush that is typically large and fluffy, reach for a smaller tool that offers more control, says Najor. He likes My Kit Co. 0.12 Pro My Precision Powder brush. Use it in conjunction with Rimmel London Stay Matte Powder, which keeps shine at bay for up to five hours. While there is transparent version of this formula available, for more coverage try one of the seven tinted shades. Najor suggests selecting a color that's a "step lighter" that your foundation, as the pigment can oxidize or react with the natural oils on your face, resulting in a shade that looks darker on skin than what you see in the compact.
Pro Tip: If you've gone overboard with powder or your face looks a bit flat, Najor swears by Caudalíe Beauty Elixir. A spritz or two "instantly softens and diffuses" any product overload and "adds life to the skin" without having to start fresh.
Follow Marie Claire on Facebook for the latest celeb news, beauty tips, fascinating reads, livestream video, and more.