Editors handpick every product that we feature. We may earn commission from the links on this page.
The 10 Best Setting Powders for Every Skin Tone
Sweat and oil are no match for these.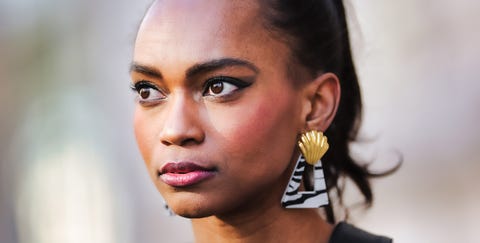 Picture this: It's finally summer 2021. You're finally out wearing your pandemic purchases and drinking in some much-needed vitamin D. The denim shorts are OUT. And whether you're playing tennis in the park or flail dancing at the bar because you're just happy to be socializing, there's one inevitable summer problem that comes for us all: sweat. It's in our hair, all over our bodies, and most annoyingly, in our faces. Luckily, you've faced this before, so you came prepared. There are dry shampoos that suck up extra oil from your scalp, powders specifically made to soak up boob sweat, and of course, the old standby for keeping your makeup from sliding off your face and onto the sidewalk: good old-fashioned setting powder.
By old-old fashioned, we simply mean reliable, because the latest and greatest in face powders are more advanced than ever. Blurring pigments act as DIY Instagram filters. Formulas are infused with soothing skin ingredients that treats your complexion while you wear it. Shade ranges have been expanded. All in all, setting powders have just gotten better ingredient and texture-wise, and we're thrilled about it. Even still, it's the one thing that's probably missing from your purse right now. That's why we felt like everyone could use a refresher on the best setting powders out there, from pressed options to pretty loose powders in pots. Here, the very best setting powders for every skin tone under the sun (literally.)
This content is created and maintained by a third party, and imported onto this page to help users provide their email addresses. You may be able to find more information about this and similar content at piano.io