Summer Skin Beauty Countdown
Whether you have one minute or a month to prepare for a tropical getaway, here's a guide to grinning and baring it in no time.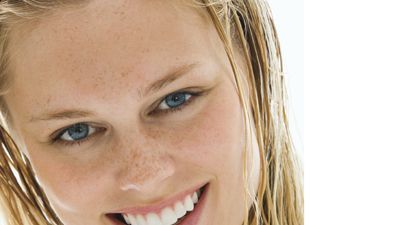 (Image credit: Pando Hall)
GOLDEN GODDESS
With self-tanners stepping up their technology, you'll never have to worry about looking like you've been mainlining carrots.
Two Days: New, clear self-tanning gels like L'Oréal's Sublime Bronze allow for fast absorption and tidy application that won't stain your clothes or beloved Frette sheets (the formula turns bronze on contact with your skin's melanin). Just exfoliate a day prior to ensure streak-free results, and allow 24 hours for the shade to develop.
One Day: A few drops of Guerlain's Terracotta Serum in your favorite moisturizer promises a golden, longer-lasting bronze. Its secret: a Tan Booster ingredient derived from the carob tree that safely boosts your skin's melanin (unlike pills such as prescription Psoralen, which make you more sensitive to UV rays, says L.A. dermatologist Dr. Ronald Moy).
10 Minutes: For a quick color boost, opt for a mix of gel and powder bronzers. "The secret is to dust shimmer bronzer where the sun naturally hits," suggests makeup artist Lauren Cosenza, who preps the Victoria's Secret Angels for their fashion shows. That means applying a matte gel formula all over, then highlighting shoulders, the collarbones, décolletage, fronts of thighs, forehead, bridge of the nose, and cheekbones with shimmer. Look out, Gisele.
SMOOTH MOVES
Cellulite isn't partial to age, weight, or race, according to Manhattan dermatologist Dr. Bruce Katz. It's no wonder the 80 percent of women plagued with the condition might sell their firstborn to get rid of it. While there's still no foolproof cure, new breakthroughs help diminish dimpling (and keep your family intact).
Three Months: One of the most effective ways to smooth out lower body lumps is with Cellulaze, a new in-office treatment that uses short-pulsed, high-energy laser beams underneath the skin (through a small incision) to tighten tissue and increase smoothing via collagen production, says Katz. Though only a single treatment is needed, it costs about $3,000 and takes three months for best results to appear.
One Month: No magic exercise erases cellulite altogether, but superstar trainer Tracy Anderson (who whips Gwyneth Paltrow into shape) recommends doing a combo of dance cardio and repetitive thigh-busting leg moves (go to tracyandersonmethod.com for videos). "Doing 20 to 40 reps of each move pulls fat away from the muscles — the cardio burns that fat to help diminish the look of cellulite." A mini-mum commitment of three workouts a week for a month is necessary to build lean muscle that cuts the orange-peel look.
Two Weeks: For short-term relief, the latest crop of caffeine-infused sculpting gels, slimming scrubs, and firming creams promise to help drain water retention for a toned effect. Diane von Furstenberg and Cyndi Lauper get their fix with regular Resculpting Body Treatments — which involves getting zapped by a mild electrical current to stimulate lymphatic drainage — at Tracie Martyn's Manhattan spa. At home, Liv Tyler swears by Martyn's Resculpting Body Serum, made with coenzyme A and seaweed extract, that claims to firm up saddlebags.
One Day: New transdermal skin patches from Comfort Zone are applied to problem areas for 24 hours and deliver black-pepper extract to hike up circulation and plump skin, so cellulite appears immediately smoother. It's up to you how to explain them to your bedmate.
SUN DAY SCHOOL
Snooki, take note: A staggering 71 percent of tanning salon patrons are women ages 16 to 29, and The Skin Cancer Foundation says melanoma has become the most common form of cancer in adults under 30. Scary — but brilliant new options make it easy to take cover. Just don't forget your annual skin cancer check: Go to skincancer.org to see when Aveeno and Rite Aid's Road to Healthy Skin Tour RV stops in your town for a free screening.
One Week: To amp up your skin's ability to protect itself from UV rays, try taking antioxidant supplements like BioAstin or Murad Pomphenol Sunguard. "But these pills only afford a bit of protection, so always follow up with a topical sunblock," warns NYC dermatologist Dr. Amy Wechsler. Double-duty alert: Try Neova's DNA repair sunblock, which uses plant-based growth factors to combat free-radicals and protect against UV damage.
30 Minutes: No slacking off: You must apply sunscreen a half hour before heading outdoors, then reapply every three hours. Need a reminder? La Roche-Posay My UV Check app for the iPhone has a built-in alarm for reapplication and convenient local UV indexes.
60 Seconds: Sprays are ideal for touch-ups if you've been swimming or sweating. Neutrogena and Aveeno just debuted new water-repelling formulas — the latter borrows a barrier-forming wax extract from the naturally waterproof lotus flower — and unlike older formulas, they can even be misted directly onto wet skin.
HAIR-RAISERS
Summer's swishy, dropped hemlines don't excuse stubble. Check out the best methods to separate you from Lucy the Neanderthal.
One Year: New, at-home light-based tools make for affordable alternatives to pro laser hair removal. The new TRIA model boasts the same diode (light source) technology as professional systems, albeit at a milder dosage. But it covers more ground than past designs, thanks to a large treatment tip and longer battery life.
One Hour: We never thought we'd be signing up for DIY Brazilians, but smart waxing kits (Sally Hansen's kit comes with a plug-in temperature-controlled wax warmer) mean not having to take off undies in front of a stranger. For legs, Braun's handheld epilator pulls hair from the base with its vibrating coils. And the kit's presoaked, vitamin-B3-infused wipes exfoliate skin for baby-soft results.
15 Minutes: Old-school razors just got an upgrade: Gillette's newest model has body-butter moisture bars that nix shaving cream while still preventing razor burn and ingrowns.
Three Minutes: Down to the wire? Veet's In-Shower Hair Removal Cream lets you paint your already-wet legs with a water-resistant solution that stays put until you wipe it off minutes later.