9 Beauty Tips from a Chanel Makeup Artist
A très chic day-to-night look.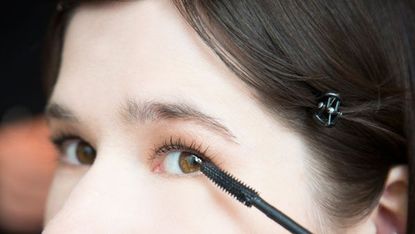 (Image credit: Archive)
There's nothing that ruins your day faster than looking in the mirror and seeing smudged mascara, or your brows not magically transformed into Cara Delevingne's arches. This is why we spent a morning at Chanel (yeah, it was tough), learning somepro tips from Chanel makeup artist (and all round beauty magician) Fulvia Farolfi. We wanted to know how to create a perfect-for-work eye look that can easily be taken into the night (should your day call for a post-work date or girlfriend catch up).
Tip #1:

First, prep the skin with foundation. Fulvia says, "Always put your foundation on your eyelids. It helps the shadow to stay longer, and makes you look more awake if you don't even use shadow. Your fingers are just as great as applying foundation as a brush, but it's always best to apply concealer with a little brush. It helps to provide better coverage."
Credit: Chanel Illusion D'Ombre Long Wear Luminous Eyeshadow in New Moon, $36.00; chanel.com
Tip #2:

Next, apply eye shadow from the root of the lash all the way to the brow. Concentrate more shadow at the lash roots, then blend it out. For girls with bangs, it's especially important to extend the color to the brow to make it noticeable.
Tip #3:

Then, use a small brush to apply shadow along the lower lash line. This will make your eyes appear larger. "You don't need three different eye shadows. These days, shadows are so pigmented that you only need one color, just apply it in layers for a deeper look," Fulvia suggests.
Tip #4:

"To stop shadow and mascara from smudging, use a translucent powder underneath your eye. I like translucent because it blends in better and works on every skin tone," Fulvia continues.
Tip #5:

"Always apply mascara to upper and lower lashes. And, when curling them, curl at three separate points to ensure the biggest, fullest lashes possible: Press at the root, the center, and the tips."
Tip #6:

"To tame unruly brows, the best way is to spritz a little hair spray onto a Spooli brush, then comb through the brow."
Tip #7:

Finally, finish with lip gloss. Fulvia says, "You should always begin your makeup routine by applying lip balm, then start on your foundation. By the time you get to lip gloss or lipstick, your lips will be well moisturized. A gloss makes your lips look natural and moisturized, so it's great for work."
Ta da! The final day look.
Credit: Chanel Quadra Eyeshadow in Tissé Cambon, $61.00 (Available August 2014)
Tip #8:

To take this look from day to night, simply add a darker shadow over the top of your existing shadow. Too easy! Fulvia suggests, "Pick a bolder eye color than you would normally choose. During the night, you want to stand out!"
Tip #9:

Finally, add a little more color to your look with a brighter lip-gloss.
Et voila!
More Beauty Secrets:

50 of the best pro beauty tips

How I got Cara Delevigne's eyebrows
Photo Credit: Kathryn Wirsing
Celebrity news, beauty, fashion advice, and fascinating features, delivered straight to your inbox!