45 Expert-Approved Beauty Tips to Hack Your Makeup Routine
Game-changing secrets, right this way...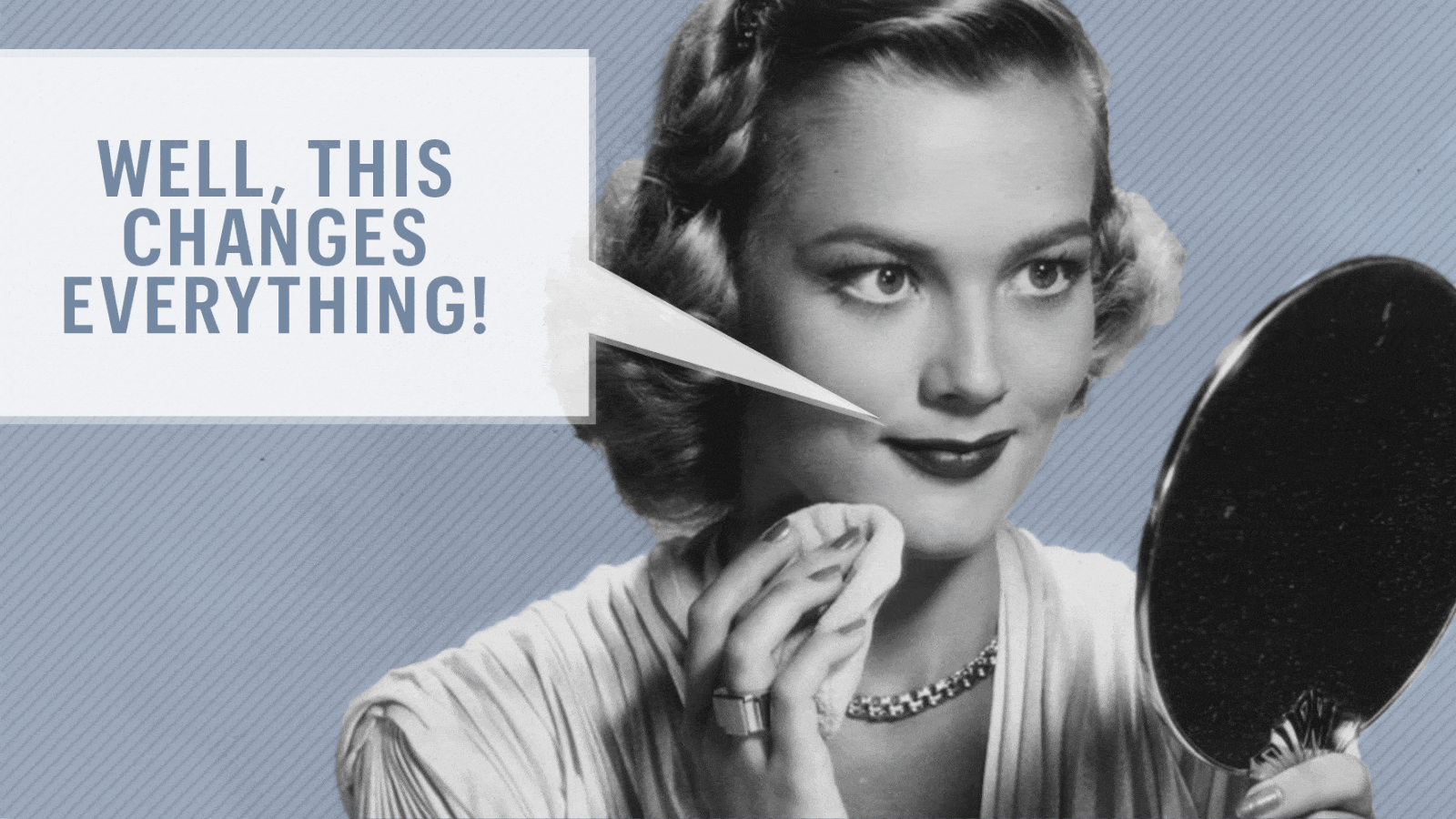 (Image credit: Design by Betsy Farrell)
Since the standard evolution process from the "am I doing this right?" beauty novice to the "could be a vlogger" makeup expert involves much trial-and-error, we saved you the time and effort by asking makeup and skin experts directly about their best skin and beauty shortcuts. Whether you're looking to upgrade your makeup game, prevent skin wrinkles early, or achieve a JLo-esque glow at home—find 45 expert-endorsed secrets to make your beauty routine better and easier, below.
Perfecting Your Face Beat
1. To sop up oil and refresh makeup, lightly mist your face with toner, then pat with a tissue, says Eva Scrivo, makeup artist and owner of the eponymous New York City salon. Finish with a dusting of loose powder.
2. For a modern take on luminous skin, try pearlized pink-sand shades on lids and cheeks. With a pale matte mouth, you'll look rock-club cool (and not too disco). Pair pink lids with a natural, understated face.
3. The best way to make a makeup change is to choose the feature you get complimented on most, and play it up with a color that's the opposite of what you normally wear. Like neutrals? Go for color. Like color? Try earth tones.
4. Instead of shading hollows of your face, switch to highlighting. Using paler hues, accentuate under the brows for a mini lift, and dust a lighter blush along the cheekbone to plump cheeks.
5. To keep eye shadow from creasing (unless you're going for a cut crease look), eliminate as much oil as possible from your lids. Use an eye shadow base or pressed powder before applying color. Looser, more powdery shadows are best.
Maintaining Cara Delevingne-esque Brows
1. Overzealous tweezing can lead to emaciated brows and bald patches, where hair only grows back irregularly. Use a protein-spiked brow gel to stimulate healthy growth and brow fillers to shade in problem areas.
2. Full brows have been spotted on all the runways and are the hottest trend right now. Keep unruly brows looking polished with a slick of clear brow gel. Dab highlighter directly under the brow bone—you'll achieve an instant eye-lift effect!
3. The space between your eyebrows should be equal to the width of your eyes, and start where they line up with your nostrils. Follow our complete brow guide from Glamsquad expert Kelli Bartlett here, from shaping to plucking and trimming.
Concealing Skin Imperfections Like a Pro
1. Concealer is only half the battle when it comes to fixing flaws. To perfect your complexion (no matter the skin tone), try lipstick in a warm pink. "It distracts from blemishes and other imperfections," says makeup artist Morgen Schick.
2. Trying to look well rested when you aren't? Avoid piling on the foundation. Use a tinted moisturizer instead, followed by a beige eye pencil—it counteracts any redness around your eyes.
3. Large pores are caused by two things: genetics and age. Want to shrink them? Go to a dermatologist or a spa to get microdermabrasion treatments, a type of facial that gently sloughs off the dead surface layer of skin.
4. When covering up blemishes, select a color for what you're concealing. For example, orange-tinged concealers counteract blueish under-eye circles. A green concealer hides redness. The idea is that concealers act as neutralizers.
5. Even if you didn't get enough sleep last night, nothing wakes up a face like bright cheek color. Consider a cream blush with red or pink overtones. Blend and taper into the apples of your cheeks and set with loose powder.
Preventing Blemishes Before They Start
1. Identify blemish patterns on your face. Look at the way you hold the telephone, whether you sleep more on one side of your face or if you hold your head up with one hand when sitting. Try to avoid doing these things.
2. Go easy on the foundation. Makeup used to cover up pimples tends to clog pores and cause more blemishes. Try using a concealer with a zit-zapping ingredient like salicylic acid.
3. Breaking out? Use a deep-cleansing mask or chemical face peel once a week to rid your skin of impurities and dead skin cells that may be clogging pores. Make sure you're using the right type of mask for your skin type.
4. Don't forget to moisturize! The best way to prevent skin from overproducing oil, explains Erica Suppa—research scientist and founder of Fresh Faced Skincare—is to use a good moisturizer to balance out water and oil levels.
Accentuating Your Eyes
1. To accentuate your upper lash line without creating spidery fringe, apply a strip of false lashes meant for your lower lashes from corner to corner. They're shorter than traditional falsies, so they'll thicken your lash line without elongating too much.
2. Keep your eyes open when applying liquid liner—otherwise your line will look uneven. Apply by drawing three dashes, one on the corner, in the middle, and on the inside corner of your eye. Then go back and connect the dashes for a smooth line.
3. Want to make your small eyes look bigger? Stay away from dark eyeshadows. Start with a nude base, then apply shadow a shade or two darker than the base to your crease and use your finger to blend the color up toward your eyebrow.
4. When applying fake eyelashes, put a little more glue on the edges than the rest of the lash, since they're more likely to come loose. Blow on the glue for a few seconds for a better hold.
5. To copy the bevy of celebs sporting smoldering eyes on the red carpet, stay away from blue hues, which can make you look like you have under-eye circles. Instead, go for black, gray, brown, or—if you want "color"—dark green shadows and liners.
Plumping Your Lips
1. For full lips go for a glossy look. Try first outlining the perimeter of your lips using a concealer brush dipped in bronzer two shades deeper than your skin tone. Then, top pout with gold, peach, or coral gloss.
2. When your lips look larger, it helps to slim your face down. The best way to beef up your mouth is to dab a shimmery gloss in the middle of your lower lip (on top of a lip-tone lipstick or gloss).
3. Play up your pout— it reminds people you're no pushover—with a deep, dramatic lipstick. Use your finger for a personally stamped finish. Highlight the area above your bow with a brush of gold eyeshadow.
Moisturizing Dry and Inflamed Skin
1. Rose and lavender work wonders in calming skin inflammation, according to Michele VanLandingham, ingredient information specialist for Dr. Hauschka Skin Care. Olive oil is also a great cure for all things dry, including peeling cuticles.
2. Prevent dead-skin pileup by using a pumice stone in the shower—and don't be tempted into using a razor. That will only cause more skin to grow back. Pamper your feet with moisturizing facial masks.
3. Lance Etchison, skin-care aesthetician at Bluemercury in Washington, D.C., suggests incorporating one new product at a time. "And, since most active ingredients take effect over time, don't give up if you don't see immediate results," he advises.
4. For daytime moisturizing, think layering: Use an antioxidant serum under a face cream, topped off with sunblock. To prevent flaking, consider light exfoliation once a week. Moisturizing without exfoliating first can result in breakouts and dull skin.
5. Water, paper, chemicals: all dry up soft hands. "You have to fight back every day," says Jan Arnold, founder of Creative Nail Design. "Exfoliate to slough off dead cells, then slather on a rich cream to compensate for how few oil glands you have."
6. Here's a secret for super-smooth, quenched lips: Use your richest eye cream on your lips! Note: Be sure it's a "hydrating" formula, not "firming"—which is code for drying.
7. Sure, it's chilly in the morning, but don't be tempted to crank up the heat in the shower. Hot water followed by cool, dry air leads to rough skin. To lock in moisture post-shower, pat yourself dry, and coat skin in an alpha-hydroxy lotion.
8. For flawless skin choose a cleanser and moisturizer appropriate for your skin type that you can use a.m. and p.m., and then supplement it weekly with a purifying face mask. Also, consider using a nightly skin treatment that exfoliates dead skin cells.
Optimizing Your Nail Care
1. We love the look of a perfect sheer manicure on long, tapered talons as much as the next woman, but who's got the time? For equally elegant, less fussy nails, go short, round, and dark. File your nails so they line up with the tips of your fingers and round the corners.
2. Low on cash but still want to indulge? Pamper your feet. If you're going to indulge in any spa treatment, go for a pedicure. It costs more than a manicure (though much less than a body treatment), and it lasts for weeks.
3. For those using sunscreen and bug spray in the summer, Grete Olsen of Frenchies Modern Nail Care recommends wiping it off your nails after applying. "The chemicals in those products can break down the top coat and polish, shortening the wear of the manicure."
4. In order to make sure that your nail polish lasts longer, Autumn Munter of Frenchies Modern Nail Care recommends applying glitter nail polish on top for a longer-lasting finish that will also add a hint of sparkle.
5. Rae Getter of Frenchies Modern Nail Care also recommends applying cuticle oil (she loves the Zeva Nails Pen) to help keep nails hydrated and hang nail-free. " Dry nails don't flex, so polish will chip more easily" without the extra hydration, she says.
Creating a Natural-Looking Glow
1. Naturally pale but want a healthy glow? The good news is that you don't need a lot of makeup to achieve great-looking skin, says New York makeup artist Paula Dorf. For natural-looking results, apply glow products to the apples of your cheeks, the bridge of your nose, your hairline, and chin.
2. Sidestep streaks by mixing self-tanner with moisturizer before applying. This dilutes the formula so you achieve a more natural, less stripe-like effect. See our guide for the best no-streak self-tanners here.
3. To avoid an orange-y look with self-tanner, after application, wipe a cotton swab or a damp paper towel across your eyebrows and along your hairline.
Counteracting Wrinkles
1. Treating your neck like your face doesn't work. "Your neck ages in its own way and so has special needs," explains Adrienne Denese, M.D., Ph.D. "Neck tendons shrink over time and become more visible, so the thin skin in this area doesn't respond to lasers and peels as well as your face does." She suggests good posture and neck stretches.
2. "I frequently see women with deeper wrinkles on one side of their face—the side they sleep on, of course," says New York dermatologist Heidi A. Waldorf. To avoid "sleep lines," opt for silk or satin pillowcases and pile on the antiaging products.
3. Avoid prolonged sun exposure! Says derm Dr. Sameer Bashey, not only do the sun's rays cause skin cancer, but also photo aging. Steer clear of direct contact with the sun during peak hours (between 10 a.m. and 3 p.m.) and nix tanning beds for good.
4. Use Retin-A or retinol regularly. "Vitamin A-derived creams are known to prevent fine lines and wrinkles. However they only help with fine lines and not deep wrinkles from volume loss. Retin-A or retinol need to be used as part of a comprehensive skin care program to rejuvenate skin," says Bashey.
Follow Marie Claire on Facebook for the latest celeb news, beauty tips, fascinating reads, livestream video, and more.
Celebrity news, beauty, fashion advice, and fascinating features, delivered straight to your inbox!