The 13 Best Eyebrow Growth Serums, According to Experts and Editors
Overplucked your brows? We got you.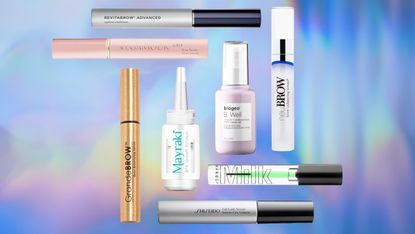 (Image credit: Future)
Marie Claire Newsletter
Celebrity news, beauty, fashion advice, and fascinating features, delivered straight to your inbox!
Thank you for signing up to Marie Claire. You will receive a verification email shortly.
There was a problem. Please refresh the page and try again.
One of the best pieces of beauty advice we've ever received: Put the tweezers down. But if you got a little over-eager while plucking away at stray hairs or your brow reshaping went sideways, there's still hope. Eyebrow pencils and brow tinting, of course, offer temporary solutions, but for a more permanent fix, it's worthwhile to consider an eyebrow growth serum or gel. Not only can these products restore your pre-tweezed brows to their fullest, bushiest state, but they'll also help those with naturally sparse eyebrows, not to mention those whose eyebrows have thinned over the years.
"Over time, our eyebrows experience a decrease in density, fullness, and growth of hairs due to aging or possible other external factors," says Licensed Advanced Registered Nurse Practitioner (ARNP) Maylen Cadenas, "such as skin conditions like eczema, hormonal changes or diet deficiencies." Utilizing an eyebrow growth serum can help mitigate or even reverse these natural effects of aging.
How does a daily swipe of clear gel work such wonders, you ask? The technology is very similar to that of eyelash serums. "Brow serums often contain peptides, biotin, keratin, oil, and other natural and active ingredients that work by supporting and strengthening the hair follicles within your brow line," explains board-certified dermatologist Dr. Nazanin Saedi. "These ingredients also help condition and strengthen the brow hair that is present."
Cadenas adds that if you're using a medication or serum that incorporates Latisse, its active ingredient, bimatoprost "helps to increase the length, thickness and darkness of eyelashes and eyebrows. [Bimatoprost] works by increasing the amount of time hair follicles spend in the growth phase and by increasing the number of hairs that grow during this time."
With consistent infusion of ingredients like these, you'll likely start to notice fuller-looking eyebrows in the coming weeks or months. Ready to embark on your journey to thicker, stronger, healthier brows? Scroll on to shop for the best eyebrow growth serums, from dermatologist-approved options to beauty editor tried-and-tested favorites.
How Do Brow Growth Serums Work?
Eyebrow serums are filled with nutrients and vitamins that target the existing hair and hair follicles to improve hair growth and overall strength. "They can repair damage from the past of over-tweezing, waxing, threading, and overworking of the brows as a teenager," brow expert Joey Healy explains, noting that pregnancy and menopause are also big hair thinning triggers.
Thanks to ingredients like vegan keratin and (most notably) peptides, eyebrow growth serums are able to "create proteins, which are the building blocks of hair," Healy says. Over time, this leads to thicker, fuller brows.
What to Look for in an Eyebrow Growth Serum
Board-certified dermatologist Dr. Neera Nathan tells us, "It is really important to use safe, non-toxic products on the eyebrows or anywhere near the eyes. Certain ingredients, like mung bean or red clover, have shown promise to support eyebrow growth naturally."
Is a Brow Growth Serum Right for Me?
"Anyone who wants thicker, fuller brows is a great candidate," says Dr. Saedi. "Patchy brows, thin brows, and over-plucked brows will all benefit [from an eyebrow growth serum]."
Every product we recommend below has been dermatologist-tested, but if you have super sensitive or reactive skin, always do a patch test before committing to a product. And, of course, consult with your board-certified dermatologist.
How Long Do Brow Growth Serums Take to Work?
The length of time brow growth serums take to work depends on your current brow situation—results will vary if you're a constant plucker, frequent waxer, threader, or occasional brow shaper. Healy says, "Generally, the more damaged the brow is, the more time it takes to see a maximum result."
The most important thing is to keep it up. "As with any hair growth journey, you need to be committed and consistent," says Dr. Saedi. "If you stick with it, you should see fuller, thicker brows in three months."
How Often Should I Apply Brow Growth Serum?
Make sure you're following a proper regimen for applying the serum if you want it to be effective, because consistency is key. "Most eyebrow growth serums need to be applied twice a day for six weeks and once a day after that. It's important that it needs to be for six weeks because you want to saturate the hair as all of those hairs are entering their early growth phase," says Healy.
A bonus? Healy says that most brow serums also work as eyelash serums. Nothing beats a good two-in-one!
Are Brow Growth Serums Safe?
Like anything, eyebrow growth serums can side effects in some people. "The most common side effects are eye redness, dryness, and irritation," says Cadenas. "These are usually mild and go away after a few days."
Dr. Nathan also reminds users to exercise caution with eyebrow growth serums in the same way you would with any other new skincare product. "Like anything, eyebrow growth serums can side effects in some people. Allergy or irritation can occur when using eyebrow growth serums," he says. "Before using any new product on the eyebrows or face, I recommend testing a small amount on the inside of the wrist first and waiting for two days to ensure there is no reaction before proceeding with regular use."
Still, since you're applying brow growth serums near your eyes, there are specific formulas to avoid, warns Healy. "The one thing you do want to avoid is hormones such as prostaglandins that can have bizarre effects in the eye area, including darkness underneath the eye and changing in the iris color." Dr. Nathan agrees, citing specific compounds called prostaglandin analogs, which include bitamoprost and latanaprost. "These ingredients can worsen the appearance of dark circles and also darken the natural color of the iris," he says, "which can be permanent in some cases."
Popular brow and lash growth ingredient Latisse, for instance, can potentially cause such side effects. "Latisse can cause more severe side effects in rare cases, including changes in iris color, vision problems, and allergic reactions," Cadenas tells us. "Talking to your doctor about potential side effects before using Latisse is important."
Finally, it's important to remember that you're using a product designed to stimulate hair growth on any skin it touches. "Keep it away from your eyes and only apply it to your brow line," warns Dr. Saedi. "If not applied carefully across the brow line, you can end up with unwanted hair in other areas."
The Best Eyebrow Growth Serums and Gels
The products on this list have either been tested and vetted by Marie Claire's E-Commerce Writer, Gabrielle Ulubay (aka yours truly), Marie Claire's Beauty Director, Deena Campbell, and Marie Claire's Beauty Editor, Samantha Holender; or have been hand-selected by a board-certified dermatologist or trichologist. Each one includes ingredients that are clinically proven to support brow growth and hydrate brows, in addition to being highly rated by reviewers. While the *best* eyebrow growth serum for you will vary based on factors such as skin type and personal preference, you truly can't go wrong with one of the items on this list. For a more personalized recommendation or if you have any concerns, check with your board-certified dermatologist or trichologist.
Best Non-Toxic Brow Serum
Vegamour GRO Volumizing Brow Serum
"I originally fell in love with this brand's hair growth shampoo and conditioner, so it didn't come as a huge surprise that I became just as obsessed with their brow growth serum," says Marie Claire Beauty Editor Samantha Holender. "With everyday use, this biotin-packed serum filled in my bald patches in just 30 days. The entire INCI list is also made up of non-toxic, vegan ingredients, so I can feel good about swiping it on my skin."
Pros: silicone-free; vegan; volumizing; clean
Cons: expensive
Customer Review: "It went on easily and felt good on my brows. I noticed that it made my brows look thicker after several weeks of use." -Sephora
Best Skin-Friendly Eyebrow Growth Serum
RevitaLash RevitaBrow Advanced Eyebrow Conditioner
With hydrating ingredients like biotin and green tea extract, the nourishing formula strengthens and moisturizes skin so that your brows have an optimal environment for growing fuller and thicker. Beauty editor Samantha Holender is among the product's many fans. "I trust Revitalash with everything—I've used their shampoo and conditioner to promote hair growth and the Revitalash Advanced Sensitive has nearly doubled my lash density," she says. "But perhaps my all-time favorite product of theirs is the eyebrow conditioner. It contains hydrating ingredients like green tea extract and biotin to strengthen and moisturize the area. Now I'll be honest: Results take time. But over the course of a few months, my brows have started to look so much fuller and thicker."
Pros: developed by physicians; cruelty-free; vegan; contains natural ingredients like biotin, green tea extract, and ginseng
Cons: expensive
Customer Review: "This stuff has truly worked for my eyebrows. Before I had patchy, ultra thin brows. I'm about done with the first tube and my eyebrows are noticeably so much thicker." -Dermstore
Best Eye-Friendly Eyebrow Growth Serum
Twenty/Twenty Beauty Get Growing Lash & Brow Serum
Twenty/Twenty Beauty was developed by a board-certified ophthalmologist so that users could indulge in all their favorite eye cosmetics without fearing eye irritation or harm. This serum works on both eyebrows and lashes, and I love its luxurious, conditioning feel, its versatility, and its easy application. Plus, it dries quickly and doesn't run down onto my eyelids.
Pros: vegan; cruelty-free; developed and tested by ophthalmologists; free of parabens, phthalates, silicones, fragrance, and prostaglandin; safe for sensitive skin; eye-safe
Cons: small bottle
Customer Review: "I have sensitive eyes and have been so nervous about trying a lash serum, but this has worked amazingly and has no irritation!!!!" -Twenty/Twenty Beauty
Best Fast-Acting Eyebrow Growth Serum
Kosas GrowPotion Fluffy Brow + Lash Boosting Serum
This serum has the trifecta of brow hair growth ingredients: A peptide trio; vegan keratin; and vitamin B5. Blend the mixture together and you're guaranteed growth, strength, and shine. Reviewers love it for its visible, relatively quick results, and comment that the formula stays put without running down your face.
Pros: clean; cruelty-free; contains ingredients like keratin and Vitamin B; ophthalmologist-tested
Cons: some reviewers prefer a spoolie over this smooth-tipped wand
Customer Review: "After using this product for a few weeks, I notice a big difference in my brows and lashes! I use it every night, as directed, and can tell that my brows are fuller and fluffier and my lashes are longer and thicker-looking!" -Sephora
Best Eyebrow Growth Serum for Fullness
Grande Cosmetics Grandebrow Brow Enhancing Serum
When you think of brow growth, you probably think of GrandeBROW, and with good reason. This best-selling serum works. "Grande Cosmetics is my go-to for fuller, thicker lashes and brows," says Dr. Saedi, who says that the line has yielded "amazing, noticeable, lasting results" for her. I, too, swear by GrandeBROW, which brought about quick results. Plus, the wand is easy to use and the formula is quick-drying, odor-free, and doesn't run or get sticky.
Pros: paraben-free; contains hyaluronic acid; cruelty-free
Cons: expensive
Customer Review: "I LOVE THIS PRODUCT! My brows have never been fuller or more beautiful. Highly recommend!" -Sephora
Best Multi-Tasking Eyebrow Growth Serum
Shiseido Full Lash and Brow Serum
This serum works on brows and lashes, drying quickly sans irritation. As one Sephora reviewer shares, "It made my eyebrows thicker and more noticeable and lengthened my eyelashes." Several users even say that they were able to eschew their false lashes and brow pencils after regular, extended use of this serum.
Pros: conditions brows for maximum retention; effective on both brows and lashes
Cons: contains parabens
Customer Review: "I couldn't be more thrilled with the results. 6 weeks after I finished chemo I have all my eyebrows back. I'm even thinking of cancelling my microblading appointment scheduled for September!" -Sephora
Best Eyebrow Growth Gel for Daytime Use
Joey Healy Brow Renovation Serum
Healy created this serum specifically for the over-pluckers and constant waxers among us. Reviewers especially appreciate it for its versatility: It can safely be used both day and night, and it dries thoroughly enough to be worn under brow makeup.
Pros: paraben-free; contains ingredients such as hyaluronic acid and Vitamins A, B5, C, and E; moisturizes brows
Cons: expensive
Customer Review: "I've been trying to grow my brows back for years and used serum I could research and find. This one works. It took me 8 weeks to really see a difference but it was well worth the wait." -Joey Healy
Best Eyebrow Growth Serum for Precision
Maya Chia Power Fol Multi-Correctional Eyelash Eyebrow Serum
This brow and lash serum is the real deal. In addition to its powerful ingredients that improve growth in just eight weeks, the individualized lash and eyebrow brushes from Maya Chia make for an easy-as-can-be application process. Multiple reviewers—who experienced brow thinning as a result of aging, overplucking, and everything in between—praise the product for producing noticeable results in mere weeks.
Pros: clinically tested; large volume of product; long-lasting; works as a primer for mascara
Cons: expensive
Customer Review: "This product 100% works, no gimmicks. I notice my upper and lower eye lashes lengthen and grew thicker in mere few days. I didn't even need to wait 6 weeks for results." -Maya Chia
Best Natural Eyebrow Growth Gel
Live Fraiche Organic Castor Oil For Eyelashes and Eyebrows Mascara Tube
Castor oil is a natural ingredient that has long been lauded for its ability to enhance hair growth. Coat your brows in the oil for to improve softness, moisture, and, eventually, length and density. Users do warn, however, that less is more with this oil—like all castor oil based products, it's thick, so if you use too much, you may risk it dripping into your eyes or coating your eyelids.
Pros: organic; vegan; free of parabens and synthetic ingredients
Cons: very thick, so requires practice and moderation fro effective use
Customer Review: "I use this daily on my lashes and eye brows. It has made my lashes longer and fuller and also made my brows fuller." -Amazon
Best Eyebrow Growth Kit
Mayraki Lash & Brow Restoration Growth Solution
For those ready to commit to a complete restoration system, Mayraki's kit is for you. Putting in the work is worth it—the lash and brow two-step system promises a fuller, thicker, and stronger look in less than 40 days. Customers confirm that the kit produces quick results, and several add that the kit's instructions are quick and easy to follow.
Pros: free of fragrance, synthetic ingredients, parabens, phthalates, and sulfates; cruelty-free; works on both brows and lashes
Cons: process involves a disposable cotton swab, which is not sustainable, and some users may also prefer a spoolie for more ease of use
Customer Review: "I cannot believe it! I have had massive results in just 4 weeks." -Mayraki
Best Vegan Eyebrow Growth Serum
Neulash Neubrow Brow Enhancing Serum
Many reviews praise this brow-enhancing serum for its noticeable, lasting hair growth powers over a short amount of time. They note that you need to wait about a month to see any change, but once you do, the wait will be more than worth it. e
Pros: tested by ophthalmologists and dermatologists; parabens, gluten, phthalates, tree nuts, and GMOs; vegan; good for sensitive skin
Cons: expensive
Customer Review: "I have visible growth in areas that were bare for 25 years. After just one month, there was visible growth, and that's with one daily night usage. Now I'm trying twice daily. This product is worth every penny." -Neiman Marcus
Best Castor Oil-Based Eyebrow Growth Serum
Briogeo B. Well Organic + Cold-Pressed 100% Castor Oil
Brigeo's cold-pressed pure castor oil is a miracle elixir. Use it on your brows, for sure, but also your scalp to stimulate hair growth. This oil is going to be ideal for anyone dealing with brittle hairs, breakage, or overall thinning. Beauty director Deena Campbell loves it, writing, "In high school I had insanely thin eyebrows. I was a bonafide over-plucker. In the last decade, I've used many products to restore them back to health, but nothing works quite as well as Briogeo B. Well Organic + Cold-Pressed 100% Castor Oil. Over time the cold-pressed castor oil helped fill in sparse areas, making the hairs longer and seemingly darker."
Pros: vegan; cruelty-free; clean; versatile
Cons: thick, so may drip if used too heavily
Customer Review: "I've been using it for 2 weeks now and I can already start seeing the difference with my eyebrows and eyelashes." -Sephora
Best CBD-Infused Eyebrow Growth Serum
Milk Makeup Kush Lash + Brow Enhancing Serum
This brow growth serum is for you if you're a CBD fanatic. Hemp-derived cannabis seed extract hydrates and conditions, while plant peptides create the appearance of thickness. Another key ingredient? Quinoa, which supports healthy hair follicles.
Pros: contains natural ingredients like CBD, quinoa, and plant peptides; vegan; free of parabens, silicones, and fragrance
Cons: contains parabens
Customer Review: "Definitely Works if you use it consistently. I finally got my lash extensions off and my lashes looked terrible but they look great now after using this for a few months." -Sephora
Meet the Experts
Dr. Nazanin Saedi, MD FAAD
Dr. Nazanin Saedi is a leading board-certified dermatologist serving patients throughout Philadelphia and the surrounding areas. She is a clinical associate professor at Thomas Jefferson University and the Department Co-Chair of the Laser and Aesthetics Surgery Center at Dermatology Associates of Plymouth Meeting. Dr. Naz specializes in a wide variety of cosmetic, medical and surgical procedures, offering the latest, cutting edge technology and services to her patients. Dr. Naz graduated cum laude from Princeton University with an A.B in Anthropology. She attended The George Washington University School of Medicine, where she graduated with distinction and was elected to the Alpha Omega Alpha medical society. She completed her residency at the University of California, Irvine where she served as chief resident, followed by her fellowship in Cosmetic Dermatology and Dermatologic Surgery at SkinCare Physicians in Chestnut Hill, Massachusetts.
Known for his trendsetting vision and amazing technical skill, Joey Healy is one of the most influential and sought-after eyebrow specialists in the industry. With his skill for crafting the ideal arch, Joey launched his eyebrow empire in 2010 with his signature product line, Joey Healy Eyebrow Collection, following in 2011. In 2012 Joey opened his flagship Fifth Avenue Joey Healy Eyebrow Studio, a stylish eyebrow sanctuary for his jet-setting, unisex clientele. With his popularity rapidly growing, Joey expanded with a new team of brow proteges to a larger NYC location in 2015.
Maylen Cadenas is a Licensed Advanced Registered Nurse Practitioner (ARNP) in Florida. Maylen has over ten years of experience in General and Cosmetic Dermatology, with an incredible amount of diverse knowledge of surgical, cosmetic and general dermatology.
Dr. Neera Nathan is a board-certified dermatologist currently based in Boston, Massachusetts. She is also a contributor to Forbes Magazine and has over six years of medical experience.
Celebrity news, beauty, fashion advice, and fascinating features, delivered straight to your inbox!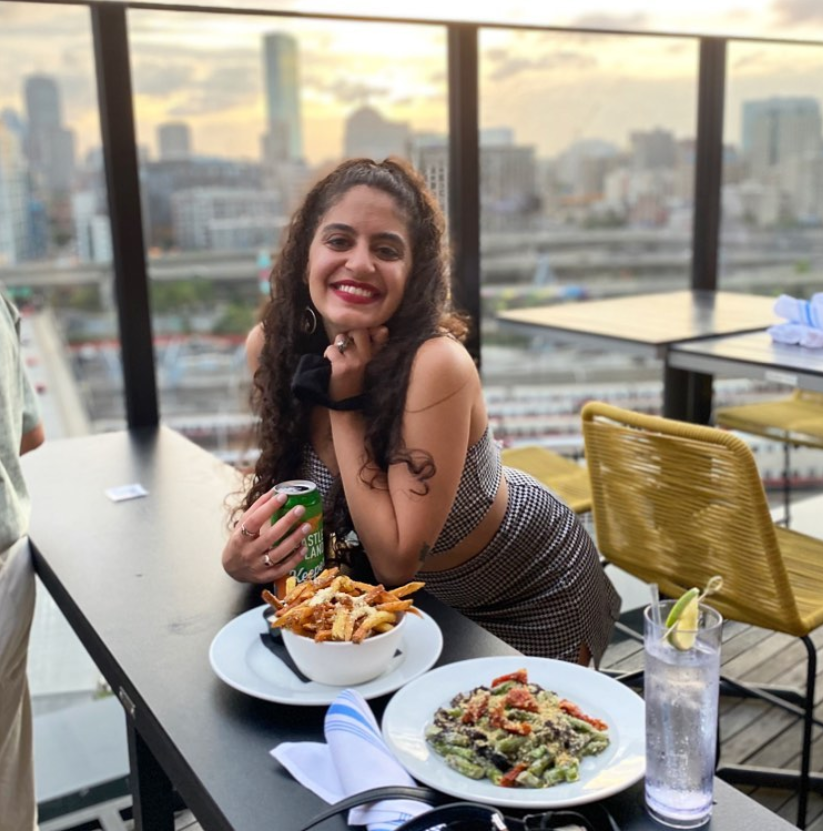 Gabrielle Ulubay is an E-Commerce Writer at Marie Claire and writes about all things beauty, sexual wellness, and fashion. She's also written about sex, gender, and politics for publications like The New York Times, Bustle, and HuffPost Personal since 2018. She has worked extensively in the e-commerce and sales spaces since 2020, including two years at Drizly, where she developed an expertise in finding the best, highest quality goods and experiences money can buy. As a film school graduate, she loves all things media and can be found making art when she's not busy writing.