My Love Affair With Lipstick
And believe me, I played hard to get.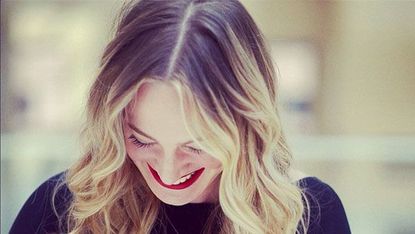 (Image credit: Archives)
As a typical 1990s kid turned early 2000s teen, I was captivated by the scents and textures of just about every beauty product I came into contact with. You could find me blithely running my fingers through my medicine cabinet (pristine and color-coordinated, of course) at any given time looking for my next fix. A cucumber melon spritz here, a coconut body butter there. I started carefully applying eye cream in the 9th grade (a tip I took from a late-night infomercial) and didn't let a week pass without a 10-minute face mask. In the purest sense, I've always been a beauty girl.
As I settled into my teenage years, I slowly replaced my natural look with what I realize now to be a troubling amount of black eyeliner and caked-on bronzer. (I'll leave the story about the velour sweatsuits for another time.) The makeup became an after-thought, a backseat to whatever ensemble I deemed worthy for a Saturday night in "The City."
I suppose it was after I graduated from my club-hopping days that I set my sights on a career in the fashion industry. Unfortunately, I attended a large school where cherry red jerseys were as ubiquitous to the night life as failed beer chugging contests. Needless to say, there was very little opportunity for fashion and beauty inspiration. So, I was thrilled when my summer internship allowed for me to attend my very first fashion show. Of course, as a lemming, it was my editor's cast-off and I was told I had to be there at the very last minute. I was flustered, my outfit left much to be desired — certainly not the stylings I worshiped on my favorite blogs. But what was I to do? I was determined not only to impress my boss with my reporting skills but also to cement myself in this world.
Before I hopped on the subway I wandered over to Sephora for a quick face check in the mirror. As I perused the aisles, there it was. The Estée Lauder lipstick section. There were roughly 25 colors, some bright, some dark, and some super shimmery. I was struck — as if by fate — and applied a dark red flavor that I now hold near and dear to my heart. Stay Scarlett. Instantly, my black skinnies and oversize sweater felt wildly hip. That lipstick transformed me. I strutted over to Lincoln Center with an unprecedented pep in my step. I even had my photograph taken a few times on the way inside. In seemingly cinematic slow motion I pursed my lips, slung my jacket over my shoulders, and posed while trying to pull off my best high-powered editor stare.
It was then that I realized the power that comes with a quick swipe of a lipstick. The transformative properties that it undoubtedly allows every woman, but perhaps something special for me in particular. One night I was talking to my friend who revealed to me that he thought my aura was red. (He does that from time to time.) When I asked him to elaborate, he mentioned that "sometimes I was all mouth." While at the time I assumed it was because of my outspoken nature and natural flush from one too many cocktails, upon closer inspection I realized it was true. And that it was exactly what I was going for.
Lipstick became a part of me, a carefully planned affair that adds extra sass and confidence tenfold—my own personal Sasha Fierce. Each color dictates my mood: grunge-soaked purples, Old Hollywood reds, sexy Bardot nudes. I suppose my kinship with the colorful accessory also has to do with the fact that no matter how much take-out Chinese food I've had the night before, it always fits. Since that fateful day, I've never met a rouge I didn't like.
Photo Credit: Kathryn Wirsing
Marie Claire email subscribers get intel on fashion and beauty trends, hot-off-the-press celebrity news, and more. Sign up here.
Hallie has worked in beauty editorial for ten years and has been editorial director at Byrdie since 2021. Previously, she was a senior editor at Byrdie since 2016. During her time at Byrdie, she's written hundreds of high-performing stories on skincare, wellness (including fitness, diet, mental health, body image, et al) makeup, and hair. She's a regular on set, helping to source inspiration for makeup and hair looks, as well as interviewing celebrities, models, and other notable women and men in the beauty space.
Before that, Hallie ran Marie Claire's social media and wrote beauty and culture stories for the site, and helped launch Time Inc.'s digital-only beauty brand, MIMI. After college, she contributed to Time Out New York's Shopping & Style section before landing her first beauty editor gig at Hearst's Real Beauty. Hallie's writing has also appeared in ELLE, Cosmopolitan, and InStyle. Hallie graduated with a BA in Communication Arts from the University of Wisconsin-Madison.