Beauty Vlogger Deepica Mutyala Has an Awesome Message for Halloween
Damn straight.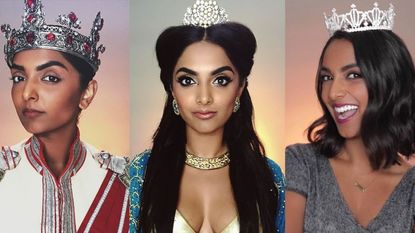 (Image credit: YouTube)
Marie Claire Newsletter
Celebrity news, beauty, fashion advice, and fascinating features, delivered straight to your inbox!
Thank you for signing up to Marie Claire. You will receive a verification email shortly.
There was a problem. Please refresh the page and try again.
New York City-based beauty vlogger Deepica Mutyala has a message for you if you're dressing up this Halloween— #BeYourOwnPrincess. What does that mean, exactly? It's pretty simple—dress up as whoever you want to be, regardless of your skin tone, gender, orientation, or anything else that might not fit a silly mold.
The 26-year-old Texan native officially launched her YouTube channel in January 2015—and she already has close to 39,000 subscribers. (NBD.) Deepica's channel got a lot of attention after she posted her second video, using just her iPhone, on how to conceal under-eye circles with red lipstick (it now has over 9 million views and landed her a Today show appearance). But her latest video is getting *all* the attention.
In the video, she dresses up as three Disney princesses—Ariel, Cinderella, and Jasmine—plus Prince Charming. It all stemmed from a real conversation she had with a friend who suggested Deepica could only dress up as Jasmine or Pocahontas if she wanted to be a Disney princess for Halloween, since that's who she resembled most. Deepica's response? "I can be whoever I want to be."
Funnily enough, Deepica was originally thinking of being Jasmine for the occasion: "Jasmine's a badass. She's the most independent and empowering princess in my mind." But she began to wonder if she had been "trained" to think Jasmine was her only option because of her skin color. "It kind of irked me when my friend said that, now that I'm at a place in my life where I feel more confident in my skin," she says. "You should feel you can be whatever princess you want, just as you look now."
Even though Ariel is a redhead and Cinderella is blonde, Deepica felt it was important not to wear wigs for the costumes. She wanted to show her viewers they can play a princess (or a prince) while still being authentic to who they are. That's where the hashtag #beyourownprincess comes into play. "'Princess' is a placeholder for 'person,'" Deepica says. "It's all about feeling comfortable in your skin, no matter what you look like on the outside."
This message is important to Deepica because of how she felt when she was younger. "I was always trying to fit in with everyone around me, whether it was saying I'd go to medical school to appease my parents or getting blonde highlights to fit in with the girls that I was hanging out with. I was just trying to fit into societal norms. I've realized being abnormal should be normal. I know that sounds like such a cheesy quote, but I really feel like it's cool to stand out."
What about the idea behind dressing up as Prince Charming? To Deepica, he was an important character to portray for several reasons. "I included a prince not only for girls to realize they can be their own Prince Charming—their own hero—but beyond that, for anyone in the transgender community to feel comfortable talking about who they are," she says. "I also wanted the video to be a way for their parents to feel a little more comfortable with who [their kids] are. It's hopefully a kind of lighthearted way of having that conversation."
Looking at her younger nieces and nephews today, Deepica thinks they have it harder than she did, with social media and the prevalence of bullying online. If she should could talk to her 5th grade self now, Deepica would tell her: "The parts about you that make you stand out are what's going to help you achieve your dreams in the future. Own who you are. It took me a really long time to figure out who that was."
Deepica has gotten a ton of positive feedback since posting the #beyourownprincess video, including a message from a woman whose daughter didn't feel she could dress up as Elsa from Disney's Frozen, like all the other girls at her school were. After seeing Deepica's video, the girl felt that it was ok for her to be Elsa. "That made me feel so good," Deepica says. "We need more people to create positive content. So as much as I can do, I hope it encourages other people to contribute who have even bigger platforms." Yes, girl.
You can read more about #beyourownprincess on Deepica's blog, here.
Follow Marie Claire on Instagram for the latest celeb news, pretty pics, funny stuff, and an insider POV.
Celebrity news, beauty, fashion advice, and fascinating features, delivered straight to your inbox!