What's In Arielle Dombasle's Makeup Bag?
Cabaret star ARIELLE DOMBASLE on l'amour and lip gloss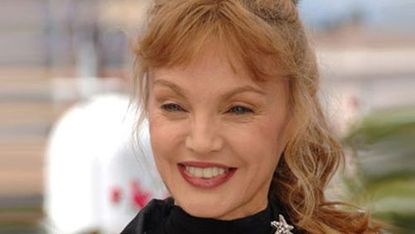 (Image credit: John Sciulli)
Thank heaven for 48-year-old French girls like Arielle Dombasle. Without them, what would generations of grown-up Frenchmen do? The ultimate international gamine in a series of '80s movies directed by Eric Rohmer (Pauline at the Beach is particularly worth renting), Dombasle has evolved into a chanteuse in the breathy Marilyn Monroe tradition. Also like MM, who was briefly married to playwright Arthur Miller, Dombasle's spouse is an intellectual, the Byronic Bernard-Henri Lévy, who is consistently called a "rock-star philosophe" because of his style and sex appeal. Dombasle wastes no time in telling us that "BHL," as he is known, is her beauty secret: "When you're in love, it shows. If you're a lonesome little chicken, that shows, too."
Not long ago, when Dombasle was in town for her New York debut at Manhattan's Supper Club, we went backstage after she performed a series of her favorite international standards to a packed house. Flushed but still flawless, she talked about the makeup that is such an essential part of her life onstage, and joked that she had reserved a special front-row seat for her beloved hairdresser, the U.S.-based Frenchman Julien Farel. "Funny that I come all the way here to get my hair cut by a Frenchman. I wish I could take him everywhere with me-Liz Taylor does that. But that would be too coquettish, don't you think?"
1. DRUGSTORE MINTS: "Ahhh, always mini mints-fresh breath is essential! It doesn't matter what brand-I think I got these inParis."
2. HER OWN FRAGRANCE BLEND: "It's a concoction I've worn for years: Clinique Aromatics Elixir plus a few drops of white musk oil (I add them to the perfume bottle). A cab driver in Washington, DC, told me about the oil-you can only find it in obscure little drugstores."
3. LA PRAIRIE SKIN CAVIAR AND 30+ SUNSCREEN: "I love La Prairie's products because they're scientifically sound. Wouldn't it be wonderful if, in the future, we could deal with all lines and wrinkles with good skincare instead of plastic surgery? I have never seen a face-lift I liked."
4. LANCÔME JUICY WEAR LIPSTICK IN LILAC KISS: "The only lipstick that truly withstands kissing!"
5. LANCÔME JUICY WEAR TOPCOAT: "Some put this on top of lipstick to gloss it up; I dab it on my cheeks for a little shine."
6. NUTS, BISCUITS, AND CHEESE: "People are surprised by how much of this I eat-but if you don't eat meat for 20 years, you can pretty much digest anything and not gain weight."
7. CHANEL PROFESSIONAL FINISH CONCEALER IN LIGHT: "The only makeup I wear during the day is concealer. It's a necessity, as I'm an early bird who has to perform late into the night."
8. NARS ICEBERG EYELINER: "I apply it to the inside rim of my lower eyelids to brighten the whites of my eyes."
9. MAC LIPSTICK IN CYBER: "For my New York concerts, I do my own makeup. I choose to focus on my lips and keep the eyes simple-playing up both is too much. This color was made for the spotlight!"
10. JOE BLASCO CREME FOUNDATION IN GOLDEN OLIVE: "A movie makeup artist introduced me to it. It's incredible- it literally brings light to your whole face."
11. CHANEL BLACK BROWN MASCARA: "What I wear offstage. My onstage jet-black on my pale-blue eyes can appear overdone."
Celebrity news, beauty, fashion advice, and fascinating features, delivered straight to your inbox!