Can Microneedling Treat Acne Scarring? Dermatologists Explain
PSA: This is not for active acne.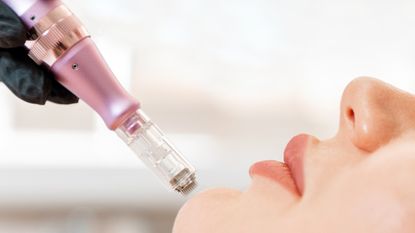 (Image credit: Getty)
Marie Claire Newsletter
Celebrity news, beauty, fashion advice, and fascinating features, delivered straight to your inbox!
Thank you for signing up to Marie Claire. You will receive a verification email shortly.
There was a problem. Please refresh the page and try again.
Throwing every product, treatment, and laser at your face in an effort to get rid of acne, or treat acne scars, is a no-go. But, selecting the appropriate skincare routine that's supplemented with the appropriate treatments can speed along your healing process. Enter: Microneedling, an in-office process that uses tiny needles to create little wounds in the skin. It might sound counterintuitive, but this type of *controlled* micro-injury, which should be done by board-certified professionals, kicks collagen and elastin into gear, creating a smoother, more even-toned, and less acneic complexion.
It's not all rainbows and butterflies, though. Microneedling to treat acne scars can be a little uncomfortable, requires some downtime, and is a multi-session, months-long ordeal. To find out if microneedling is a viable option for your specific acne and scarring, keep reading. Here, top dermatologist Dr. Nava Greenfield from Schweiger Dermatology and advanced practice registered nurse Tara Adashev at Neinstein Plastic Surgery are answering every single question you might have about the in-office (or occasionally at-home) treatment.
What Is Microneedling?
As the name suggests, microneedling is when itty-bitty needles are used to puncture the skin. "It's a skin treatment that helps stimulate the skin's healing process by creating little holes in the skin to help produce collagen and elastin," explains Adashev. There are a few different devices that exist (Morpheus and Genius are popular machines), and while the settings will differ slightly, the puncture wound is usually the same. "It depends on the exact part of the face being treated, but my treatments usually range from 0.4 to 2.5 mm deep," says Dr. Greenfield. She typically does three passes (sometimes more) across the surface of the skin before sending patients on their way.
Can Microneedling Treat Acne and Scarring?
Microneedling isn't a one-trick pony—it can be used to treat a wide range of skin concerns including wrinkles, stretch marks, discoloration, and enlarged pores. However, it is frequently used in the treatment of acne scars. "Textural changes and mild erythema can benefit from treatment," explains Dr. Greenfield. "The treatment works by creating tiny zones of injury in the skin prompting the skin to remodel its collagen and improve the appearance of scars and overall texture of the skin." The key word there is "improve." When dealing with true acne scarring, not post-inflammatory hyperpigmentation, 100 percent recovery is difficult to achieve. "Don't expect the skin to be perfect after treatment. I would only perform the treatment if I thought the patient had a good chance of a significant improvement and that the potential benefits outweighed any risk."
As for active acne? Microneedling should under no circumstances be your first line therapy and, in a lot of cases, it can actually make matters worse. "It should not be used on open acne or pustules, as you do not want to spread bacteria," explains Adashev. If your acne is well controlled with other methods however, microneedling can help "break up the acneic skin" and reduce oil production over time.
Types of Microneedling
Let's get the major no-go out of the way: At-home microneedling. It's just not the best idea and you'll find it hard-pressed to find a derm that endorses it. "It can cause bacteria and spread acne," says Adashev. Even if you were to follow all safety protocols, it's not going to be nearly as effective as an in-office treatment. "The medical grade needles go much deeper into the skin, remodeling collagen at a deeper level, and because of that the possible results are far greater than at-home devices," says Dr. Greenfield.
When it comes to professional machines, you're looking at a few possibilities, namely regular microneedling and radiofrequency microneedling, which is essentially a super-charged version of the treatment. "This is a class of newer devices that are also highly effective at promoting collagen growth," board-certified dermatologist Dr. Dustin Portela tells Marie Claire. "RFMN uses a grid of small needles that are pressed into the skin, and while under that skin a current of radiofrequency is passed between the needles, heating the deeper layers of skin and stimulating collagen growth."
Am I a Candidate?
Your board-certified dermatologist will be the best judge (they're able to really examine your skin), but as a rule of thumb, microneedling is best for people who have raised or indented scarring—and have a good handle on their active acne. "Microneedling is for when acne patients are well controlled on their medication regimen," says Dr. Greenfield. For some, that means a simple skincare routine, for others that may look like accutane or spironolactone.
How Many Treatments Will I Need?
You're going to want to book yourself a series of three treatments, spaced approximately one month apart. "Results are incremental and build on each other," says Dr. Greenfield. If you're doing radiofrequency microneedling, you're likely looking at treatments three to four times a year.
Does Microneedling Have Side Effects?
As is true with any intense treatment, there's a possibility of side effects. "Discoloration, scarring, and infection are some of the risks," explains Dr. Greenfield. If you're microneedling over active acne, you also have the possibility of making your condition worse or spreading an infection. That's why going to a board-certified and experienced professional is of utmost importance. "The person who performs the procedure matters. Only go to someone you really trust, it's your skin."
Does Microneedling Hurt?
I won't lie: It's not the most enjoyable experience—you're quite literally getting poked with needles. "Microneedling is not pleasant, but the patient is numbed with a topical numbing cream for one hour prior to the procedure so the treatment is tolerable," explains Dr. Greenfield. Once the sixty minutes is up, the numbing cream is taken off, the machine is fired up, and the pen gets to work. It takes about 15 to 30 minutes and feels like a warm, scratching on the skin.
What to Do After Microneedling
Your aftercare instructions may differ slightly from doctor to doctor, but as a rule of thumb, don't go home and wash your face. Dr. Greenfield tells her patients to avoid splashing on any water for at least four hours. "Use only very gentle and hydrating products given by your dermatologist," she says. "Recovery can take two to five days and the first one to two days will have the most swelling and redness." Adashev also recommends avoiding drying agents such as sulfur, benzoyl peroxide, or toners. And don't forget: Wear your SPF.
Meet the Experts
Dr. Nava Greenfield is a dermatologist practicing at Schweiger Dermatology Group. Dr. Greenfield earned her Bachelor's Degree from Queens College, City University of New York, where she graduated Cum Laude with honors in mathematics, natural sciences, chemistry and biochemistry. Dr. Greenfield attended medical school at the Albert Einstein College of Medicine, Yeshiva University. She completed her internship at Yale-New Haven Hospital and her residency in dermatology at SUNY Downstate Medical Center. Dr. Greenfield has been published in many medical journals, including The Journal of Dermatological Treatment, the Journal of Women's Dermatology and Pediatrics. Dr. Greenfield is a member of the American Academy of Dermatology, Alpha Omega Alpha Honor Medical Society, Women's Dermatologic Society and the American Medical Association.
Nurse Tara brings her extensive training and advanced degree as a Nurse Practitioner to the Neinstein Plastic Surgery Team as lead nurse injector. To provide the exceptional results she is known for, Nurse Tara has a commitment to patient safety, pursuing higher levels of education through continuous training, an enthusiasm for advancing her practice and honing her skills whilst giving patients a personalized one-on-one experience. Nurse Tara believes in naturally enhanced beauty, and working with her patient's to achieve their unique aesthetic goals. Nurse Tara's ultimate goal is for her patients to look in the mirror and see the best version of themselves!
Celebrity news, beauty, fashion advice, and fascinating features, delivered straight to your inbox!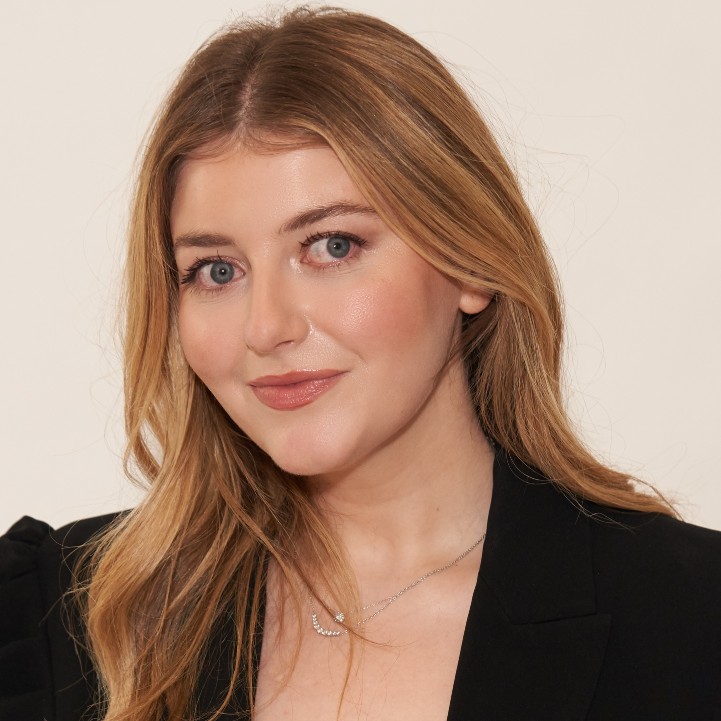 Samantha Holender is the Beauty Editor at Marie Claire, where she reports on the best new launches, dives into the science behind skincare, and keeps up with the latest trends in the beauty space. She has previously written for Us Weekly, Popsugar, Makeup.com, Skincare.com, and Philadelphia Wedding. Follow her on Instagram @samholender.