The Best Hyperpigmentation Treatments, According to Dermatologists
From easy-to-incorporate products to heavy-duty lasers.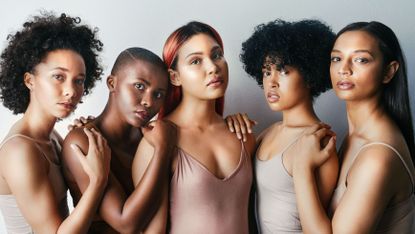 (Image credit: Delmaine Donson)
Marie Claire Newsletter
Celebrity news, beauty, fashion advice, and fascinating features, delivered straight to your inbox!
Thank you for signing up to Marie Claire. You will receive a verification email shortly.
There was a problem. Please refresh the page and try again.
If you've had a pimple, been out in the sun without sunscreen (I do not recommend this, FYI), or simply lived life, it's highly likely you've experienced some form of hyperpigmentation at one point or another. Maybe your nasty chin cyst left behind a post-inflammatory dark spot, maybe you developed age or sun spots over time, or maybe you have a genetic predisposition to discoloration (it's much more common in more melanated skin). Regardless of the cause, there are dermatologist-approved hyperpigmentation treatments and dark spot correctors that can help even out your complexion. Some solutions are as simple as wearing SPF every time you step out in the sun (It's all about prevention, people), while other fixes might take the form of laser treatments.
To get the down low on exactly what causes dark spots to form and how to treat hyperpigmentation, keep reading. We tapped a handful of pros to get the scoop on their favorite brightening agents, skincare products, and daily practices that can fade the appearance of age spots, sun spots, melasma, and post-inflammatory hyperpigmentation.
What Causes Hyperpigmentation?
Let's start off with a blanket statement: Hyperpigmentation is normal. "It's one of the most common reasons people visit their doctor," says Dr. Sarah Allen, founder of The Skin Clique. "Essentially, hyperpigmentation occurs when patients have more melanin (or pigment) deposits in their skin." That in mind, those with darker skin tones, namely skin types three to six on the Fitzpatrick scale, are going to be more prone to hyperpigmentation and dark spots.
The exact reason you develop dark spots, however, can vary. One fairly common cause is PIHP, or post-inflammatory hyperpigmentation. "This occurs after an inflammatory process such as acne or an allergic reaction. The inflammation resolves and what remains is a dark patch of skin," adds Dr. Allen. "On the other hand, there are dark spots that pop up on sun-exposed areas of the skin, like the hands, face, and shoulders." Melasma is yet another type of hyperpigmentation that is commonly associated with hormonal changes from pregnancy or birth control.
How to Prevent Hyperpigmentation
Hear me out: The best way to solve a problem is to prevent it in the first place—and that motto holds true when talking about dark spots. One of the best ways to reduce the likelihood of developing hyperpigmentation, specifically age spots, sun spots, and melasma, is to be super strict with SPF. "Freckles, age spots, and other darkened skin patches can become darker or more pronounced when skin is exposed to the sun. This happens because melanin absorbs the energy of the sun's ultraviolet rays in order to protect the skin from overexposure," explains Dr. Allen. "The usual result of this process is skin tanning, which tends to darken areas that are already hyperpigmented."
You're going to want to scoop up a sunscreen that promises "broad spectrum" protection, which means it will protect your skin from both UVB (burning) and UVA (aging) rays. "Most importantly, look for sunscreens that contain only zinc or titanium because they block the sunlight from contributing to hyperpigmentation in the skin," advises board-certified dermatologist Dr. Morgan Rabach, founder of LM Medical.
Now, if your hyperpigmentation is the result of acne, prevention gets a bit trickier. Still wear your sunscreen, but also do your best to avoid picking, popping, or playing with your pimples. It will only increase inflammation and likelihood of scarring.
How to Treat Hyperpigmentation
We've tapped some of the best in the business for their recommendations on how to treat dark spots. But please remember: This is not a one-size-fits-all recipe. An exfoliant may do the job to fade mild hyperpigmentation left behind by a rogue pimple, but more severe cases might require prescriptions and the guidance of a dermatologist.
Try a Brightening Skincare Ingredient
"Antioxidant serums help stabilize the skin after injury from UV and infrared light," says San Diego-based dermatologist Dr. Melanie Palm. In addition to a vitamin C serum, Dr. Allen recommends seeking out natural ingredients like "kojic acid, niacinamide, and azelaic acid."
Don't Forget to Exfoliate
Anything that's going to speed up cell turnover is going to simultaneously speed up the rate that your dark spots and hyperpigmentation will fade. So bring out the AHAs and BHAs to slough away dead skin cells. "Glycolic acid, beta-hydroxy acids, and azelaic acid are all going to help," says Dr. Rabach. Don't overdo it, but pick a cleanser, face mask, or serum with one of these ingredients.
Another option, which is perhaps my personal favorite, is a retinoid. In addition to the obvious anti-aging and acne-fighting benefits, retinoids also come in handy on the pigmentation front. "Not only does retinol speed up cell turnover, but it penetrates really deep into the skin and interferes with pigment production," explains Dr. Palm, noting that it treats dark spots deeper in the skin than most topicals.
Try a Chemical Peel
If you're not getting the results you want with over-the-counter skincare, it might be time to pay a visit to your doctor. One treatment they may suggest to treat dark spots is a professional-grade chemical peel. "Chemical peels can help remove surface layers of pigment, thus lightning while at the same time allowing for greater penetration of topical treatments," explains Dr. Allen.
While this type of treatment can be game changing, it is *extremely* important to do some research on your provider. "With any peel option, you want to make sure a qualified professional is administering to avoid the risk of damage to the eyes, infection, or post-inflammatory hyperpigmentation."
Talk to Your Provider About Professional Lightening Agents
Dermatologists have two professional-grade topical agents at their disposal when treating hyperpigmentation: Hydroquinone and Cyspera. "Hydroquinone has been a mainstay in the treatment of hyperpigmentation for years," says Dr. Allen. While it can give dramatic results, there is some controversy surrounding the side effects, including mercury exposure, that coincides with overuse. That's why it's important to be under the care of a board-certified physician.
There's a newer medication called Cyspera that your doctor might recommend as well. "While it helps with hyperpigmentation, the downside is that it smells a bit and needs to be washed off of your face after treatment," says Dr. Rabach.
Consider Laser Treatments
If you want to go for the "big guns" of hyperpigmentation treatment, it's probably worthwhile to talk to your dermatologist about laser treatments. This can be a valuable option for deeper pigmentation that doesn't seem to be budging with other methods. Dr. Palm is partial to the Q-Switch Laser, which was originally designed for tattoo removal. "It uses low heat and energy, so it won't make pigmentation or inflammation worse," she explains. Dr. Rabach, for her part, gravitates toward the Clear + Brilliant or Pico laser, especially when it comes to addressing melasma.
Meet the Experts
Dr. Morgan Rabach is a board-certified Dermatologist and media expert with hundreds of opinion articles on skincare and the use of injectable cosmetic procedures. Dr. Morgan is known for her expertise in cutting edge techniques for Botox and Fillers and the savy use of skin products. Additionally, she deeply enjoys helping people eliminate acne scarring. Dr. Morgan is ranked "#1 dermatologist" in NYC by RateMDs, featured as a "Superdoctors" in NYTimes Magazine for the last five years, granted "TopDoctor" designation by Real Self and is an advisor for Gerson Lehrman Group and Guidepoint Global. In addition to her private practice, she is a Clinical Assistant professor of Dermatology at The Icahn School of Medicine at Mount Sinai Hospital. She graduated from Brown University with Honors in Biology, earned her medical degree from New York University School of Medicine, and completed her medical internship at Yale New Haven Hospital and her dermatology residency at SUNY Downstate Medical Center where she served as chief resident.
Dr. Allen founded The Skin Clique in 2018 to offer patients exceptional and unique aesthetic care in a safe environment. After specializing in Internal Medicine, she became an Assistant Professor. She then decided to merge her two passions of education and aesthetics to provide personalized solutions for patients and boost their confidence. She then joined forces with Claire O'Bryan, NP to help be the head of branding to create, The Skin Clique.
Melanie Palm, MD, MBA, is a board-certified dermatologist serving the San Diego, California area. With over ten years of dermatology experience in both Chicago and San Diego, she founded Art of Skin MD in Solana Beach, CA, to bring to life her vision of an environment where patients receive a superior medical and cosmetic experience from a team of caring professionals in a beautiful, state-of-the-art clinic. In addition to Art of Skin MD, Dr. Palm is an assistant clinical professor at the University of California, San Diego, and an affiliate staff physician at Scripps Encinitas Memorial Hospital. She is a medical author, clinical investigator, physician trainer and contributing dermatology expert for various national media outlets. Her vast experience, extensive training, artistic eye and gentle touch contribute to the exceptional care she provides to her patients.
Celebrity news, beauty, fashion advice, and fascinating features, delivered straight to your inbox!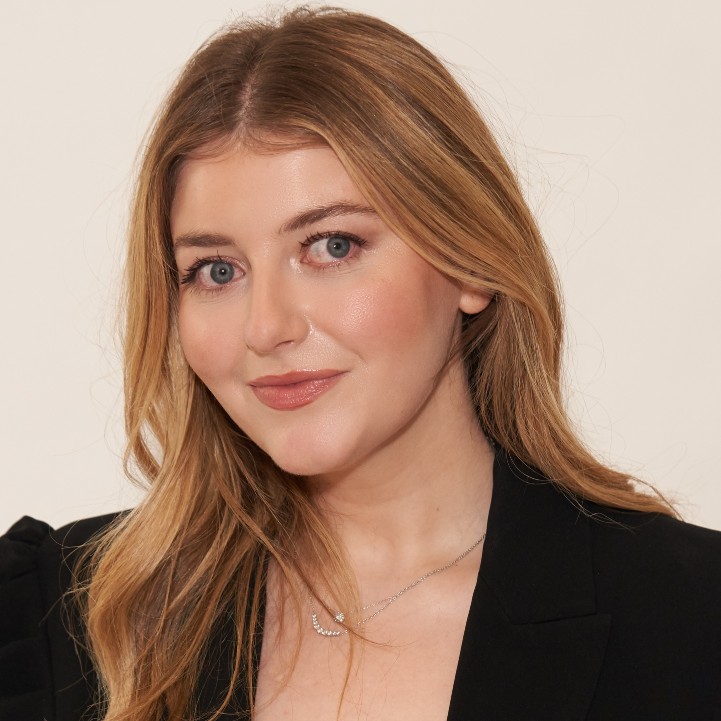 Samantha Holender is the Beauty Editor at Marie Claire, where she reports on the best new launches, dives into the science behind skincare, and keeps up with the latest trends in the beauty space. She has previously written for Us Weekly, Popsugar, Makeup.com, Skincare.com, and Philadelphia Wedding. Follow her on Instagram @samholender.