Nebulyft's Newest Launch Is Going to Change the Way You Think About Aging, Guaranteed.
Meet the N1 Multipolar Micro-RF Anti-Aging Device.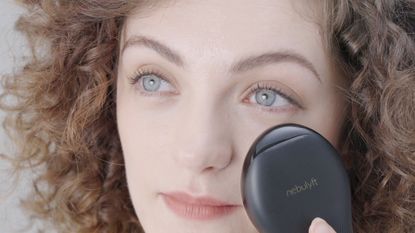 (Image credit: nebulyft)
There's a popular saying among skincare experts and aficionados alike that states: prevention is more important than cure. And when it comes to incorporating anti-aging practices or devices into your daily skincare routine, the old adage simply couldn't ring more true. But, like choosing which new serum to buy or trying out a different type of sunscreen, adding a new device into your usual rotation can feel daunting even if you consider yourself to be a skincare pro. That's why Nebulyft, the brand known for its range of effective, science-backed, and easy-to-use skincare devices, just launched a brand-new tool that is proven to provide better, professional-grade anti-aging results at home. Meet the N1 Multipolar Micro-RF Anti-Aging Device, the chic handheld "anti-gravity" tool that just hit Nebulyft's site and is about to change up your skincare routine for the better.
Just like how noticing the very first signs of aging shouldn't send you into a panic, the way you treat those wrinkles and fine lines shouldn't be a spur-of-the-moment decision, either. Unlike undergoing a harsh treatment at a medispa or doctor's office, Nebulyft's newest tool works to actually improve your skin over time thanks to fifth-generation Multi-Polar Radio Frequency Micro-Electromechanical technology—RF MEMS, for short. The technology works to promote collagen tightening and regrowth within the skin's lower layers without causing a harsh reaction. The RF energy penetrates deep into the skin for firmer, smoother-looking results in under 10 minutes.
Priced at $799, the tiny-but-powerful N1 device is outfitted with a full black ceramic panel that measures just over three square inches. It's also covered in even more MICRO-RF dots than Nebulyft's previous R1 model—a whopping 384 to be exact! This allows for the RF energy to be delivered more precisely into the skin by optimizing the polarity within the upper and lower levels in the epidermis layer. The end result? You'll have visibility tighter skin without the pesky downtime caused by other at-home devices or treatments.
If you're the type of person whose skin has reacted to just about every facial you've ever gotten, have no fear. The N1 device was specifically created with delicate and sensitive skin types in mind: The inclusion of Smart RF Energy Feedback Sensors maintain an even, optimal temperature which helps to keep your skin's protective shield safe while delivering a pain-free solution to some of the most common signs of aging, including pesky crow's feet, forehead wrinkles, eye bags, visible pore size, and more. The N1 even claims to tackle acne after 14 days of daily use, so it's truly something of a skincare whiz. It even tackles those pesky stretch marks and lines on your stomach!
To use the N1, simply prep your face with one of the brand's different gel formulations and glide the device over the areas that you want to specifically target. The device even connects to an app on your phone. All you have to do is upload a selfie and let the app analyze what types of treatments would work best for you. The app also allows you to connect with other Nebulyft users to swap tips and tricks.
Better yet, Nebulyft is running a pretty amazing deal for Black Friday and Cyber Monday on their site, so there's never been a better time to try it out for yourself. You'll be able to get the N1 for 10 percent off starting November 25. The deal lasts until November 29, and you get a free Nebubox as a gift with your purchase. Whether you're just looking to invest in your skin ahead of the holidays or are on the hunt for a gift that the resident beauty junkie in your life is going to love, the N1 should be at the top of your shopping list right now.
Marie Claire email subscribers get intel on fashion and beauty trends, hot-off-the-press celebrity news, and more. Sign up here.