Ghassoul Is the Beauty Secret You Never Knew You Needed
Where has this been hiding all our lives?! (Answer: underneath some mountains.)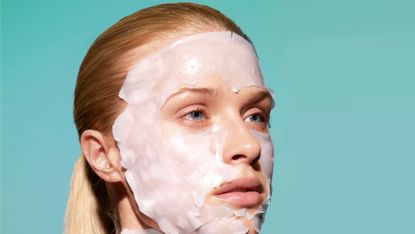 (Image credit: archive)
We're all about hoarding beauty secrets from every corner of the world and putting them to the test. From a peel-off Korean lip stain to Marula oil, we're all about trying products out and seeing just how great (or, honestly, how terrible) they really are. When I found out about a natural mineral Moroccan women religiously use for hair and skincare, I knew it was time for an investigation.
Ghassoul (pronounced rassoul) is a mineral only found in the beds beneath the Moroccan Atlas Mountains. It's 100 percent organic, hypoallergenic, and jam-packed with magnesium, calcium, and potassium. When mixed with floral water and applied to the skin, ghassoul absorbs excess grease and eliminates impurities deep down (like, real, real deep). It can also be used in your hair to add shine and increase volume.
Sounds too good to be true, right? Yeah, that's what I was thinking. So I got my hands on the mineral and made it my duty to test it out—for me. Nay, for *us*.
I used Elma & Sana 100 percent pure ghassoul and rose water ($25). I calmed my fears of trying new products by telling myself that the mineral and the water are completely natural! That means good things, right?! In any case, I had to admit—the rose water smelled so amazing and, I learned, can be used as toner or makeup remover. I'm ALL about versatility, so score one for rose water.
Before I applied, um, the mix, my skin was a little dull and I had a few small breakouts. (Just so you know, I'm currently resisting all of my instincts and putting these bare-faced selfies on the internet for ALL the world to see. But as Amy Schumer would say, #girlyoudontneedmakeup.)
I will be the first to say that there's a bit of a learning curve with this product. There is no recommendation for how much mineral or water to use and the rose water had no application method. So, I took a medium-sized pile of mineral and added rose water until the texture of the mixture was like mud AKA easily spreadable. Then, I applied. (Pro-ish tip: if the paste is drying too quickly before you can spread on your face, add more rose water.)
After applying, I headed back to my room to let the mask dry for 15 minutes. I'd like to think myself a connoisseur of masks and was prepared to hold my face still for the entire drying period to ensure the mask didn't crack, but I really didn't have to. The mud hardened like cement! It was literally like getting a plaster mold made of my face and, honestly, I was a little worried. Nonetheless, I hardened my resolve and waited the full 15 minutes.
After it was completely dry, I rinsed off everything with warm water. Because ghassoul is, you know, clay, my skin was in dire need of some moisture, but it felt significantly smoother and the blackheads around my nose were gone!
After applying night cream, the wonder of ghassoul really showed through. My skin was a lot brighter and smoother. The breakouts appeared smaller, too. I hate to say it, since it's such a *cliche*, but I kid you not—it's kind of like magic.
The verdict: ghassoul has been hiding under those mountains for way too long! I'm definitely including this secret in my beauty routine, but due to its drying qualities, I recommend only using once a week.
Happy masking!
You should also check out:
This 10-Step Korean Beauty Routine Is One You Can Actually Try
The Beauty Secrets of Bollywood Stars
Celebrity news, beauty, fashion advice, and fascinating features, delivered straight to your inbox!
Simedar Jackson is an esthetician, content creator, and lover of sci-fi fiction living in Brooklyn, New York. She is passionate about creating space for Black and Brown people in the beauty and wellness industries by providing access to culturally nuanced education and services that meet their needs. You can find them doing their skincare routine, reminding friends to reapply SPF, and watching reruns of Love Island.