I Got a Breast-Milk Facial
Yep...you read that right.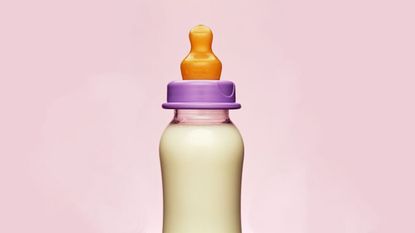 (Image credit: Archives)
Right now, you're probably reading this, picturing me on a table being doused with milk coming directly from a nursing mother while she simultaneously bounces a young babe on her hip. I can tell you only half that is partially true.
After hearing about the breast milk facial by Mud Facial Bar in Chicago, I was both grossed out and intrigued. But mostly, I had one question: Why would you ever put *that* on your face?
After doing some research, I found out the reason: It's a regular miracle worker. Yes, breast milk has all the good stuff babies need to grow, but it also has some serious healing qualities. The antibodies in breast milk can help heal minor illnesses and injuries, such as pink eye and ear infection, and it can also soothe sore nipples. (Good to know.) Given all that magical power, it only makes sense that someone would want to incorporate it into your next spa experience.
That's why, earlier this month, I found myself standing inside the spa, ready to take the plunge.
The 30-minute, five-step process starts with a steam to open up the pores and allow all the products to penetrate deeply. Next up, my face was given a banana lavender cleanse and treated to a lemongrass oatmeal exfoliant. (You can bet my mug was very happy.)
Then it was milking time.
The breast milk (yep, it's just straight-up milk) is mixed with a white clay packed with vitamin E to create the perfect healing concoction that anti-ages and works for all skin types. As for where this milk comes from, Mud purchases it from a gracious mother who sticks to an all-organic diet. (Meaning it's top-shelf stuff).
After the mask was applied, my esthetician used cold, glass globes that rolled around on my face to work it in even more. The cold globes soothe skin, improve skin elasticity, and increase circulation among a whole host of benefits that made me want to take these little guys home.
After, the clay and breast milk was then wiped away with a warm towel and finally, a Neroli toner was applied, along with a sweet tea day cream with mango and shea butter.
So was it worth it?
*Completely* worth it. I mean it when I say my skin was RIDICULOUSLY hydrated and smooth. I felt fresh and got compliments for the rest of the day. (#NotSoHumblebrag)
My esthetician advised me to sleep on a clean pillowcase so bacteria wouldn't enter my pores. Now, a few days later, my skin still looks and feels great, and I have breast milk to thank—something I never thought I would say, ever.
Celebrity news, beauty, fashion advice, and fascinating features, delivered straight to your inbox!
Simedar Jackson is an esthetician, content creator, and lover of sci-fi fiction living in Brooklyn, New York. She is passionate about creating space for Black and Brown people in the beauty and wellness industries by providing access to culturally nuanced education and services that meet their needs. You can find them doing their skincare routine, reminding friends to reapply SPF, and watching reruns of Love Island.