"Opal Hair" Is All Your Favorite Trends in One Dye Job
Sweet mother of pearl.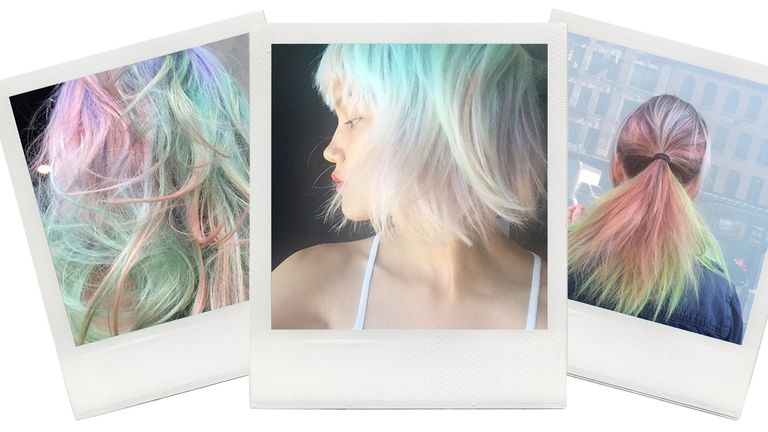 (Image credit: Design by Katja Cho)
Rainbow and pastel dye jobs have been having a serious, years-long moment, and they've spawned yet another offspring trend: opal hair.
Just like the precious gem, which appears pearlescent white at first glance but changes color the longer you look at it, it's kind of the unicorn of dye jobs—it gives you that girly pastel impact while still being subtle enough to rock at the office. (Well, if your boss is cool.)
It's the brainchild of beloved dye magician Aura Friedman of Sally Hersberger Downtown. "I've always played around with variations of color," she told Refinery 29. "I love iridescent colors, so I just like to do them over and over again, expressing them in different ways."
While many adaptations do use grayish platinum blonde as a canvas for the layer of colors (think washed-out aquas, violets, and pinks), the pigments still work for brunettes, just with more of a saturated feel.
The one catch for all hair colors is that these mermaid-esque hues are likely to fade fast. But considering that fall is just around the bend, it could make for a smooth transition into the cooler months. See some of our favorite takes on the look below:

https://instagram.com/p/65oZ7IyBQR/?taken-by=jenatkinhair
https://instagram.com/p/54xK1mxUam/?taken-by=auracolorist
https://instagram.com/p/6pMYpuxUSI/?taken-by=auracolorist
https://instagram.com/p/6kSMtNxUX4/?taken-by=auracolorist
https://instagram.com/p/6hpV50xUcD/?taken-by=auracolorist
https://instagram.com/p/6eGudPRUbj/?taken-by=auracolorist
https://instagram.com/p/5hX0auRUXR/?taken-by=auracolorist