10 Beauty Secrets Lauren Conrad's Makeup Artist Swears By
Your lashes = never the same again.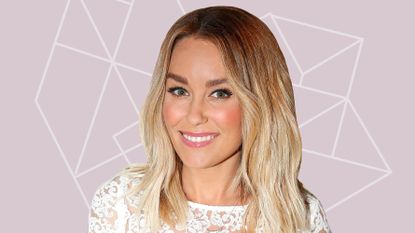 (Image credit: Getty Images)
Like every impressionable young person of the early aughts, I worshipped Lauren Conrad. Beauty-wise, I wanted to be just like her, doing the best I could to achieve her California-sun-kissed highlights and ultra-manicured brows with boxed color and a pair of tweezers perpetually at arm's length.
But over the past few years, we've seen a whole new LC. One of the biggest catalysts behind the change? Her makeup artist, The Beauty Department's Amy Nadine, who has given her some of the most envied fluffy arches in Hollywood *and* has helped her perfect her signature cat eye. Given that I, along with many other millenials have undergone a similar beauty transformation since The Hills, I feel a sort of cool-older-sister kinship to Conrad's evolution and thus have always wanted to pick the brain of the mastermind behind her most coveted makeup looks.
When I heard that Nadine was working on a makeup line for Costco, a nude eyeshadow palette will be available next week—it seemed like the perfect time for a chat as she has a whole collection in the works for 2016. And considering that the mega store has over 4 million customers per year, there's sure to be an even larger influx of people who want to know her secrets. Here, she has broken down ten of her tried-and-tricks tricks in game-changing detail.
"Whenever I do a red carpet look I always wet the brush before I put it into the eye shadow so that it's more intense and that it lasts longer," explains Nadine. But seeking to take out the extra step with her own product, she formulated her palette so that the pigment had the same consistency as if you had wet the brush. Plus, the pigmented color contains nutrients, like bamboo silk and bilberry seed, as well as antioxidants that make it a skincare product in and of itself.
Lining the waterlines seems simple enough, but here's the thing: you've been doing it all wrong. Or rather, you could just be doing it better. Nadine, whether she's doing it to herself or on a client, lifts the lid to really get inside the lash line, similar to tightlining.
"Take your non-writing hand, put it above your head, come down from above your head, and grab your eyelid and lift it up," she instructs. "It's about pushing the liner, getting in between the lashes, and smudging it into the lash line."
Fellow cat eye enthusiasts, if you can't find that one liner that does it all, that's because it doesn't really exist. To ensure a precise, yet matter finish, Nadine layers with different kinds of pigment.
"You should start with kohl pencil because a lot of times the liquid liner can leave a lot of holes in between," she says. "After you smudge it between your lashes, then take liquid liner and sweep it into the cat eye."
As far as perfecting the feline flick à la Conrad, you should work incrementally unless you've really got the full, start-to-finish sweep down pat.
"Before tracing over with liquid liner, use a kohl pencil, brushing it on in little increments, starting from the inner corner along the lash line," says Nadine. "Towards the end you can start lifting it up higher towards the flick. When it comes time for the flick, look at the curve of the bottom-lash line and draw the flick at that same angle."
While Nadine was just as obsessed with creating Delevinge-esque arches, now she's embracing this season's 70s-inspired feathered brow, which she learned from French-American model and face of Chloé Camille Rowe on a cover shoot.
"Leave about an inch of the base bare, then use a brow gel to pull those hairs inward and upwards," she instructs. "After that, fill in towards the arch and then the tail."
In short: Quick, blasé swipes of mascara will yield basic lashes.
"I wrap my hand around my head and lifting my lid with my opposite hand, and then really work the wand through the base of the roots," she says. "I almost count to thirty, doing it stroke-stroke-stroke-stroke. You have to dedicate that much time."
Much like multimasking and using different shampoos on your roots and ends, Nadine likes to cocktail her mascaras.
"I use one for length and switch to a different one for volume," she says. "On myself, I love Charlotte Tilbury's Full Fat Lashes, and then I grab Perricone MD's No Mascara Mascara. It's so lengthening and almost gel-like, but on it's own it just separates too much and makes them more stick-like. On top of Full Fat Lashes, it makes them much more intense."
Nadine hates an empty step. While she skips out on primer altogether, she believes toner is non-negotiable for a squeaky-clean canvas.
"I'm a big toner girl," she explains. "When you wash your face, you pad it dry with a towel it feels clean, but when you take a toner over it with a cotton square and you look at it, you can find foundation that you missed or even dead skin cells." After toner, she's all about face oil to calm the skin down and make it less prone to producing pesky T-zone oil.
"I pump some oil on my fingers, rub them against each other, and then pat it on to the skin, holding two seconds to each press at most,'" she explains. "The heat of my fingers warms it up and helps it assimilate with the skin barrier at the same time."
While Nadine believes that when your foundation all over your face, you've created a blank canvas that needs dimension added back, she's firmly against the Kardashian-Jenner contour mask craze. That's why she's all about a light-handed approach to carving out your features.
"Use cream products, thinning them out a little on your hand, then contour and highlight with a light hand," she advises. "I like strobing a lot too, with a strong highlight above the cheekbones and on the inner corner of the eye."
Makeup artists constantly paint the back of their hands with product—and it isn't for naught. They're using it as a painter would their palette.
"Nothing goes directly from the compact to the face," explains Nadine. "It has to go through the back of my hand before it's allowed on the face, to blend it out and get rid of excess product. If it's a powder product you can tap it on your counter before it gets to your face."
Try as we may, keeping our lip color in tact as the day wears on is always a battle. It may be more involved, but Nadine has enlightened us with her "triple threat," approach.
"First line the perimeter of your lips, then fill in the entire lip area with a pencil. Then, instead of going straight for a stain or a liquid lipstick that's kind of drying, opt for a moisturizing, long-wear lipstick. There are a lot of great brands now that have a good long-wear moisturizing one.Then on top of that, you can put a lip stain, and that won't feather. It will lock it all in, but be less drying."
FYI: Her favorite long-wear lipstick is Bliss' Lock & Key Long Wear Lipstick, which comes in 12 different shades.
Follow Marie Claire on Instagram for the latest celeb news, pretty pics, funny stuff, and an insider POV.
Celebrity news, beauty, fashion advice, and fascinating features, delivered straight to your inbox!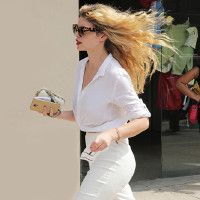 Lauren is the former beauty editor at Marie Claire. She love to while away the hours at coffee shops, hunt for vintage clothes, and bask in the rough-and-tumble beauty of NYC. She firmly believes that solitude can be a luxury if you've got the right soundtrack—that being the Rolling Stones, of course.