12 Ridiculously Glamorous Beauty Secrets from Burlesque Queen Dita Von Teese
In Dita we trust.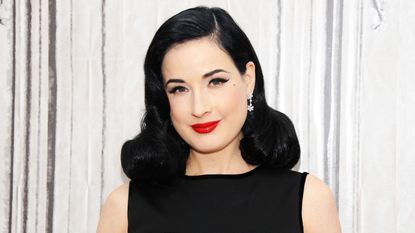 (Image credit: Archives)
Dita Von Teese is notorious for many things—not the least of which is her immaculate, head-to-toe approach to retro beauty. She has it down to an art, and forever in pursuit of an infallible red lip and retro waves that last all day, we've studied her new book Your Beauty Mark: The Ultimate Guide to Eccentric Glamour from cover to cover, unearthing her best-kept secrets and techniques for skincare, makeup, hair, and beyond. Here, find the Von Teese beauty tricks that will be getting us through the holiday season:
"Antifungal, antioxidizing, and antibacterial, it makes an ideal makeup remover," explains Von Teese. "It's also effective as a scalp and hair conditioner and shaving cream because of its hydrating qualities." The key is to make sure the grade is organic and virgin. And the best part? You can find a pint jar for as little as $6 at many grocery stores, she points out.
All you need is a blotting paper—or a cost-of-a-coffee Starbucks napkin. For her tried-and-true test, Von Teese instructs: "Take cosmetic blot paper and press it across a cleansed, dry face face. Oily spots will make the paper stick. No sticking means skin is dry."
Fight "morning face" with lemon water
"The best thing you can do when you wake up is drink a full glass of water," she says. "Better still, knock it back with a squeeze of fresh lemon. Lemons are high in vitamin C, which is good for skin and bones; they are a natural diuretic, helping in the elimination of toxins and waste."
Take care of your bosom like you would your face
Von Teese has a simple rule: "If it's good enough for the face, it's good enough for my décolletage." Tending to your chest should be as much of your morning and nightly routine as brushing your teeth. "Lather up the face, then keep working those circular motions south and east and west across this equally delicate part of the body," she instructs.
Apply your fragrance where you want to be kissed
As we've learned before, spritzing your perfume on body parts other than your wrists and collarbones has its benefits. Personally, Von Teese follows Coco Chanel's "wherever one wants to be kissed" rule. "I start at the wrists and dab from there to the nape of the neck, behind the are, cleave, base of the spine, and behind the knees...the inner thighs and ankles (especially if he's a foot fetishist)," she writes, adding that she'll mist her hairbrush to freshen up a 'do as well.
Pay attention to undertones when choosing a concealer
"Dark eye circles tend to be bluish in tone, so a concealer on the peachier side can do the trick," she advises, warning that smearing on on a pigment that's too light can accentuate wrinkles or other imperfections. "It's not about lightening, but correcting."
Another trick in Von Teese's arsenal is when a concealer needs more slip for a smoother application, she adds a pin-drop of foundation to make it easier to blend.
Practice patience and acceptance when it comes to cat eyes
"The key is to accept the outcome on the first eye, because it will serve as the template for making up the second eye," says Von Teese. "Step away from the mirror and return minutes later for a fresh view."
On top of giving yourself a breather, she suggests using a hand mirror to asses your feline flicks from different angles. But while symmetry is important, Von Teese doesn't believe in whiling away the hours in front of a mirror to achieve superhuman perfection. "Recognize when it's time to put down the wand and the mirror and walk away," she insists.
And FYI: A lined eye without mascara is like "Champagne without bubbles." Don't forget it.
Try using two different mascaras at once
"Can't decide between a mascara with strengthening formula or one promising to thicken? Get both," she says. "Professional makeup artist often layer town kinds of mascara to get the desired effect." Just be sure to let the first coat dry before applying the second.
Other tips we learned from the lash extraordinaire herself:
Use a lip liner that's one shade darker than your lipstick
"I frequently apply liner slightly darker than my lipstick for both visual effect and staying power," she writes. "This technique adds depth and richness to the look and the viscosity maintains lip color longer, too." The key to a seamless finish is blending the darker lip outline into the body of the lip.
Don't wear the same application of lipstick for more than a couple of hours
If you're going to sport a statement lip from day-to-night, you're going to have to reset and start over completely. Otherwise, you'll tread into tired, crackly territory. "Remove all traces of [the lip color] at least twice daily, if not more often," she says. "If possible, exfoliate with a damp washcloth and brush your teeth (I keep a dark red washcloth on hand just for this). Reapply fresh lipstick. It's like being reborn."
Take your hair treatment to the next level...with heat
Von Teese swears by a twice-weekly hair mask with a cream or oil-based leave-in conditioning mask. "For deeper penetration, apply generously, cover with a shower cap, and hit it with a blow-dryer," she suggest. "The heat opens up the cuticle, allowing the formula to really hydrate the hair shaft."
Tame flyaways with a powder brush
"I learned from a hairstylist in Japan to take a cropped, flat-pile powder brush (a dome powder brush works as well, just reserve it for hair and not the face!) and spritz it with hair spray," Von Teese explains. "Quickly run the moistened brush over any baby hairs on the top, sides, back, and hairline."
Nab your copy: Your Beauty Mark: The Ultimate Guide to Eccentric Glamour, $27.44; amazon.com.
Follow Marie Claire on Instagram for the latest celeb news, pretty pics, funny stuff, and an insider POV.
Celebrity news, beauty, fashion advice, and fascinating features, delivered straight to your inbox!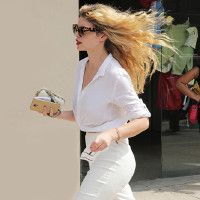 Lauren is the former beauty editor at Marie Claire. She love to while away the hours at coffee shops, hunt for vintage clothes, and bask in the rough-and-tumble beauty of NYC. She firmly believes that solitude can be a luxury if you've got the right soundtrack—that being the Rolling Stones, of course.