KFC Just Released Nail Polishes That Taste Like Fried Chicken
Who *hasn't* asked themselves if the world would be a better place with fried chicken-flavored nails?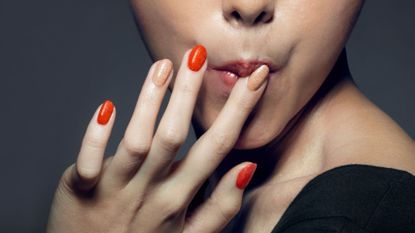 (Image credit: KFC)
Fast food chains have the shock factor on lock (lookin' at you, Papa John's Frito chili cheese pizza and Taco Bell waffle taco)—but when you've conquered taste buds until they can be conquered no more, where do you go next?
Nail polish.
I'd like to first issue a disclaimer: This is not a belated April Fool's announcement. This is also not a prank, nor is it the fantasy of a stoned beauty editor with the munchies. (Or at least not that we know of.)
In what seems to be a very real, very spirited business move, fried chicken chain KFC has released a line of flavored nail polishes. Yes, of the "finger lickin' good" variety.
The polishes come in "original recipe" and "hot and spicy," and as you might have guessed, you're intended to paint them on and literally lick them.
Wait wait, before you jump up from your couch and run to the nearest drug store—the nail polishes are only available in Hong Kong and they're limited edition. So unfortunately you'll have to stick to your normal stuff for now (which I just taste-tested, because I'm that kind of dedicated and enterprising editor, and which fall more into the "hot plastic" flavor category than the "Southern soul food" one).
Still skeptical? There's a commercial. Er, music video. Whatever it is, it's what your Wednesday needed.
Follow Marie Claire on Facebook for the latest celeb news, beauty tips, fascinating reads, livestream video, and more.
As the editor of Cosmopolitan, Jess oversees the editorial for all of Cosmo's efforts across print, digital, video, and emerging platforms. Previously she served as the digital director of Marie Claire, where she tripled the readership, and she's held print and hybrid posts at Glamour and Teen Vogue. In 2013 she launched an interactive e-commerce platform for a fashion-tech startup, and in a former life she was a ballet dancer and NYU film student. She lives in Manhattan with her scruffy dog George.