Ariel Winter on Body-Shaming, Clapping Back, and Donald Trump's "Nasty Woman" Comment
She's just not having it 👊.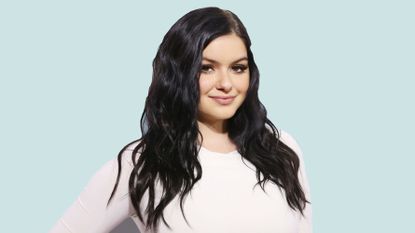 (Image credit: Design by Betsy Farrell)
According to new research, 7 out of 10 girls encounter negative beauty posts, comments, snaps, and photos that can be destructive to their self-esteem. Ariel Winter is very much a part of that 70 percent, but you'd never know it. She's magnificently unfazed.
Since Winters began starring on Modern Family at 11-years-old, she's encountered some of the worst online trolling we've had the misfortune of witnessing. From insulting her appearance to shaming her for the way she dresses, online bullies have done everything in their (gutless and anonymous) power to tear her down.
The funny thing is, they really don't know who they're messing with...
In spite of the negativity, Winter has been a body positive force to be reckoned with for years. So it makes complete sense that Dove tapped Winter to lead their #SpeakBeautiful Squad, which is stoking conversation around beauty online and teaching the next generation of girls how to overcome cyberbullying.
Here, Winter tells us how she filters out the BS, bonds with other women over body acceptance, her thoughts on Donald Trump's misogynistic comments, and what's next.
Marie Claire: Congrats on helping to lead Dove's Speak Beautiful Squad! What's it been like so far?
Ariel Winter: It's an honor to be a part of something so positive. You know, the thing is, young women grow up in a really negative world today online *and* in person, so it's really amazing to work with such incredible women who are promoting positivity and empowering young women to love themselves regardless of if they're wearing makeup or what clothes they're wearing. It's really an incredible message. I love the project and the women I'm working with, so it's been amazing.
MC: As far as mass brands go, it really is such a unique and powerful initiative.
AW: The best thing about Dove is that with this project, they're not really selling something. They're literally just using their power and strength to make a difference. It's really incredible for a brand to spend their time doing that. You don't see a lot of brands doing it.
MC: You're very outspoken when it comes to bullies. Do you think that that makes you more of a target?
AW: People like to clap back at the people who speak out most, which is okay. I've been the target of haters for so long, for so many years. Ever since I was a kid and I first started the show.
I started on the show when I was 11 and I went through a huge body transformation between 11 and 12-years-old. It was interesting. I got hate when I was 11 and super flat and very skinny, and then when my body changed and I got older, it was a whole new thing. I was called trashy, ugly, fat, and a slut...everything possible.
MC: You started speaking out so young. We couldn't imagine being that brave and self-assured as a teenager!
AW: Well, once I started speaking out about it, I did find that there was a whole community of negative people that followed me and started attacking me, but I also found that a lot of really incredible people started following me and being inspired. They were doing the same thing that I was and fighting back in a positive way at the people that were hating.
MC: That's the beauty of it. So it goes without saying, you inspire so many young women. Do your fans and followers reach out you a lot to you personally?
AW: There are a lot of incredible messages that I've received. I love when I get stories of young women that have overcome things such as birth defects that they've been hated on for or even just their own body confidence stories. It's incredible when women tell me that they've read things that I've said or have been inspired by things that I've done. To hear them say that because of something I did, they felt more positive about themselves and or had more of a voice to stand up for things that were right. It's been empowering for me to be able to help other women feel that way about themselves.
MC: Absolutely. We are fresh off of the final super heated presidential debate in which Trump called Hillary a "nasty woman." How do you feel about that?
AW: It's really unfortunate that instead of focusing on the really important issues in our world, he chooses to make personal attacks on people. And we've made so many strides forward, empowering women to be outspoken and to feel good about themselves. How's it possible that we could elect a president that wants to tear all of that down?
We as women need to empower each other because we're facing the possibility of a misogynistic president who's definitely not aiming to help young women feel better about themselves. So I think it's really important for us, with the campaign, to be able to push that even harder.
MC: This is a big question, but what do you see for yourself over the next couple of years, both in your career and personal life?
AW: I was going to start UCLA this year, but I couldn't so I'm hoping to start UCLA next year. In the next five years, I hope to graduate from undergraduate school and hopefully apply to graduate school. That's something that's really important to me. I'm planning to study political science and would like to be a lawyer. As for my career, wherever it takes me! I would love to do more movies. I love doing Modern Family. I love doing this Dove campaign and want to continue to speak out on issues that matter to me. I want to have even more of a voice.
Editors' Note: Ariel, we're all ears. 👊👂👊👂
Follow Marie Claire on Facebook for the latest celeb news, beauty tips, fascinating reads, livestream video, and more.
Celebrity news, beauty, fashion advice, and fascinating features, delivered straight to your inbox!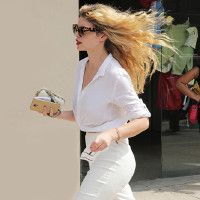 Lauren is the former beauty editor at Marie Claire. She love to while away the hours at coffee shops, hunt for vintage clothes, and bask in the rough-and-tumble beauty of NYC. She firmly believes that solitude can be a luxury if you've got the right soundtrack—that being the Rolling Stones, of course.