Shay Mitchell on Ice Cube Facials, the 'Pretty Little Liars' Finale, and Turning 30
2017 is bound to be her best year yet.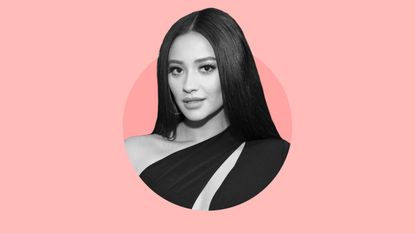 (Image credit: Design by Betsy Farrell)
Marie Claire Newsletter
Celebrity news, beauty, fashion advice, and fascinating features, delivered straight to your inbox!
Thank you for signing up to Marie Claire. You will receive a verification email shortly.
There was a problem. Please refresh the page and try again.
Whether we're marathoning Pretty Little Liars or scrolling through Shay Mitchell's Instagram feed, we're enamored with her. She's not only superhumanly beautiful (Pores? What pores?!), but has a sunny disposition you can literally feel through the phone.
On the heels of her just-launched collaboration with Smashbox—a collection of seven portable palettes inspired by the "seven shades of Shay"—and with the final episodes of PLL just around the bend, we gave Mitchell a call to chat smoky eyes, ice cube facials, A's real identity, and turning 30.
Marie Claire: We're obsessed with your Smashbox palettes! How did you guys come up with the concept?
Shay Mitchell: I've always been a huge fan of Smashbox. I mean, I can remember using their primers ever since I started wearing makeup. I've also done so many different photoshoots at Smashbox Studios, so getting to collaborate was something that I was super excited about. It was just the perfect fit, you know? I travel a lot and the palettes are travel size, so it's great. I can just throw them in my bag. And what I love most is that they're suitable for different people. Whatever your makeup style is, you'll find the palette that's perfect for you.
MC: If you had to choose a single palette, which would it be?
SM: Honestly, I'd have to say the Ablaze palette is probably the one that I use the most. I also love Softlight. And I mean Matte's great too. All of them honestly. [Laughs]
MC: How skilled are you at doing your own makeup?
SM: I've gotten to work with the best of the best, so I can say that I've picked up a couple of tips and tricks. But I would never feel comfortable doing my own makeup for a party or a big event, that's for sure. I'm really good at doing it to go to the grocery store.
MC: Eye makeup in particular can be tricky...
SM: Yeah, I would say I'm probably better with a smoky eye more than anything to do with a liquid liner. My hand isn't that steady.Yeah, no wings.
MC: What are the best tricks you've learned from makeup artists?
SM: Honestly, I feel like it's blending with a Beautyblender more than anything. I'm been getting my makeup done right now. Patrick Ta is here with me!
MC: We love Patrick! So do you wet the Beautyblender? That seems to be the way to go.
SM: Yeah, he runs it under the tap for a little bit. It's moist. Actually I hate that word. Let's change that to damp. [Laughs]
MC: Moist is a controversial word! Skin-wise, we've heard your a fan of the ice cube facials beloved by Kate Moss and Joan Crawford back in the day?
SM: Yes, it just resets the face for makeup! I like to take a day of the week and just sort of have an at-home beauty day. I put on different masks. Obviously working with Bioré, I'm so lucky to have all of those products that I can use. So that and also just getting sleep and drinking enough water. All the things you've heard along the way really are true. So I try to eat healthy and be balanced.
MC: You have a crazy hectic travel schedule with a lot of late nights. Do you ever get lazy when it comes to taking off your makeup and doing a full skincare routine?
SM: Honestly, I think I'm really good at taking off makeup. I cannot fall asleep with my makeup on. And I have makeup wipes beside my bed and all of that so there's like no excuse. I think that's extremely important. For someone who wears it so much all the time, it's really important to take it off and give your skin some time to breath.
MC: So we're going to totally fan out like all your Instagram followers and ask about your haircare regimen?
SM: I think it's about giving your hair a break whenever you can. So when I'm not working, it's getting air-dried. I'm not putting a blow dryer or any sort of hot tools on it. I also like coconut oil as it's very natural. I always have it around my house and have used ever since I was little. I put that on my hair probably once a week and just let it sit when I'm not doing anything. And, yeah, I just think letting it air dry as much as I can is what saves me.
MC: We saw on your Instagram you're giving up alcohol.. for now. What made you decide to make a change?
SM: I did that as a joke—I just had a drink like 2 minutes ago. [Laughs] That actually was just a joke because we had come back from Mexico where obviously they have amazing tequila. Sometimes when I put my captions it's more of a joke than anything.
MC: Gotcha! So Pretty Little Liars is wrapping up, what are the craziest things fans can expect from the final episodes?
SM: I'm excited! I think that the second half of the season, or the last season, is going to be something the fans really enjoy. You know, all the questions are going to get answered and it really is our most romantic season thus far. And they're going to get to find out who the real A is.
MC: For real? Because there have been *quite* a few fake-outs.
SM: For real. I swear.
MC: What can you tell us about A's identity?
SM: You're going to be extremely shocked.
MC: We hear there's a musical number too?!
SM: I could be doing a little singing and dancing, not going to lie. It's going be something that's really fun. You know, our writers wanted to incorporate a musical number and they did. There are so many talented actors in our show that it's awesome to give them a platform to really show off all their talent.
MC: And how do you feel about singing and dancing?
SM: I will leave that to the pros! I'm not going to put you guys through that. I will save the singing for my shower. [Laughs]
MC: The culmination of the show caps off a major chapter in your life. How do you envision your career after Pretty Little Liars?
SM: Two days after PLL ended, I was on a plane to Boston to shoot a movie that I did with Sony recently called Cadaver, so I'm super excited for that. It's going to be coming out later on in the year. It's going to be great to have the fans see me playing a different role. It's a psychological thriller.
MC: And you have another big milestone coming up, your 30th birthday! How does that feel?
SM: Honestly, I'm excited. Age is really just a number to me and means every year I get to experience so much more. My 29th year was one of the best and I can only imagine what my 30th year has in store.
Age is really just a number to me and means every year I get to experience so much more".
MC: As a woman, is ageism in Hollywood a concern at all?
SM: I think things are going to be changing for the better. Honestly, what is ageism really, you know? If you take care of yourself and you feel good then that's really all that matters at the end of the day. I could be 80 tomorrow and I'd still be okay. It's all the way you think about things. So I'm excited. Bring on all the years.
Follow Marie Claire on Facebook for the latest celeb news, beauty tips, fascinating reads, livestream video, and more.
Celebrity news, beauty, fashion advice, and fascinating features, delivered straight to your inbox!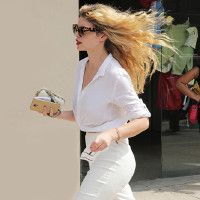 Lauren is the former beauty editor at Marie Claire. She love to while away the hours at coffee shops, hunt for vintage clothes, and bask in the rough-and-tumble beauty of NYC. She firmly believes that solitude can be a luxury if you've got the right soundtrack—that being the Rolling Stones, of course.