Amanda Seyfried on Dyeing Her Eyelashes, Not Caring If She Ate Too Much, and the Healing Power of Crystals
The actress in her own words about her health and happiness routine.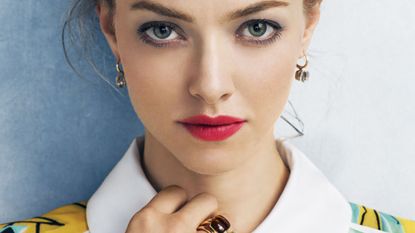 (Image credit: Hiromitsu Ogata/August)
Marie Claire Newsletter
Celebrity news, beauty, fashion advice, and fascinating features, delivered straight to your inbox!
Thank you for signing up to Marie Claire. You will receive a verification email shortly.
There was a problem. Please refresh the page and try again.
I 'm not the girl who puts makeup on to go to Target. I'm very comfortable with myself, so I don't feel a need to cover up or hide anything. Even if I have a massive pimple or I ate too much the night before, it's not the end of the world. I know I'm taking care of myself in the bigger picture.
For example, a perfect day for me is being home in upstate New York: I get up at 8 a.m., put coffee on, and then go outside to feed the horses and chickens. When I come back inside, I grab a cup of coffee and do some crocheting. I could get carpal tunnel from how much I crochet! I also make smoothies with spinach, hemp seeds, and fresh berries in my Vitamix blender. And I exercise almost every day, because it makes me feel so good. I mix it up: I do incline on the treadmill, I have a recumbent bike that I'm obsessed with, and I love to jump rope, or I go to Pure Barre. The combination of working out and then taking a hot shower and smelling good, having all these endorphins released—it's the perfect package, and I need it.
When it comes to a beauty routine, I want to spend less than five minutes in front of the mirror. I've used the same skincare for years: Clé de Peau Beauté's cleansing foam, its La Crème at night, and its emulsion with SPF during the day. My hair routine is even simpler and faster. Usually, I pull it back off my face and shampoo it once a week. That keeps it healthy, and I don't use any styling products, except for dry shampoo. I love things that make getting ready as easy as possible; I recently had my eyelashes dyed so I don't have to put on mascara every day. And foundation seems like a lot of work, so I just use a concealer stick for red spots here or there.
I always put on perfume if I'm going out at night, but never anything strong or heavy. The new Givenchy Live Irrésistible smells bright and fresh, so it really energizes me. Scent can affect you like that. Lavender oil is supposed to be calming, so I'll dab a tiny bit under my nose before I go to sleep. I also keep crystals next to my bed, because they're great for things like boosting immunity and alleviating anxiety. I think all that stuff is magic and can help bring positive energy your way. I also try to meditate every day to help keep me grounded and mindful. In this cell-phone-addicted era, it's good to take a break, be quiet, and reset. I'm constantly looking for ways to be healthier and happier, to heighten my awareness, and to have compassion—and all that comes through on the outside.
1. "I don't have to think twice about skincare; I always use this emulsion because it smells good and works." CLÉ DE PEAU BEAUTÉ Protective Fortifying Emulsion SPF 22, $138.
2. "Red, glossy lipcolor is fun, and when I wear it, it doesn't feel like I'm dressing up too much." CLÉ DE PEAU BEAUTÉ Enriched Lip Luminizer in 206, $60.
3. "Dry shampoo is really important when you don't wash your hair frequently. I buy this natural one on Amazon." LULU ORGANICS Hair Powder in Lavender + Clary Sage, $30.
4. "Meditating, using mala beads and essential oils like lavender—I do all that stuff."
5. "I love the rose note in this perfume, because it's youthful—not too adult." GIVENCHY Live Irrésistible Délicieuse Eau de Parfum, $105.
This article appears in the April issue of Marie Claire, on newsstands now.
Celebrity news, beauty, fashion advice, and fascinating features, delivered straight to your inbox!