All the Crazy Things Women Used to Style Their Hair With
Get your hair did?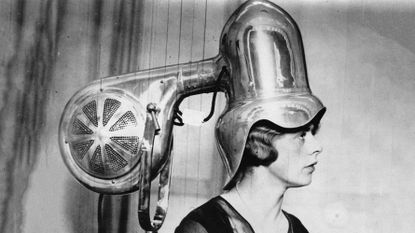 (Image credit: Getty Images)
Through the ages, women have always gone to great lengths to get beautiful hair. From ancient styling tools that could've doubled as machetes to 21st century electronic perm machines, it's been one fascinating "must-have" gadget after another. (No judgement here, ladies—we would've been right there with you.) Thankfully, we've come a long, long way. Here, a look back on tools that would raise more than a few eyebrows today.
1/10
Bone Comb, 5th-8th Century
The people of the ancient Merovingian civilization (which today would be located in parts of France and Germany) tamed their tresses with combs made out of actual bone that we pray came from animals. Also pictured are scissors and engraved hair pins—what a classy dynasty.
2/10
Curling Tongs and Trimmer, 575 BC-1194 BC
Always conscious of vanity, styling tools were a symbol of rank amongst ancient Egyptians. They used fancy, weapon-like bronze tools like these for curling and trimming their hair.
3/10
The Hair Hygrometer,1783
In 1783, Horace Benedict de Saussure, a Swiss physicist and geologist, made the first hair hygrometer. What's a hair hygrometer? Well, it measures the humidity of human hair. (But of course.) Mark this down as something we really want to try.
4/10
Thermicon Hair Dryers, 1880s
After being filled with boiling water, these glazed stoneware Thermicon hairdryers promise to "dry the hair after washing" in a matter of minutes. We'll believe it when we see it.
5/10
Curling Tongs, 1891
Tongs have been used since ancient times, but it was only in the late 19th century—when women began to wear their hair curly at the top—that they really rose to popularity. This Crompton electric curling heater was used to get the job done.
6/10
The Electric Hairbush, Late 1890s
Invented by Charles Klein, this electro-prophylatic hairbrush is made of slightly-magnetized iron rods. It promised curative powers such as magneto-therapeutics—said to relieve headaches and prevent baldness.
7/10
Curling and Waving Irons, Early 1900s
In early 20th century France, women used these metallic, gardening tool-like waving and curling prongs to keep their hair perfectly coiffed.
8/10
Hair Dryer, 1935
In 1935, this head-shaped drying device took a hair fashion show by storm in London. Kinda like the ultimate suit of armor for a bad hair day.
9/10
Hair Dryer, Early 1930s
Believe it or not, back in the '30s this dual lamp situation was considered a "modern" hair dryer. We're guessing it was more suitable safe for setting a hairstyle as opposed to an at-home blowout.
10/10
The Wave Machine, 1939
This is what you might call an old-fashioned approach to a perm. Here, a woman at Em Westmore's beauty salon has her strands coiled in an electric permanent wave machine, which was used on long hair. Westmore's MO was turning every gal from a "chairlady" into a "glamour girl."
Celebrity news, beauty, fashion advice, and fascinating features, delivered straight to your inbox!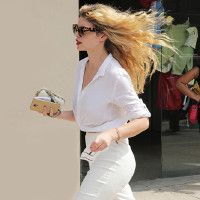 Lauren is the former beauty editor at Marie Claire. She love to while away the hours at coffee shops, hunt for vintage clothes, and bask in the rough-and-tumble beauty of NYC. She firmly believes that solitude can be a luxury if you've got the right soundtrack—that being the Rolling Stones, of course.