Editors handpick every product that we feature. We may earn commission from the links on this page.
9 Insanely Good Fragrances You Didn't Know Were Created by Your Favorite Makeup Brands
Yes, that ache you have is called FOMO.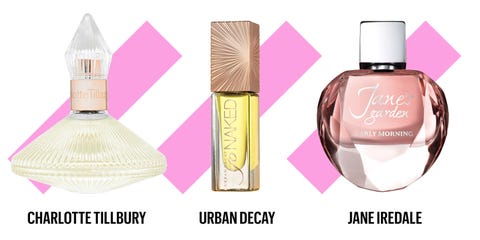 Here's a shortlist of the types of folks we expect to release new fragrances: designer houses with French names, Paris Hilton, Disney pop stars, actresses with the first name of Jen, and Paris Hilton. Here's who we don't expect: Tarte. Or Kat Von D. Or Urban Decay.
[contentlinks align='left' textonly='false' numbered='false' headline='Related%20Stories' customtitles='Paris%20Is%20Now%20the%20Hardest-Working%20Woman%20in%20the%20Game%7CThe%20Fall%20Makeup%20Essentials%20You%20Need%20Now' customimages='|' content='article.28768|gallery.3974'] But this year, the script has been flipped, and makeup meccas have officially gotten into the fragrance game, leaving us to look for our new signature scents in, oddly enough, the cosmetics aisle. And lest you think you've already figured out which brands to try or skip, hold off.
Because inside Tarte's sweet, heart-covered vial is something far darker than we would have imagined, while Urban Decay's launch smells nothing like the edgy, animalistic vibe that we've come to expect. So to remove the guesswork from your life, we've rounded up the best new scents as imagined by your favorite makeup brands, ahead.
This content is created and maintained by a third party, and imported onto this page to help users provide their email addresses. You may be able to find more information about this and similar content at piano.io