Worth It: Oral B iO Series 5 Rechargeable Electric Toothbrush
Never did I ever think I'd be this obsessed with brushing my teeth.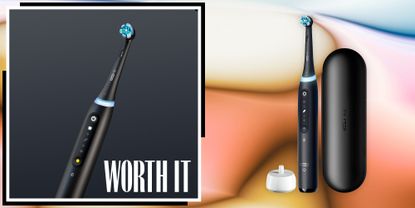 (Image credit: Future)
Welcome back to Worth It, our weekly seal of approval on noteworthy launches and bespoke collaborations in the worlds of beauty and fashion. If it's featured here, consider these investments worthwhile.
The Promise
Brushing your teeth is a chore—it's right up there with washing your hands or brushing your hair. It's a necessity and not necessarily an activity designed to ~spark joy~ in life. Alas, it's a daily ritual and something Oral-B has spent the greater part of 70 years mastering. They have their name stamped on all kinds of dental care. Toothpaste, mouth wash, manual brushes…you name it, they have it. But it's their most recent launch, the iO Series 5 Rechargeable Electric Toothbrush, that's damn near perfect and makes the act of brushing teeth, which is a rather mundane process, feel exciting(?).
The supercharged toothbrush has some lofty claims, guaranteeing 100 percent cleaner teeth and healthier gums in a grand total of seven days. That's a no-joke promise—it's backed by some serious technology. The round-head toothbrush is equipped with a pressure sensor that quite literally gives you the green light when you're brushing with the ideal amount of force. "Most people think they need to brush hard or press hard on the electric toothbrush. In reality, you need to use a soft bristle toothbrush and brush your teeth/ gums gently," explains Cosmetic and Restorative Dentist Dr. Daniel Rubinshtein. "The harder you brush, the worse it is." Thanks to the pressure sensor, you'll see red if you're going too intense and you'll be met with a white lights if you're not pressing hard enough.
When it comes to timing? The flashing light lasts for a grand total of two minutes—the ideal teeth brushing duration. "Research shows that if you brush less than two minutes you have higher chances of leaving plaque and calculus around your teeth," adds Dr. Rubinshtein. Add that to the fact that the toothbrush's micro-vibrations "help break up plaque" and you're going to be left with a cleaner smile when all is said and done.
If you're really looking to take teeth brushing to the next level, you can even sync your toothbrush to Oral B's new app, which is pretty much like having a dentist in your pocket. It assesses your teeth brushing habits (think: pressure, coverage, frequency) and provides customized recommendations. The genius artificial intelligence can also create plans to help you on your dental care journeys, which range from plaque fighting to teeth whitening. Add up all the features and innovative functionalities, and you're left with a toothbrush that costs $120. To see if the Oral B iO Series 5 Rechargeable Electric Toothbrush is worth the splurge, my teeth put it to the test.
Why I'm Obsessed
For as long as I can remember, it's been me, my manual toothbrush, and some whitening toothpaste. I thought we were one big happy family. But that couldn't be farther from the truth. You see, whitening toothpastes are kind of the devil for enamel strength and I have plaque buildup that would disappoint any dentist. Le sigh.
So when the Oral B Series 5 Rechargeable Electric Toothbrush landed on my desk, I decided to switch up the status quo. My plan? Toss my old toothbrush, get some normal toothpaste, and continue about life as normal. Same old, same old. Under no circumstances did I think I would be obsessed with my brushing routine and writing a love letter to a literal toothbrush. But here I am.
As it turns out, a good toothbrush can be life-changing—and I say that without an iota of sarcasm. When I first embarked on my Oral B Series 5 Rechargeable Electric Toothbrush journey, I took the easy way out. I just pressed the power button and called it a day. I wasn't on the hunt for wild results, I was simply trying to "do better." I continued with my two minute timed brushing (there's a first time for everything), made sure to keep the pressure sensor in the green, and steered clear of my gums, which was shockingly easy to do with a circular toothbrush head. Fast forward a few days and the unconditional love started to kick in. The admittedly gross plaque buildup that made a home in between my teeth was basically non-existent. The simple act of brushing gave me a whiter, shinier smiler than any whitening toothpaste ever had before. And the clean, smooth feel was almost as good as a professional cleaning.
Following this unexpected realization, I went all in on the toothbrush. I tested out the five different modes: Daily Clean, Whitening, Intense, Sensitive, and Super Sensitive. I synced my toothbrush up to the app. Heck, I even embarked on the 14 day guided teeth whitening journey. I went full toothbrush nerd…and it's paying off. I've never been more confident in my smile. Suffice to say, the Oral B Series 5 Rechargeable Electric Toothbrush is worth it—and I will justify spending $120 on it to anyone who will listen.
Celebrity news, beauty, fashion advice, and fascinating features, delivered straight to your inbox!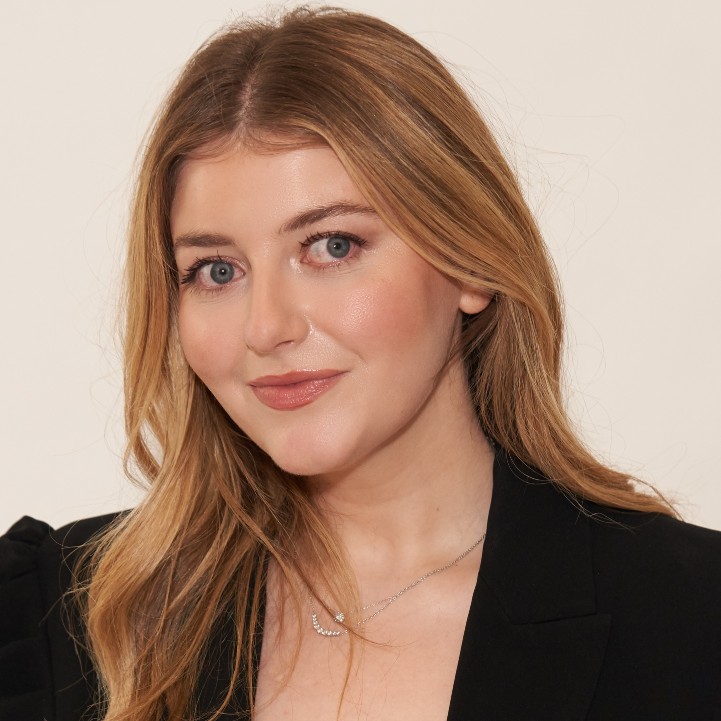 Samantha Holender is the Beauty Editor at Marie Claire, where she reports on the best new launches, dives into the science behind skincare, and keeps up with the latest trends in the beauty space. She has previously written for Us Weekly, Popsugar, Makeup.com, Skincare.com, and Philadelphia Wedding. Follow her on Instagram @samholender.