The 13 Best Whitening Toothpastes That Work
Say goodbye to yellow stains.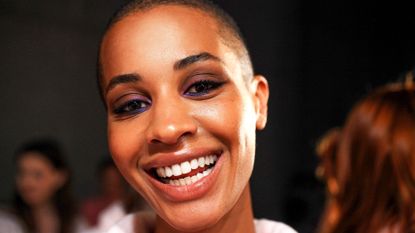 (Image credit: Getty Images/Jennifer Polixenni Brankin)
Marie Claire Newsletter
Celebrity news, beauty, fashion advice, and fascinating features, delivered straight to your inbox!
Thank you for signing up to Marie Claire. You will receive a verification email shortly.
There was a problem. Please refresh the page and try again.
Between your daily coffee and a glass of red wine here and there, maintaining a sparkly, shiny, and blindingly white smile isn't all too easy. While there are dozens of teeth whitening products on the market (strips, professional teeth whitening, veneers, and more), using one of the best whitening toothpastes can be an easy way to reduce the look of stains, get rid of yellow tints, and, obviously, keep your breath fresh.
That in mind, it's important to manage your expectations—whitening toothpastes can help lift, bleach, or manually scrub surface stains thanks to ingredients like peroxide and calcium carbonate, but they're not going to completely change the color of your teeth. You'll also need to be consistent with your whitening toothpaste if you want to see results. "If you drink coffee and tea, smoke, and do other things that stain your teeth, you won't see results for eight or 10 weeks," explains cosmetic dentist Dr. Daniel Rubinshtein. "If you stay away from those while you're using whitening toothpaste, you may see some results after three or four weeks."
While whitening toothpastes can offer a short-term fix, Dr. Rubinshtein warns against long-term use as it can cause damage to the enamel and increased sensitivity. But with new-to-market launches, natural formulations, and tried and true favorites, there's a handful of whitening toothpastes worth considering if you're gearing up for a big event. So without further ado, read ahead for our guide to the best whitening toothpastes.
1/13
Better & Better Energy Toothpaste
The Best Natural Whitening Toothpaste
For a whitening toothpaste that won't wreak havoc on your enamel, Better & Better is the way to go. Not only do they lay out the purpose of every single ingredient on their website, but they also are up to par with EWG and USDA guidelines. Instead of using harsh abrasives, their toothpaste uses milder scrubbers like organic coconut oil and organic coconut scrub.
2/13
Bite Fresh Mint Toothpaste Bits
The Best Zero-Waste Whitening Toothpaste
With a refillable glass container and a solid formula that foams with water, no part of this purchase will go to waste. It's formulated with a mild abrasive to help with stains, but also includes a mineral called nano-hydroxyapatite that fights against sensitivity and strengthens enamel.
3/13
Marvis Whitening Mint Toothpaste
The Best Luxe Whitening Toothpaste
This Italian toothpaste is not only eye candy for your bathroom shelf, but has a spicy mint flavor that leaves your mouth feeling refreshed. The whitening version of the Marvis toothpaste line is a classic staple.
4/13
Sensodyne True White Sensitive Teeth Whitening Toothpaste
The Best Whitening Toothpaste for Sensitive Teeth
For anyone whose teeth are too sensitive for white strips or any other whitening treatment, this toothpaste is your new best friend. This toothpaste gently whitens teeth while providing protection from sensitizing factors. Still, it's best to talk to your doctor before adding this to your routine.
5/13
Hello Antiplaque + Whitening Toothpaste Tablets
The Best Chewable Whitening Toothpaste
Can't deal with messy, squishy tubes of toothpaste? Want to cut down on waste!? These tablets are the next best thing. Chew the tablet until it turns into a paste, then brush as usual. When the tin is empty, simply request a refill!
6/13
Apa Beauty White Toothpaste
The Best Whitening Toothpaste to Fight Bacteria
So often, yellowing teeth are the result of bacteria that latches on to enamel. This toothpaste actively whitens while killing bacteria to prevent further discoloration.
7/13
Colgate Baking Soda & Peroxide Whitening Toothpaste
The Best Drugstore Formula
Colgate created this whitening toothpaste that contains two of the most effective whitening ingredients: baking soda and peroxide. It scrubs away stains and leaves your mouth feeling minty fresh.
8/13
Linhart Whitening Toothpaste
The Best Whitening Toothpaste for Irritated Gums
This gorgeous toothpaste tube contains a cleansing formula that's great for both sensitive and non-sensitive teeth. It protects enamel while also whitening teeth—and contains aloe vera to help soothe gums.
9/13
Supersmile Professional Whitening Toothpaste
The Best Whitening Toothpaste for Maintenance
If you've had professional teeth whitening and want to maintain your pearly whites, this toothpaste is perfect. If you haven't had any whitening dental work, this toothpaste will still work to dissolve yellow-causing bacteria.
10/13
Spotlight Oral Care Toothpaste for Whitening Teeth
The Best Whitening Toothpaste for Yellow Stains
For fans of red wine or coffee who suffer from staining, this cavity-protecting and whitening toothpaste works over time to remove stains. It's great for sensitive teeth that need some extra T.L.C.
11/13
Nu Skin Whitening Fluoride Toothpaste
The Best Peroxide-Free Whitening Toothpaste
This fluoride toothpaste is formulated without peroxide. Instead, it uses a blend of mild abrasives to polish the teeth. The best part? It has a refreshing vanilla and mint flavor that gives an uber-clean feel.
12/13
Native Whitening Toothpaste
The Best Whitening Toothpaste for Cavities
This clean toothpaste comes in both fluoride and fluoride-free formulas to fight cavities, while also removing stains and yellowness. This toothpaste also comes in a charcoal option for maximum detoxification.
13/13
Tom's of Maine Fluoride-Free Antiplaque & Whitening Toothpaste
The Best Whitening Toothpaste for Plaque Buildup
To prevent plaque build-up that can can appear on teeth, scoop up this toothpaste from Tom's. The naturally-derived ingredients whiten stains and give your breath a clean, fresh scent.
Celebrity news, beauty, fashion advice, and fascinating features, delivered straight to your inbox!
Tatjana Freund is a Beauty Commerce Writer, covering makeup, skincare, and haircare products and trends. She's a fan of vodka tonics and creepy Wikipedia pages.