Small Business Spotlight: Pound Cake
How Pound Cake CEO Camille Bell made lipstick personal.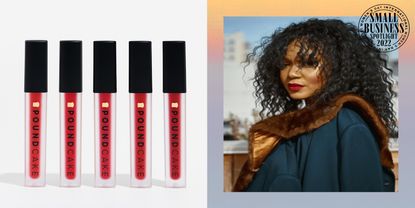 (Image credit: Pound Cake)
Marie Claire Newsletter
Celebrity news, beauty, fashion advice, and fascinating features, delivered straight to your inbox!
Thank you for signing up to Marie Claire. You will receive a verification email shortly.
There was a problem. Please refresh the page and try again.
Camille Bell and Johnny Velazquez's homes are overflowing with boxes. The co-founders of the beauty company Pound Cake handle each and every order themselves. "We interviewed and met with a couple of fulfillment centers, but they're expensive and it takes out that personal touch that Johnny and I are looking for," says CEO Bell, who also works full-time as a digital marketing manager. "We really want to build good customer relationships, so we have these thank you cards and I write the customer's name on every card, no matter how many orders we have and no matter how long it takes, just so they know we appreciate them."
Everything about Pound Cake is based on personal touches. Their entire philosophy, printed right on their packaging: "Lipstick is not universal."
"We wouldn't say foundation is universal, so how can we think all lipsticks should be the same? You and I have different skin tones and undertones, so we are also going to have different lip tones," Bell says. "So that's why we take one shade of red and make different variations of it so that people with various skin and lip tones can achieve that perfect red look."
Tired of being disappointed when trying out new makeup, Bell asked her friends if they had the same problem. The answer was unanimous: "Yeah, all the time." It became a preoccupation for Bell, who had studied makeup for stage and film while attending college at Temple University. "After speaking to a few folks, people were like, 'Camille, you should do something about it.'"
In 2018, she teamed up with her college friend Velazquez to do just that.
Pound Cake drives its values home at every turn. "It's the first thing people see when they come to our website: 'Pro-Black, Pro-Fat, Pro-Queer.'" Even Pound Cake's packaging has an insignia on the back labeled "Racism-Free"― a play on the terms "cruelty-free" and "paraben-free" (both of which, Bell points out, Pound Cake is, too).
"If you, as a company, are going to be pro-Black and Brown, yet you're excluding a certain type of person, like a fat or queer person, then you're not really pro-Black," Bell says. "I even feel uncomfortable when people say, 'Oh, you made this just for women,' because, being pro-queer, we don't feel like cosmetics have a gender. The values all work together. That's why we wanted to be clear to folks that, no matter who you are, you're going to be seen and you're going to be heard at Pound Cake."
Pound Cake's lipsticks are made for everyone to feel good in.
On Their Name
"In the 1900s, when makeup was really taking off, the industry was really queer-phobic, fat-phobic, ableist, and not showing darker folks. And at that time, there were references to cosmetics as 'pancake' or 'cake makeup.'
"'Cake' represents everything that's f***ed up about the current beauty industry, and we want to pound that; we want to disrupt that; we want to destroy that. That's why we named it Pound Cake. A lot of people, when they think of Pound Cake, they're like, 'Oh my gosh, that's so sweet,' but it's a verb―not a noun."
On Funding
"We started doing pitch competitions because we needed funding to go to a lab and develop our formula. And we'd get to the end of these competitions but wouldn't win, and the judges would say, 'Wow, this is a great idea. The only reason we didn't pick you was because this other person actually has a prototype, and you don't.' Then we got a prototype, and the same thing was happening. They'd be like, 'Well this other person is actually in the market,' and we were like, 'Well, we're trying to get to market!'
"At that point, Johnny and I were like, 'F*** it, we're just going to go to our own community,' so we did an Indiegogo campaign at the end of 2017 and raised a little more than $20,000. We met our goal. Then after that, we got two additional grants and finally won a pitch competition, so we took all that money and went to our first lab in 2018.
"We were formulating from 2018 to 2020 and were supposed to launch in 2020, but the pandemic really set us back, and then our lab dropped us, and so we had to start the process again. We were finally able to launch during the fall of last year."
On Getting the Product Right
"The formula was really difficult to nail down, because we wanted it to be many things: Opaque, long-lasting, and moisturizing. Plus, that smell is a custom Pound Cake smell―a mix of cake batter and vanilla.
As much as Johnny and I are perfectionists, we know nothing is ever going to be exactly the way it does in our heads. Then it's a matter of either negotiating and starting over or compromising."
On Centering People of Color
"Sometimes when white folks come to our site, they'll say, 'This is amazing! I wish I could shop here,' and we're like, 'I mean, you can. If you take our lip quiz, we make lipstick for all shades: light, medium, warm, deep, and rich. Just pick your natural lip tone.' But I think sometimes when white folks aren't at the center, it's hard for some white folks to understand what it is that we're trying to convey. That's an awkward thing to navigate."
On How to Level Up
"One thing I would say to folks who are interested in having a small business is that there's nothing wrong with failing sometimes, because that's how you're going to learn lessons. And for your business to succeed, you need to take those hard lessons and level up and pivot."
Celebrity news, beauty, fashion advice, and fascinating features, delivered straight to your inbox!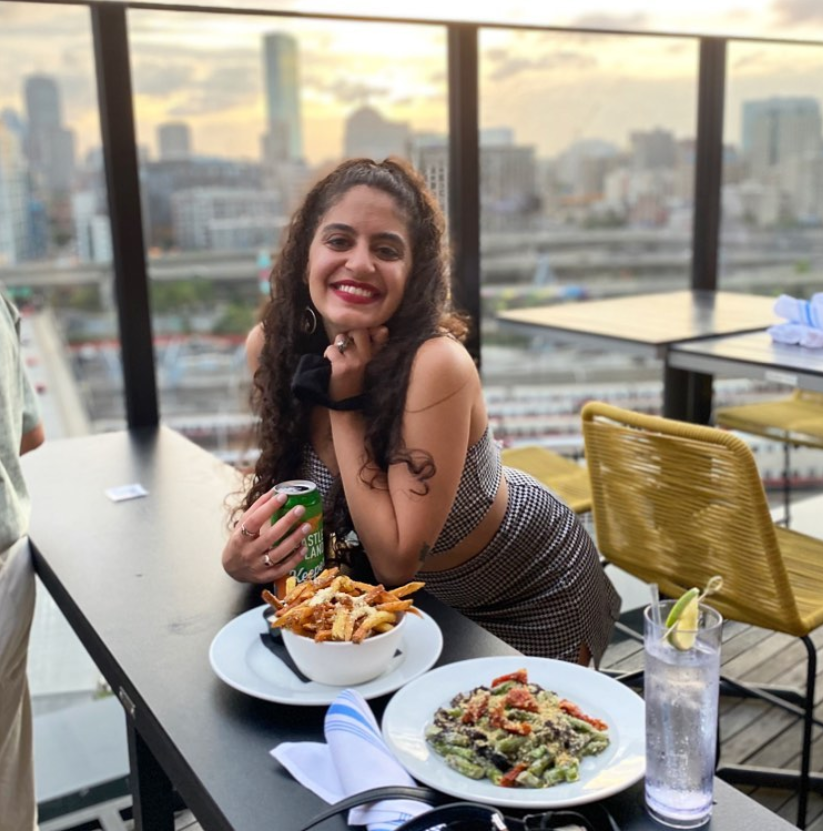 Gabrielle Ulubay is an E-Commerce Writer at Marie Claire and writes about all things beauty, sexual wellness, and fashion. She's also written about sex, gender, and politics for publications like The New York Times, Bustle, and HuffPost Personal since 2018. She has worked extensively in the e-commerce and sales spaces since 2020, including two years at Drizly, where she developed an expertise in finding the best, highest quality goods and experiences money can buy. As a film school graduate, she loves all things media and can be found making art when she's not busy writing.