Meet Three Badass Women Turning Bartending Into a Career
These women raise the bar for New York's hospitality industry.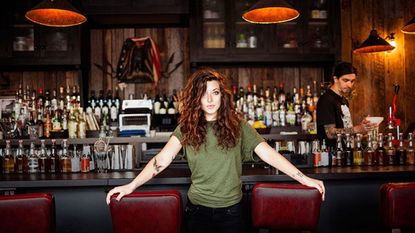 (Image credit: Tommy Kha / Trending NY)
Have you ever worked in a bar? Maybe you took a few shifts to see you through college, or to tide you over financially when you found yourself between "real" jobs. But in a city like New York, where bar culture is at the epicenter of a world-class hospitality scene, who says bartending can't become a valid career choice in itself?
Not these three women, representatives of New York's growing army of nightlife professionals, for whom lucrative salaries, flexible working hours, and the chance to shape the way we socialize in the city are just some of the perks.
Sarah Graham

Montana's Trail House
Sarah Graham, 31, has worked at Montana's Trail House in Bushwick, Brooklyn since it opened in June 2014. She started out waitressing at Barrio in London, and has been in the hospitality industry for 10 years.
"Working behind a bar is obviously quite fun—you get to meet so many interesting people, especially in a neighborhood like Bushwick. I've worked a nine-to-five desk job and it would be hard to go back. I like being on my feet, socializing and feeling like part of a team. It also pays the same, if not better.
The Jefferson stop is absolutely the place to be in hospitality now. Even in the last year, we've seen six to eight different spots open up, and being on the launch team at Montana's means I've also had a say in shaping how the scene plays out. I loved the concept and I knew all the people behind it, so I jumped on board right away.
I also have a 7-year-old daughter, and the freedom and flexibility I have to create my own schedule has worked out well for raising her. It means I can be there for all her school things without having to clear it with my boss. I have a babysitter and my daughter will stop by the bar sometimes at the beginning of my shift. Everybody at Montana's loves her.
I think for most bartenders who've been in it for a number of years, the goal is to have your own spot someday. It's a small industry, so you're always hearing about new opportunities. Ten years from now, I'd like to own the bar, not just work behind it."
Regina Christiansen

Blueprint
Regina Christiansen, 33, is the co-owner of Blueprint in Park Slope, Brooklyn. She worked in the green farming industry after high school and has been involved in NY hospitality for 12 years. She opened Blueprint in 2011.
"I've always been active, some might say hyperactive, and I love multitasking. When you're on top of it all and everybody sitting in front of you is being taken care of and is happy, you get this feeling of being in the flow—those are the moments I'm striving for.
As co-owner of Blueprint, I got to completely define the space and the vibe, as well as the cocktail menu. I got deeply into cocktail culture around 2005 and pursuing that has been a real creative outlet for me. I also work closely with our chef, so I get to use my experience in vegetable farming too.
I grew up on the Upper West Side, went to a very fancy high school, and was expected to go straight to an Ivy League university, so when I started working in farming instead, it was a blow to my parents, who are both academics. By the time they finally got into the idea, I turned around and decided I was going to do something else—so they had a whole other lifestyle to wrap their heads around.
But at this point they're okay with it. They're big foodies, and even if they don't get that Blueprint is primarily a bar, not a restaurant, they know enough about NY hospitality to understand why I'd want to be in this field.
As for being a woman in this industry? It does feel like you have to work just a little bit harder to be taken seriously. But I'm up for the challenge."
Alissa May Atkinson

The Way Station
Alissa May Atkinson, 31, has worked at The Way Station in Prospect Heights and the Pine Box Rock Shop in Bushwick, both in Brooklyn, since November 2010. She previously worked at various bars in Park Slope, and has been a full-time bartender for eight years.
"Bartending doesn't feel that different from any other job to me, except that the people you're dealing with are there to create bonds with their friends, or relax after work, and it's joyful to be able to participate in that. A lot of people do see it as just a 'fun' job—one where you're only there to give away drinks to your friends and party. But it's actually a lot more nuanced than people assume.
Sometimes it feels like babysitting, and we've all been in dangerous situations dealing with people at varying levels of intoxication. You have to be responsible, very aware, and make some difficult choices sometimes. Telling people they've had enough can get awkward.
It annoys me when people ask when I'm going to start my 'proper' career, especially in New York, where the scene is so competitive and it's the bartenders who can make or break an establishment.
My parents are supportive, although my twin sister is a nurse, which is seen as a little bit more respectable. Some members of my family have had issues with alcoholism too, and there's always a been a bit of a stigma in my family when it comes to having bars be an important part of your life. I think there was a little concern about the late hours too.
But I'm very responsible and I make more than a lot of my young professional friends. I have a retirement fund and I've started a business account to save money for my future business, so it's always been a profession for me."
Photos: Tommy Kha for Trending NY
Related:

26 Easy-to-Make Drinks, A-Z Style


Sex and the City Inspired Cocktails


12 Super Simple Beer Cocktails
Here's a preview of exclusive content from TrendingNY, the new free weekly fashion and beauty magazine for New York women. Find this and other stories in our first issue, out in New York now, and follow us on Twitter and Instagram @TrendingNY to learn more."
Celebrity news, beauty, fashion advice, and fascinating features, delivered straight to your inbox!