Kendra Scott, Jewelry Entrepreneur Extraordinaire, on How She Built a Billion-Dollar Business
"Focus on what lights a fire inside of you."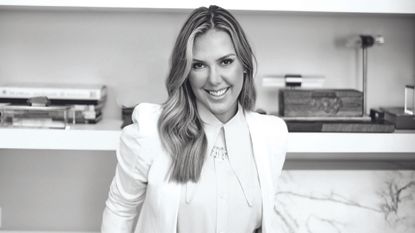 (Image credit: Courtesy of subject)
Kendra Scott launched her eponymous jewelry brand in 2002. Today, it's valued at $1 billion. Here, she shares how to join, and thrive in, the Unicorn Club.
Marie Claire: When you first launched your company, what were your goals?
Kendra Scott: I was a new mom with limited resources and a big dream. If you had told me then that 16 years later I'd be running a billion-dollar business, I wouldn't have believed it.
MC: What's your best advice for women aspiring to create a billion-dollar business?
KS: Focus on what lights a fire inside of you and use that passion to fill a white space. Don't be afraid of the challenges, the missteps, and the setbacks along the way. What matters is that you keep going. Know what you're good at, and, more importantly, what you're not—and surround yourself with people who fill the gap.
MC: The #MeToo movement has sparked major cultural changes in business and beyond. What does it mean for female founders?
KS: What an incredible time to be a woman! We are coming together now more than ever before, supporting each other, and lifting each other up. Women are finding their voice and the confidence to chase their dream. They're rising above what may have been holding them back. They're dreaming big because they are in a safe and supported place to do so. I believe the opportunities for women today are endless.
MC: How do you quiet the voice within that says makes you doubt yourself?
KS: With three sons and a growing company, there are definitely days where I wonder, Can I do this? Especially in the early years, when I was trying to build a fashion brand in Austin, Texas, which wasn't really a 'fashion' city at the time. There have been high points and low points over the years, but I'm surrounded by a loving and supportive family, both at home and at work. They have gotten me through the toughest of days.
MC: What's the most important hiring lesson you learned while building your team?
KS: I always say that a resume won't get you in the door at Kendra Scott. Your heart will. I've learned that it is crucial to prioritize culture. Decide what's most important to you and your business—our values are "family, fashion, and philanthropy"—then build your team and your culture around that core.
MC: What's your favorite part about running a billion-dollar business?
KS: It means that we have the resources to give back millions of dollars every year. We don't just write checks, we show up. We hosted 10,000 fundraising events across the country in 2017 and our employees volunteer every chance they get. We have the means to change lives for the better, and that's a gift I don't take for granted. This dream of mine acts as a platform to do something even more impactful—to make a positive impact on my community.
A version of this story appears in the April issue of Marie Claire, on newsstands now.