A Game-Changer
For the first time ever, the country of Jordan is hosting and competing in a Women's World Cup—a move that will hopefully power feminism forward, both on and off the field.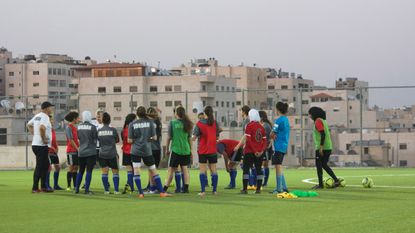 (Image credit: Elspeth Dehnert)
Marie Claire Newsletter
Celebrity news, beauty, fashion advice, and fascinating features, delivered straight to your inbox!
Thank you for signing up to Marie Claire. You will receive a verification email shortly.
There was a problem. Please refresh the page and try again.
On a hot summer day in Sahab, Jordan, an industrial area about an hour's drive from the bustling capital of Amman, 21-year-old Anfal Al-Sufy kicks a soccer ball around a dusty backyard as her 22-year-old sister Aida rests on crutches on the sidelines. "Yallah (Let's go)!" Aida yells in encouragement. Normally, she would join in—her matching uniform makes that obvious—but a knee injury has put her temporarily out of commission. Their mother, wearing a hijab, sits in the shade among chickens, turkeys, dogs, and frenzied rabbits as several children peer out from the doorway of the large family's two-room home.
Eventually Anfal and Aida head inside to the sitting room. There's no air conditioning or reliable electricity, but the roof provides a much-needed respite from the unforgiving sun. The sisters sip tea and snack on cool dates as they reminisce about the fact that just eight years earlier, they used to sneak out of this very same room at night to play soccer under the cover of darkness. Now, they're rising soccer stars in a country that will host—and compete in—the Middle East's first-ever women's world cup: the FIFA U-17 Women's World Cup 2016. It's an event that's expected, when it kicks off this month, to mark a new era for women and sports in Jordan.
Though, honestly, no one in Jordan is expecting their country to win its first women's world cup. In fact, the only reason Jordan's U-17 national women's team gets to participate at all is coincidence: The country hosting the cup automatically qualifies to compete, regardless of its team's ability. (Jordan won the bid to host nearly three years ago, beating out Bahrain, South Africa, and the Republic of Ireland in the process.) Unlike its neighbor Egypt—where women's soccer has been played on an official level since the '90s—Jordan got its start just 11 years ago. That's not a lot of time to train, build a team, and condition players to compete on the level of the other countries that have a long history of embracing the sport.
And to say they have stiff competition is an understatement. On September 30, Jordan will face off with Spain—a country that won second place in the U-17 Women's World Cup in 2014—before going on to play Mexico and New Zealand.
But it doesn't matter if they don't win—they're already bringing about momentous change for women in a country where patriarchy still reigns.
Before soccer became Anfal and Aida's lifelong passion, it was a secret hobby to keep their spirits up after their father died. "Men say soccer is shameful for girls. Soccer doesn't put food on the table. Girls shouldn't leave the house, and girls are only supposed to be with their husbands," Anfal recounts of what she'd been told.
The sisters didn't listen. They went on to play soccer, for their school and then a club, until they reached the highest level of achievement they possibly could when they were recruited almost four years ago to play for Jordan's senior national women's team. It changed their lives: They could bypass working in the surrounding factories, avoid marrying right out of high school, and travel beyond their country's borders. Now, they could transcend the path determined for them since birth.
Not everyone is hailing their monumental successes. "To this day there are still people who disagree. They say, 'This game is for boys,'" remarks Aida. "But I tell them, 'This is a dream come true, and I'm not going to stop.'"
For the sisters and their country, women playing soccer on the world stage has been a long time coming.
"What we really focused on when we bid for this competition was not what Jordan would do for this world cup," says Samar Nassar, the CEO of the FIFA U-17 Women's World Cup 2016, "but what this world cup would do if we get it to Jordan."
Despite the outcome of the matches, many women's soccer advocates in Jordan believe their country's participation could hugely legitimize women in sports—and beyond. In many ways, this is their one shot to show both their countrymen and the world that there is nothing they can't do.
"This women's world cup will help change people's mentality—it will prove that women have rights," says Anfal. "And future generations of Jordanian women will benefit."
A decade ago, all of this was a pipe dream. In addition to battling a dangerous water shortage, teetering economy, and never-ending refugee crisis, the country has been steeped in an antiquated view of women that limits their participation outside the home. While women's rights in Jordan have made some progress over the last 70 years—especially in the realm of education—a woman's place is first and foremost in the home. Anything that threatens the primacy of that role is often treated with disdain and skepticism. Including sports.
"She represents the whole honor of the family and she's not an individual," observes Dr. Salma Nims, secretary general of the Jordanian National Commission for Women. Sports are sometimes even prohibited for girls under the cultural assumption—and preference—that men have strong, capable bodies and women have weak, sexualized ones.
This mindset is reinforced in the country's media and educational system. Unlike boys' schools, where playgrounds are often borderless and students are wearing shorts, girls' schools try to ensure that athletic facilities provide students ample privacy. "Of course, then you need to make sure that the clothes are conservative enough that we don't see her body parts moving," Dr. Nims adds.
It's the reason why Anfal and Aida—despite covering everything except for their faces and hands—prefer to hide behind the largest hill in their neighborhood when they run and waltz with the ball. The sisters are doubtful that they would have been able to play at all if not for their mother, who had the courage to stand up to their disapproving brother with this unorthodox reminder: "I'm the head of the household," recalls Anfal of her mom's final word on the subject.
In 2005, the Jordan Football Association (JFA) had to confront this cultural stigma head-on when it formed the first women's national team, also known as the senior women's team. Eleven years later, 29-year-old Abeer Rantisi—the head of women's soccer at the JFA and one of the team's original members—sits at a table in the middle of a busy corridor at the organization's headquarters in Amman, remembering those first years on the field amidst a constant male gaze.
"We used to get some negative comments," she says as she waves to a male colleague in a soccer uniform. "'It's not good for you, it's not good for your body. This game is very tough so, it's not good for you as a girl to play.'"
Like Anfal and Aida, Rantisi fell in love with soccer on the streets around her home before being recruited to play on the national women's team. Having the opportunity to play soccer on behalf of her country was a great honor—one that she credits to both her supportive, open-minded family and Jordan's Prince Ali bin Al Hussein, who has been head of the JFA since 1999. "Prince Ali is the biggest fan of women's soccer," she says with a smile. "He's the one who is supporting us."
Indeed, it was the third-born son of Jordan's late King Hussein who, through his unique position of power, was able to successfully transform women's soccer from a handful of initiatives and clubs into a bonafide national sport. "Women's [soccer] is one of the biggest growth areas within the game," Prince Ali once remarked at a National Press Club event. "And we have to do all we can to promote women's [soccer]."
But finding girls who were able to play on the newly-formed team wasn't easy—even with the dedicated backing of a royal. So the very same year the JFA launched the team, it simultaneously set out to transform the taboo idea of women's soccer. They needed to bring the sport to girls' doorsteps across the country—from the farms of Irbid to the sand-colored apartments of Amman to the beachside homes of Aqaba. And so the Prince Ali Female Grassroots Centers for Girls soccer program was born. The objective: to spread awareness of and access to soccer for girls aged 10 to 14 while, at the same time, creating a pipeline of talented new recruits for the women's team. It's what Rantisi refers to as "a whole system"—something other countries have been using for decades to develop soccer from the ground up.
Since its start, the program has fueled the creation of four additional women's national teams (under-14, under-16, under-17, and under-19) and has grown from five to 13 grassroots centers, launching over 300 girls—an unprecedented number in Jordan—into soccer.
Rania Salameh is one of them. The 11-year-old began playing soccer a couple years ago at the grassroots center located within walking distance to her house in Zarqa. She's one of the center's best players and will eventually be considered for one of the women's national teams. "I love everything about soccer," she says. "I want to play until I'm older. I won't leave it."
And Rania's story is just the tip of the iceberg. There's even talk of opening more centers due to the overwhelming demand from girls. But there's still work that needs to be done—minds that need to be changed, stereotypes that need to be broken, and barriers that need to be kicked down.
When Jordan's official (men's) national soccer team Al-Nashama plays, the entire country pays attention. If you're not watching them in person at the stadium, you're viewing them on TV, checking the live score on the internet, or honking your car loudly in the street as a show of support. Their games are some of the most popular events across the Kingdom, and they're a great source of national pride for many Jordanians. "The stadium is always full for the men's team," says Moayad Ziadat, a clerk at a small grocery store in Amman, who always makes sure to watch them play.
It's an entirely different story, however, for the women.
Ziadat says he and his friends don't have a problem with the women's team but choose not to watch their games because it's not the right "environment" for men. The group of friends are used to the rowdy, macho climate of men's soccer and can't envision supporting women—who represent the sanctity of the domestic sphere—in the same way. Rantisi admits that it's been difficult to get men and the general public—beyond the players' family and friends—to attend the women's soccer matches. And, sometimes, it's their own family members who are refusing to support them.
Cultural stigmas aside, soccer still isn't a viable career path for women in Jordan. "Some families have said, 'You're wasting your time. What will you get in the future if you play this game?'" Rantisi says.
For the most part, they're right. Unlike Jordan's male soccer players, female soccer players can't advance beyond the amateur level because the country is not yet home to a professional women's soccer league. This is the case in many countries—like Lebanon, Botswana, and Sri Lanka—where women's soccer is still relatively new. When soccer players aren't contracted with professional leagues they don't get stable incomes, health insurance, or any other benefits associated with traditional employment. So, when Anfal and Aida are not training or playing in a tournament due to an injury or break in the schedule, they're generally not getting paid.
It's a dilemma that Rantisi is also familiar with. While playing for the senior women's team, there were times when she'd have to ask herself what's next. "At some point you just don't have an income," she says.
The sisters are currently standing at this fork. They've been waiting for almost a year to find out whether or not they're going to be offered the security officer positions they applied for in the government sector. It's imperative that they bring in enough money every month because they are their family's sole breadwinners. The government jobs would not only provide them with income, these positions would provide them with flexible schedules so they can keep their spots on the senior women's team. "We play for the national team, and whatever they give us we give straight to our mother," says Aida. "Since we are a very big family, sometimes it's not enough."
Rantisi says it's only a matter of time before women's soccer in Jordan is developed enough to have its own professional league. And she thinks the upcoming U-17 Women's World Cup will help. "We are expecting a turning point."
It's 7:00 p.m. on a warm Wednesday evening in Amman. The sun is setting and in the distance Jordanian flags can be seen rustling in the wind next to a mosque's minaret. Just as the sonorous call to prayer begins, a man screams in English "Quick…quick…touch…touch!" It's Robbie Johnson, the new head coach of Jordan's under-17 women's team. He had been flown over from the United Kingdom to help the girls get ready for the biggest moment of their entire soccer careers.
The players, who are wearing red and green vests, run around the field like a colony of frenetic ants, passing and kicking the ball in every direction. They're doing a speed drill. It all looks pretty routine except for the two FIFA representatives lurking about and a film crew following the girls around—or trying to, anyway. This has become the norm since it was announced that their country would be hosting a women's world cup.
"Because of the world cup things have developed," observes 17-year-old Luna Sahloul, the team captain, of the stadium renovations and fresh soccer fields that were erected after Jordan won the bid to host the tournament. In many ways, this world cup has put the development of women's soccer into overdrive.
Hundreds of thousands of people are expected to attend the 32 matches that will be held across Amman, Zarqa, and Irbid starting this month. And, for some, like Ziadat and his friends, it will be a first—they will forget about what they thought they knew and enjoy watching the games, regardless of gender.
It very well could be the start of something new. But Jordan's women and girls are not going to wait—no matter what the outcome of their first match against Spain.
"We will continue playing," says Aida confidently.
"I'll play until I'm 40—until I can't give anymore," says Anfal.
---
Celebrity news, beauty, fashion advice, and fascinating features, delivered straight to your inbox!
Elspeth Dehnert is a freelance journalist in Jordan who covers women, society, and development. View more of her work at www.elspethdehnert.com.