The Gender Wage Gap Is Way Worse Than We Thought
Women make only half the money men do over the course of their lives, according to a new report.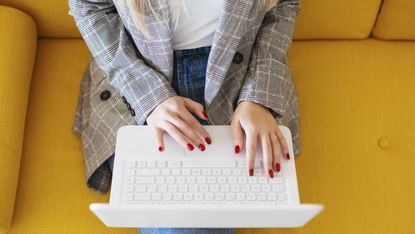 (Image credit: Westend61)
We usually have to wait until April for depressing reminders about the gender wage gap. Each year, a date in early April symbolizes the additional amount of time a woman would have to work to make the same amount of money a man made in the previous year—in 2019, Equal Pay Day falls on April 2. Though the figures vary slightly depending on the information being analyzed, in 2018 the Institute for Women's Policy Research found that for every dollar a white man makes, a white woman makes about 82 cents, a black woman 68 cents, and a Latina woman 62 cents.
We needn't wait until the spring to consider these depressing numbers. The same organization released a new analysis last week showing that the ratio is much worse: Overall, Women don't make 80 cents to a man's dollar. It's more like 49 cents, or less than half of what a man makes.
How did they get to this staggering number? Typically, gender wage gap figures are derived from the earnings data of full-time workers in a given year via the Census Bureau; it does not factor for change over time, nor does it consider part-time workers. For this report, analysts used data from Panel Study on Income Dynamics, a nationally representative data set collected from the same people and families for the last 45 years, and examined workers from 2001–2015, the most recent year available. They found that only 28 percent of women worked consistently, year-round, throughout that period, which suggests that the majority of women's work lives haven't been considered by typical wage gap figures.
Researchers examined women's "attachment" to the workforce, with a "strong" attachment defined as earning money in each of those 15 years, with at least 12 of them as a full-time employee, and a "weak" attachment defined as at least one year entirely without earnings. If women took just one year off work, their earnings were 39 percent lower than women who worked all 15 years. Men get the exact same hit (39 percent) for taking a year off, but women are twice as likely to take a year off than men are, the report found.
When taking all of this data together—women's wages over time, given their time off and their penalties for taking that time—the report concluded that over the last 15 years, American women actually made less than half of what men made, or 49 percent.
"Strengthening women's labor force attachment is critical to narrowing the gender wage gap," write report authors Stephen J. Rose, Ph.D, and Heidi I. Hartmann, Ph.D. But lest they seem to place the blame on women—if you were just more attached to the concept of work, you'd make more money!—the researchers point out that issues in American attitudes toward paid family leave are what prevent women from being "attached."
"Since many women take time away from paid work to provide unpaid family care, making it easier for these women to juggle work and family responsibilities, and for men to take on a greater share of these responsibilities, would go a long way to further narrowing all the long-term gender gaps that are documented in this report," they write. "The failure of public policies to address the caregiving needs of both women and men leads to lower earnings for anyone who misses a year of work." Aside from new family leave policies, the report authors recommend stronger enforcement of Title IX and equal employment opportunity policies.
Not depressed enough? The report also found that the rate of change for women is slowing. The wage gap for women across the 15-year period from 1968–82 was an astonishing 81 percent (that means women were earning 19 cents to a man's dollar in that time); in the period from 1983–97 it shrunk to 62 percent (or 38 cents on a dollar). It's 51 percent now, which suggests that women made their biggest progress in the '80s and '90s and that wages have increased in the 21st century, but not dramatically.
It's "a slowdown that, coupled with other indicators, has led some social scientists to conclude that women's progress in the United States is ending," say the researchers. It's a terrifying conclusion, especially coupled with the stark reality of 49 cents on a dollar over the course of the next 15 years. Luckily for women, the topic of paid family leave is a "hot" one politically, and with more women in Congress than ever, the issue may finally be legislated in the immediate years to come.
For more celebrity news, beauty and fashion advice, savvy political commentary, and fascinating features, sign up for the Marie Claire newsletter.
RELATED STORY