Why I Started My Business While on Maternity Leave
I was looking for ways to save time, actually...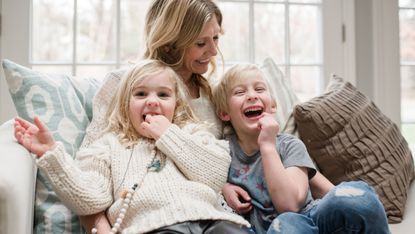 (Image credit: Erin Konrath)
It's well understood that immediately after having a baby is not the best time to spread yourself too thin. But it's also true that when the right idea hits, you have to go for it then, or you never will.

Ironically, the idea for Mac & Mia—the clothing company I started five years ago while on maternity leave with my daughter, Frankie—began precisely because I was spread too thin. In the months before I became pregnant with my daughter, I was struggling to take care of my first child and my three stepsons (all between the ages of two and 13 at the time) while my husband and I both worked full time. I started exploring ways to simplify life: having groceries delivered and doing all of my household shopping online. Time was my most precious resource in those hectic days, and I didn't want to spend a moment running errands.
There was one chore that I could not find a hack for, though: keeping the boys' closets stocked with high-quality clothes that fit them. They seemed to outgrow everything before the tags came off, so I was constantly shopping. I knew there had to be a better way than dragging the kids to the mall or spending hours online. And I knew I couldn't be the only parent who wanted a service to select, pack, and ship clothing that had been carefully curated for my child.
When my daughter was born, she proved to be an excellent sleeper. (Naps lasted several hours, a luxury I did not enjoy with my son.) So while she slept and my older boys were at school, I took a leap and started the service I was looking for myself. Newborn in tow, I took a trip to the New York Children's Buying Show and picked out onesies, little dresses, pants, and t-shirts, trying to think about what customers would want and need. I filled my garage with a few racks of inventory, created a website, and asked all my friends and family to give Mac & Mia a try and help spread the word.
Then, my maternity leave ended and I went back to work at The Pat Tillman Foundation. Nights and weekends, I would take care of my new baby girl and four growing boys while packing boxes and fulfilling orders. It became a family effort: My daughter sat in a carrier next to me while I worked, my husband assembled clothing racks and made runs to FedEx, and I even put the boys to work unpacking inventory and, occasionally, modeling. I was grateful to have their help.
For the first year, I was Mac & Mia's sole employee: styling, customer service, accounting, you name it. We took things really slowly. Running everything out of my house made it relatively easy to manage.
I always knew I would start a company one day. I grew up with an entrepreneurial dad who, when I was struggling to find a job after college, said, "Why don't you just start your own thing?" At 22, I didn't have the confidence or skill required to start a company, but I did have entrepreneurship in my blood; I loved coming up with ideas, and I could never stop myself from daydreaming about new business concepts. With Mac & Mia, it was clear to me that the idea was right, and had come at just the right time.
The business flourished, growing from a few hundred customers in that first year to tens of thousands over the next four years. With that growth came more required work hours, more travel, more stress, but also a great amount of joy, excitement, and pride. I found that the struggle to balance a growing company and a growing family is real. I applaud the women who refuse to answer questions of how they balance career and motherhood until men are asked the same question. I applaud the women who lean in so hard they break down barriers and set new standards. I admire the prominent female CEO I once heard talk about "mom guilt" and how she'd banished it from her life, as it didn't serve her well. But balance is hard. I still feel guilty when my kids are disappointed by my absence. I can't help but second-guess my choices even though I tell myself I'm setting a good example for my daughter, who will most certainly face the same challenges.

Time is still a precious resource. I feel like it's only recently that I've been able to stop and take a breath. Before I had kids I would happily go on business trips, leisurely enjoying alone time and room service, but now I often fly in and out the same day to spend as little time away from my family as possible. On one such occasion a few months ago, I got home late—well after the kids had fallen asleep. I went up to their rooms to check on them and kiss them goodnight. In the glow of the nightlight I looked down at my daughter's face and recognized that the last five years have been a blur. Her little body was snuggled into her big-girl bed and I noticed her cheeks were not as round, her baby face was gone. When did that happen? Where had I been? I'd been building a business, that's where. One that hopefully would help moms like me have more time with their own kids.
When I started Mac & Mia, I very much had working moms in mind—not just as our customer, but also as our employees. As I started to have kids, and my friends did as well, I watched as many took a step back from careers when it became too hard to manage full-time work and a family. As Mac & Mia grew, we hired stylists to work with our customers; I knew my company could do something different. We could offer a role that is flexible and allows people to work part-time hours from their home, so that no one would have to choose between being all-in or all-out. I believed then—and still believe—that workers contribute the most when they have full lives outside of work, whether that involves raising kids, volunteering for a cause they care about, training for a marathon, or writing novels.
I still don't have all the answers, but I know that intentionality is a critical piece of the puzzle. I know that when I decided to start a company on maternity leave it was a choice—some would say a crazy one! I know that when I stay late to help prepare a presentation or pack boxes, that I am making a choice. I know that when I am home with my family even though there are tasks left undone at work, that I am making a choice. And even if I make the wrong choices sometimes, I am endlessly grateful that I have them. If Mac & Mia has no other legacy, I want it to be that it made a statement that all workers deserve options about how to balance their lives—and what they do with those options is up to them.
Marie Tillman is the founder of Mac & Mia and co-founder of the Pat Tillman Foundation. She currently residing in Chicago with her husband and their five children.
For more celebrity news, beauty and fashion advice, savvy political commentary, and fascinating features, sign up for the Marie Claire newsletter.
RELATED STORY
Marie Claire email subscribers get intel on fashion and beauty trends, hot-off-the-press celebrity news, and more. Sign up here.